What the NFL Trade Bonanza Means for the Future of the League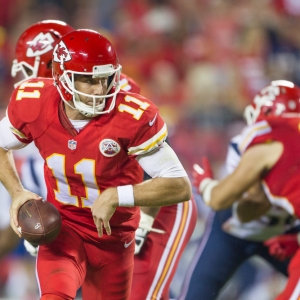 It has been a March unlike we have ever seen in the NFL. A league that hates to trade - at least outside of draft day - has suddenly developed an intense love for it. Big deals have been coming hot and heavy the last few weeks. It's not just bit pieces being exchanged, either - Alex Smith, Robert Quinn, Aqib Talib, Marcus Peters, Michael Bennett, Tyrod Taylor, Jarvis Landry, Cordy Glenn and the rest are good players with a lot left to give. Teams are trading legitimate players and getting legitimate prices for them. It certainly hasn't been boring. And it leaves two questions for us as bettors - why is it happening, and what does it all mean? Let's address both in turn:
Why?
Free agency is too risky: When you are relying on free agency to fill a team need then you are in a very good position to make a bad deal. When you are bidding against other teams you are sure to pay too much, and when you aren't bidding against others you might not be getting a very good player. It's a rough deal, and trading helps teams avoid it and deal with sure costs for valued assets. Major League Baseball has very aggressively shown how much they hate free agency this winter, and the NFL is moving in that same direction as well.
Younger leadership: There are a lot of young guys - at least relatively - in charge of teams now. Philadelphia's Howie Roseman is 42, Les Snead of the Rams is 47, Chris Grier in Miami is young, and Brandon Beane in Buffalo is Miami is younger than all of them. All four guys have been busy on the trade market. These guys aren't committed to doing things like they have always been done, and they are willing to look outside the box to do things that improve their team. Another factor that we've heard a lot about lately that is interesting is that these guys are heavily committed to texting. It used to be that to make a trade you had to make multiple phone calls shopping a player. It was inefficient, and it got in the way. Texting has sped things up dramatically, and that speed has helped create the market.
Improved analytics: As analytics have improved for football, and teams have embraced them more fully, it has become much easier to value both players and draft picks. When teams were relying on their gut, the tendency to overvalue your own assets - either players or picks - was high, and trades were tougher to do. When you are comfortable with what something is worth, though, it is much easier to assess whether a deal makes sense. And the youth movement in front offices has certainly made this easier.
Catching up to other leagues: The NFL has been behind other leagues when it comes to trading for a long time. The NHL is extremely trade happy, and the NBA and MLB are not far behind. Trading works very well in those leagues in certain circumstances, so why wouldn't it work in the NFL?
What it means
How we evaluate the offseason changes: I am writing this on the first official day of free agency, and it is unquestionably different. Many teams with need have already addressed them through trades, so the free agent market really lacks the urgency and insanity of past years. The QB market looked insane a few weeks ago, but with the trades of Alex Smith and Tyrod Taylor much of the intensity fizzled. In the past we could get a pretty good sense of what teams look like compared to last year just by tracking free agency and the draft. Now that's not enough.
Foundation for the future: The NFL eases into trends instead of going full force into them. A couple of teams start a trend, and then after a while it is the new norm. Trading has been a big deal among some teams this year. It feels likely that, as long as some of those teams have success with the moves they have made, we'll see the trade market really blow up next year and beyond. So, if you liked this year then enjoy the ride. The other nice thing about smart roster management like this is that it shortens the time needed to reload and rebuild. It allows teams to be contenders faster and makes it less likely that a team will be a waste of real estate for years and years. The more competitive the league is, the better it is for bettors in the long term.
Players as assets: The NFL already takes a lot of criticism for treating their players like disposable pieces of meat. Non-guaranteed contracts and a massive and continually renewing supply of players will do that. If you have had an issue with that already then you certainly aren't going to be happy going forward. Increasing the number of trades in the league only makes the player market more efficient, and the more efficient a market is the less significant any asset becomes. Teams are less likely to be loyal to any player if the ability to replace them at a controlled price is more readily available. This trend is not a win for people who want to see players on a team for life.
Doc's Sports has had a winning tradition for more than four decades. Don't believe us? Try us out for free, and we are convinced you will be a believer. Get $60 worth of free sports picks - members' picks just like our paying clients get - here .
Read more articles by Trevor Whenham