Antonio Brown and Odell Beckham Jr. Betting Props with Expert Predictions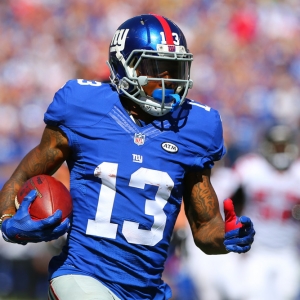 The NFL offseason finds way to get more and more interesting every year, and this year is already among the best we have ever seen -- and we haven't even got to the draft yet. Partly that is because the Super Bowl was so boring that anything looks better in comparison. But mostly it is because of all the fireworks that have been created, and chief among those have been the two big wide receiver trades. Though impact trades are becoming more and more common in the NFL, we rarely see deals involving the best players at a position. Yet, in Antonio Brown and Odell Beckham Jr. we have arguably seen the two top receivers in the league get traded in the same week. Crazy.
Bettors seem to be high on the Antonio Brown trade, tempered by reservations about what it is that Oakland is doing overall exactly. There is no tempering expectations in Cleveland, though, where futures odds have fallen in more than half and the Browns are the fourth choice at Bovada to win it all.
Both guys obviously make their new teams better. And neither team paid too much to get them. In fact, both guys were a bit of a bargain. Giving a guy like Baker Mayfield the best weapon he has ever had seems almost unfair, and if anything can get Derek Carr back on track it's Brown. We could go on and on about what impact the deals have on their teams, but that's not what people come here for. Instead, let's look at some of the interesting props available at BetOnline for the two superstars on their new teams.
Antonio Brown
TD receptions - over/under 9: Brown led the league in touchdowns with 15 last year, and he has gone over this total in four of the last five years. The only time he didn't go over was in 2017 when he still hit nine - a push here - and he missed two games that season. So, if he were still in Pittsburgh then the over would be a no-brainer here - both sides are at -115, so the decision would be simple. But what does the shift from Big Ben to Carr mean? Carr had only 19 touchdown passes last year, but he had a career-high year of more than 4,000 yards, and the offense is still a work in progress. Carr has had as many as 32 touchdowns. I don't see any option but to take the over.
Receiving yards - o/u 1100.5: He has gone well over this number in each of the last six years, and over in seven of the last eight. Carr is capable, and Brown will be his favorite target - or at least that's the plan. The over is at -150, so there isn't a lot of reason to lock in the price, but the value is still there.
Receptions - o/u 95.5: Again, he has comfortably gone over this number six years in a row. And while Carr is different than Big Ben, there should be chemistry here. Brown will get his touches.
Odell Beckham Jr.
TD receptions - o/u 8.5: It's easy to forget in all the hype that Beckham has had two off years in a row. In 2017 injuries limited him to just four games. He had three touchdowns on 25 catches that year. And last year he was limited to 12 games, and more limited by having Eli Manning throwing passes, so he had only six touchdowns. Injuries are always going to be a concern, but I am willing to give him a mulligan for those years. Before that, Beckham averaged 11.7 touchdowns a year over his first three years. And he is playing with one of the more electric quarterbacks to come along in a while. Both sides are at -115, so banking on the potential for the QB-WR chemistry, and the joy of getting out of the depths of the Giants' self-created hell, makes the over a no-brainer here.
Receiving yards - o/u 1100.5: Beckham had 1,052 yards in just 12 games last year. And in his three earlier seasons he had at least 1,305 yards each time - and the lowest total came when he again just played 12 games. The guy has the potential for well over this total if he stays healthy. And Mayfield had 3,725 yards in just 14 games as a rookie last year, so the upside is there - especially with the new toys he has to work with. The over is favored at -125, but there is still a little meat left on the bone at that price.
Receptions - o/u 89.5: Last year he had 77 catches in his 12 games, which was on pace for 103 on a full season. In his rookie year he had 91 catches in 12 games. And he had 96 and 101 in his next two seasons. He is fully capable of going over this number, and I am bullish on this pairing, so the over at -115 makes sense.
Read more articles by Trevor Whenham