Expert NFL Handicapping: Path for Teams out of Playoff Hunt
by Trevor Whenham - 11/14/2019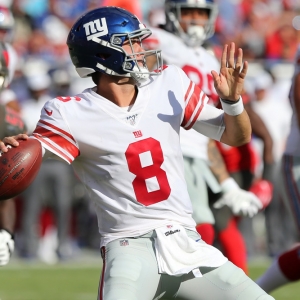 There are still six or seven regular-season games left to play for every NFL team. A lot of action. Yet, for at least 12 teams in the league, the season is functionally over. They have nothing left to play for - at least in terms of any postseason chances. Really, the number is probably bigger than 12, but these squads are all the ones that I have absolutely no hesitation about putting in this group.
While none of the teams have anything to play for, you can't deal with them all the same way. Some teams will play with great passion and motivation despite essentially being done. Others will quit on themselves. It's a spectrum between those two extremes, and the better we can understand where a team's mindset might be, the better we can handicap the team down the stretch. Here's a quick look at each of the doomed teams:
Bengals (0-9): Cincinnati is a really, really bad team. Zac Taylor has gained no traction as a coach, and you can't really blame him - he was placed in an impossible situation. But they have real issues pretty much everywhere on the field. The schedule has a few softer spots - the Jets and Dolphins, for example. But this team has little interest in playing well right now. They are at +400 to go winless this year, and that certainly feels possible. They have had a chance to get the top pick handed to them by the surprising competence of the Dolphins lately. That should be motivation here - it's not like there is anything else to get them fueled up.
Redskins (1-8): At this point, the Redskins have only one thing to accomplish - figuring out if they have next year's quarterback on board in Dwayne Haskins. They are going to go through a whole lot of changes - starting with a new coach. But if they can grow reasonably confident that they have a guy they can work with, then at least that's one less issue. Nothing else really matters here. They have announced their plan to start Haskins the rest of the way, which is exactly the right move.
Giants (2-8): There are two priorities here for the Giants. On one hand, they need to get Daniel Jones as much experience as they can. In eight starts this year, he has had three that count as really solid - two in his last three games. The more reps he sees, the better. But they also need to make sure they don't kill Saquon Barkley. He was truly horrible last week and seems like a shell of himself. He's far too important to be treated like this.
Dolphins (2-7): A team that seemed to be the worst in the league by a wide margin - mostly because they were intentionally and profoundly tanking - has suddenly won two in a row. Miracles can happen. There is a whole lot of changes coming up next year, so worrying about the roster too much isn't worth the time. Brian Flores has done some impressive coaching of late, though, and all that matters for now is that Flores, selfishly, does whatever he needs to do to be ready for a much-improved team next year.
Falcons (2-7): The New Orleans win was truly stunning. But it doesn't change too much in my eyes. This is a team in desperate need of a coaching change in an attempt to put their self-sabotaging ways in the rearview mirror. It feels inevitable at this point. And they can't fight it going forward.
Jets (2-7): They can't score. They can't defend. They can't really do anything. As much as any team on this list, what they need to do is get this season over, make some changes, and start again next year. This is a lost mess of a season.
Browns (3-6): Some people out there are trying to make the argument that there is life for this team after their win over the Bills last week. That's ridiculous. They team probably needs to run the table to make the playoffs, and with Freddie Kitchens in charge that isn't happening - even against the weak schedule this team faces. They need to get to the point where they can hire a real coach. Nothing else really matters.
Broncos (3-6): The team has done a horrible job figuring out the QB situation since Peyton Manning. All that matters now is that they get a chance to audition Drew Lock and see what he might be. If they don't have any more confidence in him than they have had in the long string of losers before him, then they need to do something about it in a hurry.
Buccaneers (3-6): Tampa Bay has a lot of issues, but they have scored the most points per game in the NFC. That's a lot to build on, and it doesn't feel like a fluke. I really like the coaching change they have gone through, and it feels like they just need to avoid screwing this progress up. It's a process, and there is cause for optimism.
Lions (3-5-1): This team deserves more. They have been better than this record in a lot of ways. But that doesn't matter. And, as a result, the Lions are just the Lions. Again. Still. What a mess.
Cardinals (3-6-1): This was always going to be a tough year, so nothing is shocking here. In fact, in so many ways the Cardinals feel ahead of schedule. The defense is troublesome, but they play some tight games, and Kyler Murray is moving in the right direction. They just need to keep on keeping on.
Bears (4-5): This Mitch Trubisky angst is driving me crazy. It's tiresome. The rest of this year they just need to decide one way or the other if they are going to ride this train another year or move on. Right now he's at -250 to be the starter at the beginning of next year and +170 not to be. If they are leaning the same way as the odds, then they need to lean into that, endorse him, and drain the fuel from this discussion.