Gronk New England Patriots Betting Prop Odds with Expert Predictions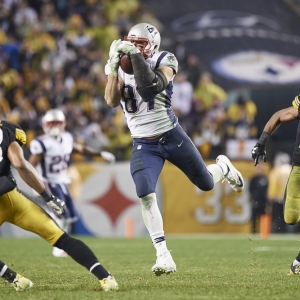 If you have read any of what I have written over the last many years, you know that I love prop bets. And I may have a new favorite on because it's just so stupid. Stupid in a very good way, to be clear. I'm speaking of the prop at Bovada that allows us to speculate about what the first thing Rob Gronkowski will do when he retires from the NFL. We don't know if that will be now or later down the road - and if I had to choose, I still think he'll be back for more - but the timing doesn't matter. All of these opportunities could be waiting for him whenever he decides he is done:
Act in a movie (-225): This one is justifiably the strong favorite. Gronk has 10 acting credits on IMDB already, dating back to an appearance as himself on Entourage in 2015. And he has two movie roles in the can coming out this year. In a Mel Gibson film called "Boss Level", and as Party Guy Jake in a movie called "Deported". Boss Level is scheduled for an August release, and Deported in April, so if he retires soon these will come out just in time to win this bet. He doesn't have any other roles set at this point, so if he plays for another year, he might not have another role in time. So, this is justifiably the favorite, but not one with value just yet. And besides, it's not nearly as interesting as some of the other options.
Fights in a sanctioned WWE Match (+250): Gronk is a big WWE guy, and he made an unofficial appearance in a battle royal at Wrestlemania 33. I could absolutely see him making more appearances like that. In fact, I would bet on it. But it is a big jump from there to actually training to become a wrestler. I assume that you would have to be on the roster to fight in a sanctioned match, and I just don't see him wanting to invest that much time and effort into doing so. Among other concerns, it's not like the organization could come close to paying him what he could make in Hollywood, and he shouldn't be hurting for cash.
Make an alcoholic beverage commercial (+400): Gronk loves his booze and could certainly fit as an endorser. But while there have been celebrity beer commercials at times, it isn't the most common approach of the big breweries. And hard liquor is tough to advertise. This price is far too low.
Make a Zubaz commercial (+1000): Gronk loves his Zubaz. He has a web store that sells them. But Zubaz isn't exactly advertising on prime-time TV, and I'm not sure Gronk would be interested in showing up in places that a Zubaz commercial might air.
Barstool Sports employee (+1400): An article at Barstool? Sure. But he's not really cut out to be a regular journalist - if you can call that journalism.
Male Sports Illustrated swimsuit model (+1600): The Swimsuit edition has been pushed back from mid-February to Mid-May starting this year, so on the surface the timing works. The photos are taken months before, though, and I'm not convinced that Bill Belichick would have been into giving Gronk time off for a photo shoot. I'm also not convinced that he would be the first choice if they were looking to add an NFL athlete into the mix.
2020 Presidential Candidate (+5000): Every time I look at the news, another three people have declared their candidacy, so there is seemingly endless room for more candidates to be added. But I'm not sure this is where his ambitions lie, and I doubt he would hold up to the scrutiny that candidates fall under when things get serious. Alas, there is a practical consideration here, too. To run for President, you have to be at least 35 years old on election day. Gronk will only be 31. So, he can't run even if he wants to. The country is robbed of the leadership perhaps it deserves due to a technicality. 2024 maybe?
MNF announcer (+5000): The Monday Night Football booth has had bad luck this past year with tight end Jason Witten, so if they were going to replace him it's tough to believe that they would go with another tight end. The MNF booth is badly overshadowed by Tony Romo and his ability to see the future. The only way to combat a guy with a football IQ as high as Romo's is to find a guy who can match or better him. Gronk is a lot of things, but he doesn't strike me as that.
Doc's Sports is offering $60 worth of member's picks absolutely free - no obligation, no sales people - you don't even have to enter credit card information. You can use this $60 credit any way you please for any handicapper and any sport on Doc's Sports list of expert sports handicappers. Get $60 worth of premium members' picks free .
Read more articles by Trevor Whenham