NFL Betting Advice: AFC Championship Game Keys and Distractions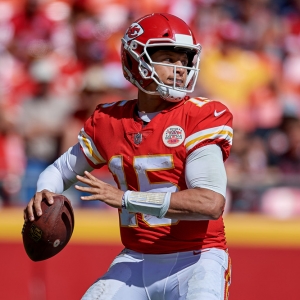 The top two teams in the AFC - by the standings if not by record - meet in frigid Kansas City with a trip to the Super Bowl on the line. The oldest quarterback in the league against a first-year starter. A three-time and reigning MVP against, presumably, the guy who is about to earn his first MVP award. Two of the longest serving and savviest coaches in the league - albeit two guys with very different playoff records. There is just so much to like about this AFC Championship Game. But the best way for bettors to enjoy a game like this is to bet on it correctly. To do that you need to focus on the keys to the game and ignore the distractions. So, let's help you do just that:
Keys
New England's ground game: The running backs were really the biggest key for New England's impressive success against the Chargers. Sony Michel was very good, piling up the yards and scoring three times. But it went beyond that, with James White catching a playoff record 15 passes. The effectiveness of the running backs in every aspect of the offense made it very tough for the L.A. defense, and they never recovered. The Chiefs, to be kind, don't have an iron wall built where their linebackers are supposed to be, and they have given up more passing touchdowns to running backs than any team in the league. If New England can again establish the ground game early and often in this one, and make White a big weapon, then they have a chance to set the tone. This could be particularly useful if conditions are less than ideal for passing - as the forecast suggests they could be. But the Chiefs are going to have watched that last game obviously, and they are going to try hard to minimize the impact the Pats can have from the position. This battle could very well define how the game turns out, so what you expect to happen should define a lot of what you are looking for in this game.
Mahomes: Obviously, it isn't exactly revolutionary to say that Patrick Mahomes is going to be a big key in this game. The guy is the Chiefs. And he has been magically good - far better than I thought he would be this year, I am willing to admit. But as great as he has been, and as seemingly limitless as his talent and potential seems to be, we still need to be realistic when evaluating him here. He's still a first-year starter, and he is still starting his second ever playoff game. Nothing seems to bother him, but you would have to argue that his four regular-season losses came in the four toughest, biggest games his team played this year - or at best four of the top five. The Patriots early on are always a big test for any team, the Rams was a battle of the giants, and against the Chargers and the Seahawks he and his team lost when they had a chance to wrap up the AFC much earlier than they ultimately managed to. Mahomes didn't cost his team any of those games by any means, but he also didn't have quite enough in him to pull off the win - and three of the four losses were by a field goal or less. Now he is playing by far the biggest game of his career. New England's defense is not the best one he will face this year, but they did allow the fourth fewest points in the AFC, and there is a whole lot of playoff experience in that organization for the team to draw on when getting ready for this game. As good as Mahomes has been this year - and he is my MVP by a very wide margin - he needs to find a new level in this one if he wants to keep playing this year. I'm not saying you should necessarily expect him not to show up, or to have a bad day - I sure don't. I'm just saying that you have to remember that he is mortal even if some of his passes don't suggest that he is, and you need to treat him with the same objectivity you would treat any other guy entering a game like this against the best team of a generation.
Biggest Distraction
The weather: Sure, it's going to be cold. The forecast calls for zero degrees, and wind can always blow at Arrowhead. But I get really tired when people want to make a big deal about the weather and how it could affect the game - at least in most cases. Yes, it will be cold. Yes, it could create some issues. But it is going to be just as cold for both teams. Both of these teams need their quarterback to be able to throw if they want to win, so they are going to do everything that they possibly can to keep their hands warm. Brady has been through games like this many times before - Boston isn't exactly tropical. And while Mahomes hasn't seen as much of this weather growing up and playing college in Texas, he has been in Kansas City for two seasons now, so this isn't his first questionable day. I might be a little more concerned if one team was from the deep south or played in a dome, but in this case the weather isn't going to affect my decision making at all. It may wind up affecting the game, but not in a way we can accurately predict in advance. Just don't worry about it.
Read more articles by Trevor Whenham