NFL Betting Advice: How Quarterbacks Performed ATS after Signing Big Contracts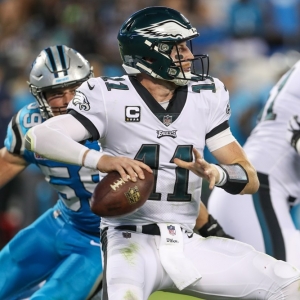 This offseason we have seen NFL quarterbacks Russell Wilson (4 years, $140 million), Carson Wentz (4 years, $128 million), Nick Foles (4 years, $88 million) and Ben Roethlisberger (2 years, $68 million) get paid in a big way. Big Ben is no stranger to big paydays, but it is a big raise for Wilson and Foles, and a whole new stratosphere for Wentz. Their contracts and how they react to them will not, of course, define how their teams perform against the spread this year. It's far more complicated than that. By looking at how other quarterbacks have recently performed ATS in the year after their big contract, though, we may gain a little insight that could be valuable this year. Here's a look at nine guys that have been paid in the last four years, and the season that followed.
2018
Matt Ryan, Atlanta (5 years, $150 million): Atlanta had a horrible year for bettors last year, going 5-11 ATS, which was tied for worst in the NFL. The team's season was generally forgettable, and they went 7-9 and didn't really frighten anybody. It was a decline from their 10-6 mark the year before, though they were a relatively lousy 7-9 ATS then as well. This is not a team that has been great to bettors lately - unless they are betting against them.
Jimmy Garoppolo, San Francisco (5 years, $137.5 million): The Niners were tied with the Falcons for that league-worst 5-11 ATS mark, but that was as much the fault of not having a good backup plan if Garoppolo got hurt than for the rich QB himself. He was injured after just three games, so his season was short. He did fail to cover the spread in any of those three games, though, so he didn't exactly jump out of his new tax bracket and into the win column.
Aaron Rodgers, Green Bay (4 years, $134 million): The Packers were a very ugly 6-9-1 ATS last year and were among the bigger disappointments in the league. But very little of that rests on the shoulders of their star QB. His numbers were only a little down from his peak, and he was on a broken, poorly-built team crying for a coaching change. Now, much has changed, so we have to see if the impact is positive.
Alex Smith, Washington (4 years, $94 million): The Redskins were just 7-9 ATS last year, but that doesn't tell the real story. Before his gory injury, Smith had gone 7-3 ATS in his 10 starts. He wasn't perfect - he never is - but he was going a long way towards earning his money in the role he was brought in to fill.
Kirk Cousins, Minnesota (3 years, $84 million): The first year of the Cousins experiment was not a particularly good one. At least not compared to the high expectations. He was 8-7-1 ATS - a mark that mirrored the team's record. More than just the underwhelming performance, Cousins just didn't look like he was up to the contract or being an unquestioned No. 1.
2017
Matthew Stafford, Detroit (5 years, $135 million): He was 8-7-1 ATS the year after the contract and 8-8 ATS the year before it. Not much has changed. Some people are down on Stafford, but I just don't get that. The team has been a mess for a long time, but so little of that is his fault. He does his job with little help.
Derek Carr, Oakland (5 years, $125 million): Carr was a hideous 5-9-2 ATS after signing this deal. Then Gruden rode into town and only made things worse. More than most on this list, it appears that Carr couldn't handle the extra pressure that came with the deal. But then he plays for a total clown circus of a team, so he doesn't get all the blame. He has gotten some help this offseason, but it remains to be seen if that is enough to snap him out of his funk.
2016
Andrew Luck, Indianapolis (5 years, $123 million): The team went 7-7-1 ATS in the season after the deal, and he put up numbers that were among the best in his career. The pressure did not bother him at all. It was the year after that which he missed entirely due to injury.
2015
Eli Manning, New York Giants (4 years, $84 million): The Giants were 8-7-1 ATS the year after this deal, which is actually pretty good considering that they were 6-10 overall that year. Manning hasn't delivered a whole lot of betting value over the course of this deal, but that has far less to do with pressure - it's not the first time he has been paid - and more to do with father time. It's a Manning tradition not to age gracefully in this league.
Read more articles by Trevor Whenham