NFL Office Pool Picks Week 8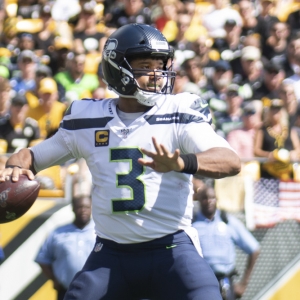 You never know what is going to happen during a week of the NFL season until the final game is played. But at first glance, Week 8 is not one in which the edges of our seats are going to get a big workout. There are a lot of underwhelming matchups between mismatched teams this week. And there are several games that seemed a few weeks or months ago that they would be a whole lot better than they are likely to be now. It's just not a great week. But it sets up to be a more straightforward week for us as we try to pick straight up winners for NFL office pool picks. Let's make this a big one, and win some cash in our pool predictions:
Washington at Minnesota: Washington is a truly awful, directionless team already just resigned to playing out the string. And they are on a short week , which will certainly not help them. Minnesota has won three straight, and Kirk Cousins is playing well. Mismatch. Take the Vikings.
Seattle at Atlanta: Atlanta is a freaking mess. I was very pessimistic about them heading into the season, but it is even worse than I could have imagined. Seattle isn't a perfect team, and against top-level teams I would have concerns about them on the road. But not here. Take the Seahawks.
Philadelphia at Buffalo: Philadelphia has plenty of issues, and they have dropped three of four on the road. They just aren't good right now. They are the better team on paper here, perhaps. But the game obviously isn't played on paper, and whatever Buffalo is doing right now is obviously working. Why fight it? Take the Bills.
L.A. Chargers at Chicago: The Bears were a real disappointment last week, and they just aren't firing - especially on offense. But the Chargers are a long way from perfect, too, and their issues are even more concerning than Chicago's at this point. This should have been a much better matchup than it is here in Week 8 . Take the Bears.
New York Giants at Detroit: Both of these teams have just two wins. But they are entirely different. The Giants are a complete and utter mess. Big problems. Injuries. Inexperience. A lack of depth. Detroit, meanwhile, is playing just playing too well to have the record they do have. They have had bad breaks and are much more dangerous here . Take the Lions.
Tampa Bay at Tennessee: If you could see me right now, you'd see me sitting on a couch in my office - don't worry, my wife doesn't get why I sit on the couch when a desk is three feet away, either. And I'm holding a coin. Flipping it. Because I have totally given up trying to figure out what we will get from either of these teams. It is entirely beyond me. It came up tails. That means we'll take the Bucs.
Denver at Indianapolis: Watching the Broncos is like watching a bad kidnap movie. Someone has stolen Joe Flacco's prized pet, and the only way he can get it back is to play quarterback for the Broncos. He doesn't want to. He's desperate not to. But he has no choice. This one is a mismatch. Take the Colts.
Cincinnati vs. L.A. Rams in London: The Rams have plenty of issues. They are in a funk. The offense isn't really working. They are making moves on defense that reek of desperation. There are warning signs everywhere. But this is the Bengals we are talking about. They are so, so, so lousy. Take the Rams.
Arizona at New Orleans: I like a lot of things the Cardinals are doing. They are showing real progress this year, and I am increasingly optimistic about their next couple of years. But the Saints just keep getting it done and are in a much better spot here. Take the Saints.
New York Jets at Jacksonville: The Jets just lost 33-0. And, if anything, that score was flattering. It's tough to pick yourself up after a beating like that. Jacksonville isn't great, but they are solid - and much the better team here. Take the Jags.
Carolina at San Francisco: Carolina has been a whole lot better than it was reasonable to expect given what they have gone through already, and they are going to be tough. They haven't lost yet on the road in three tries. But San Francisco hasn't lost yet, is playing well, and is at home. That makes the Niners automatic in this surprisingly compelling game. Take the Niners.
Cleveland at New England: Take the Patriots. Obviously. Cleveland can't get out of their own way - especially on offense - and facing this dialed in defense sure isn't going to help.
Oakland at Houston: Houston has two nice wins and a decent loss in their last three games. They are in a pretty good place. Oakland is better than I expected, but I still don't trust or particularly respect them. Take the Texans.
Green Bay at Kansas City: I struggle to believe in Green Bay in a meaningful way. But the Chiefs were all in on trusting Patrick Mahomes with their destiny, so they are challenging to trust without him. And it's not like they have been great lately even with him. Take the Packers.
Miami at Pittsburgh: Is Miami playing this week? Check. Then whoever they are playing will win. Even if that team is a mess in 17 different ways. Take the Steelers.