NFL Office Pool Picks Week 9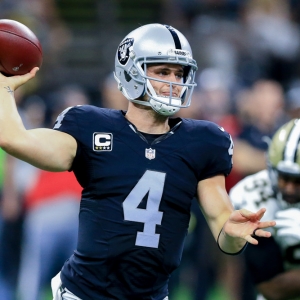 Last week felt like one of the easiest weeks of the year when we sat down to make out NFL office pools picks. And though the Bills and Bears frustratingly let us down, it wound up being the most successful week of the year to date in these parts. This week feels a little tougher, but we're on a roll, so we can tackle our straight up picks this week without even the smallest hint of fear. Here's how I see things breaking down this week as we face the exact middle point of the 17-week regular season. I don't know about you, but to me it feels crazy that we are that far into things already.
San Francisco at Arizona: I like enough things that the Cardinals are doing that I am optimistic about their future. They are showing progress. But they have a massive hole to climb out of, and it's a process. San Francisco is much further along in their process, and they look very good. Really good. This will be a strong rivalry in a year or three, but for now it's a mismatch . Take the 49ers.
Houston vs. Jacksonville in London: Both of these teams are in reasonably solid form right now, and this is a huge game in the divisional race. Gardner Minshew has been one of the better stories of the season, and the J.J. Watt injury hurts, but Houston is still the better all-around team. Take the Texans.
Washington at Buffalo: One team was surprisingly terrible last week. The other team has been, unsurprisingly, terrible most every week. This one couldn't be much easier to pick. Take the Bills.
Minnesota at Kansas City: The Vikings are on a roll, having won four in a row. I'm not entirely convinced it's real, and they haven't been great on the road. But the Chiefs still have issues at QB , and that defense is still a concern. Take the Vikings.
New York Jets at Miami: This game is pretty much my worst nightmare. I'd rather watch it than the Bengals and Dolphins, I guess, but not by much. The Jets are truly awful and trading away anything that moves. But that blitz at 3rd and 20 on Monday night showed that there is no end to the depths that Miami will go to lose. I can't imagine a game tougher to choose a winner in. There are no winners here. I can't pick a tie, though, so I guess I'll take the Jets - at least they have won once.
Chicago at Philadelphia: The Eagles got a big road win last week, and now they return home where they will be feeling good. The Bears are a mess offensively, and that makes them very tough to trust. Take the Eagles.
Indianapolis at Pittsburgh: Pittsburgh tried hard for a long while - too long - to lose to Miami on Monday night. Now they face a short week. It's a lot to ask for a reeling team. And, beyond that, they are just clearly second best here. Take the Colts.
Tennessee at Carolina: Both teams are tough to trust. Tennessee has won two in a row, but still leave us with all sorts of questions that are unresolved. Carolina has some controversy brewing at QB, and they are coming off a loss, but are doing a lot of things well enough. It could go either way, but I'll default to the home team. Take the Panthers.
Detroit at Oakland: I haven't trusted the Raiders all year. It didn't go great early on, but they have been the team I expected them to be lately. Detroit is playing well enough, and they get the edge here simply because they aren't judged by Jon Gruden. Take the Lions.
Tampa Bay at Seattle: The Bucs came out of the gate better than expected, but reality has sunk in lately. Seattle isn't a team I am in love with in terms of being a Super Bowl contender , but they are clearly the best team here. Take the Seahawks.
Cleveland at Denver: What a mess. Denver is starting a guy at QB that only his own mother recognizes. The Browns are just a total mess that can't get out of their own way. Ugly, ugly game. I'll take the Browns, but I sure don't feel great about it.
Green Bay at L.A. Chargers: The Chargers pulled off a win I wasn't expecting last week. But Green Bay keeps rolling. I don't think that the road team here is a true Super Bowl squad, but they are doing the right things now. Take the Packers.
New England at Baltimore: This is the toughest game New England has played, and these two squads always play each other tough. I like what the Ravens are doing, and they are at home which is a big thing. But the Patriots haven't faltered yet, and that defense is just so legit. Take the Patriots.
Dallas at New York Giants: I don't like Dallas much. And the Giants had a pretty solid offensive day in a loss last week. I'm tempted to go for the home team. But I just can't do it. Take the Cowboys.
---
Most Recent NFL Office Pool Picks