NCAA Football Championship Week NFL Week 14 Free Picks by Handicapper Doug Upstone
by Doug Upstone - 12/6/2019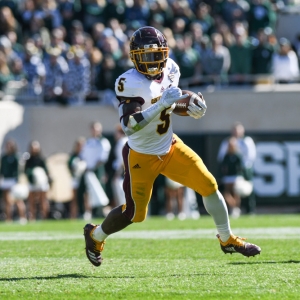 It's Championship Week in college football and Week 14 in the NFL, and we have all the biggest line moves to talk about. Take a minute to review all the betting trends, our free picks and predictions (160-128-3 of late) to see what we are thinking about today. See you back here next week.
CFB - Friday - (103) OREGON vs. (104) UTAH 8:00 ET ESPN
Utah is gathering momentum far and wide as a popular pick to not only win the Pac-12 title but if LSU beats Georgia, to get a seat at the table of the College Football Playoffs. The Utes actually opened at a 3-point favorite over Oregon but were shoved all the way to -7. Because of the line movement, there is no value in taking Utah, but it also makes little sense to get in front of a team that is on an 8-0 SU and ATS run and who has the better and more consistent team.
Betting Trend - 58% backing Utah
Doug's Doc's Take - Utah covers
CFB - (105) MIAMI-O vs. (106) CENTRAL MICHIGAN 12:00 ET ESPN2
This a forecast nobody would have predicted even in September for the MAC title game. Central Michigan was 1-10 last season and brought in Jim McElwain to coach, a former Nick Saban assistant at Alabama and previously the coach at Florida. He changed the culture and attitude completely and the Chippewas became division champions. Miami-O was whipped by Iowa, Ohio State and Cincinnati, but learned to get tougher and won the MAC East. The RedHawks opened as +3 point underdogs and have been pushed to +6.5, having the poorer offense squad. However, Miami-O is a solid 31-17 ATS as an underdog and keeps this one tight against the college football odds.
Betting Trend - 72% backing Central Michigan
Doug's Doc's Take - Miami-O covers
CFB - (109) BAYLOR vs. (110) OKLAHOMA 12:00 ET ESPN
Three weeks ago, Oklahoma engineered their greatest comeback in football history (down 25 points) and beat Baylor in Waco 34-31. The total in the contest close at 68.5 which made the opening total for the Big 12 championship a bit surprising at 62. Those placing college football picks said "No Thanks" and the total has since risen to 64.5. I'll go the other way, thinking Oklahoma's defense will play better at a neutral site and the Sooners are 10-2 "Under" on a neutral field when the total is 63 points or higher.
Betting Trend - 89% backing Over
Doug's Doc's Take - Play Under
NFL - (139) CINCINNATI at (140) CLEVELAND 1:00 ET CBS
In the battle of Ohio, a 1-11 Cincinnati squad is drawing more sharp action than what was one of the heaviest wagered teams to win the Super Bowl before the season in Cleveland. The Browns have fallen like their season from -10.5 all the way to -7. Cleveland is not the team many expected, but seriously, the Bengals just won for the first time. Cincy might be 4-2 ATS on the road this season, still, they have lost those contests by 9.6 PPG. Backing the Browns.
Betting Trend - 63% backing Cleveland
Doug's Doc's Take - Cleveland covers
NFL - (145) MIAMI at (146) N.Y. JETS 1:00 ET CBS
The Jets have lost twice this campaign to teams that started 0-7 or worse in 2019. One of those setbacks came against these very same Miami Dolphins, who just upset Philadelphia and is playing hard every week for coach Brian Flores. Gang Green losing to Cincinnati really soured a number of football bettors and they have seen their NFL odds lowered from -7. 5 to -5.5. Not sure about you, but the idea of trusting either Sam Darnold or Ryan Fitzpatrick leaves one to reach for the Tums. The Jets are still the better team and offer more value at under a touchdown at home. Can I borrow a couple of Tums?
Betting Trend - 64% backing Miami
Doug's Doc's Take - Lean N.Y. Jets cover
NFL - (149) L.A. CHARGERS at (150) JACKSONVILLE 4:05 ET FOX
Honestly surprised there would line movement on two AFC teams going absolutely nowhere . The Chargers came up with yet another "creative" way to lose, being the first team in 2019 to draw a pass interference penalty with under 10 seconds in the game, which set up Denver's game-winning field goal. Jacksonville's a sight for sore eyes on a 0-4 SU and ATS bender. So how did the Chargers draw enough support to go from -1 to -3? No clue. Philip Rivers is not aging like Tom Brady and has eight picks in his last three outings. In a matchup like this, I'd rather take the digits them give them.
Betting Trend - 61% backing L.A. Chargers
Doug's Doc's Take - Lean Jacksonville covers
NFL - (155) TENNESSEE at (156) OAKLAND 4:25 ET FOX
This AFC affair is wrought with contradiction. Tennessee was sent out as a Pick at Oakland against the NFL odds and faster than you can say "Adios Marcus Mariota", the Titans were at -3. Conventional wisdom says take Tennessee, who's on a 5-1 SU and 4-1-1 ATS run against a Raiders squad that just lost twice on the road by 62 total points. Nevertheless, every sharp bettor I've communicated with this week is on Oakland, thinking with them back home, they are right home underdog, with Tennessee off two division wins and having Houston on deck. I'll bite.
Betting Trend - 60% backing Tennessee
Doug's Doc's Take - Lean Oakland covers
NFL - (157) SEATTLE at (158) L.A. RAMS 8:20 ET NBC
Seattle has won five straight (4-0-1 ATS) and is off a hard-fought win over Minnesota. The Seahawks have to travel on a short week to Los Angeles and have gone from a 2.5-point road favorite to a Pick versus the Rams. Sean McVay's club bounced back from Baltimore beatdown to annihilate Arizona 34-7 and with the Vikings losing to Seahawks, that brought them to within a game of the wild card chase. Seattle wants to stay tied with San Francisco in the NFC West, yet, they will still play them in Week 17, thus, a setback in Tinsel Town is not a backbreaker. For NFL picks, taking the more desperate Rams with Al and Chris doing the game.
Betting Trend - 70% backing Seattle
Doug's Doc's Take - L.A. Rams cover
Public Consensus Record (2019) - 51% to 79% - 206-198-6 ATS
Public Consensus Record (2019) - 80% or Higher - 66-70-1 ATS
Line Movement Direction Record (2019) - 255-257-7 ATS
Doug Upstone is the latest handicapper at Doc's Sports and he brings years of experience with him. Doug has 21 documented No. 1 titles and finished in the Top Ten 80 other times in a distinguished career. Doug as a professional handicapper/writer, has written for various well-known sports betting websites and several of the football newsletters you have read before.
$$ Doug's fired up coming off a 5-2 record in football (Sat. thru Mon.) and his 6-Unit or higher football plays are up $3,040! (6-1)
New Customers, use $60 Free Money to get my Hot Picks for a week or a month.
$$ Doug's 12-7 Last Five Days, up +1,360.
$$ Doug's on a 62.5 percent NBA run! Join the fun!
$$ Doug's on an 80-60 NFL run and is 2016 Monitored Champion
$$ Doug has 21 No.1 monitored titles and 80 Top 10 finishes!
$$ Doug has 6-unit Winner coming in College Football (12/7) and 7-unit NFL Winner (12/8)!
Check out Doug's Winning Plays! Click Here