Week 14 NFL Picks: Best 6-Point Teaser Bets from Handicapper Doug Upstone
by Doug Upstone - 12/5/2019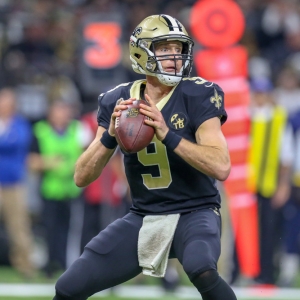 We are back for NFL teasers and looking to finish the last quarter of the regular season with a bang! We have gone through a bit of rough spell and seen our record drop 36-16 on teasers. It's time to pick it back up and deliver as usual with these plays starting this week.
My methods are explained below, and this week I have two underdogs that look sharp with extra points beyond the key numbers and two favorites that are in far more advantageous spots with numbers lowered.
Below are my Week 14 selections.
San Francisco at New Orleans - Dec. 8 - 49ers Taken From +2.5 to +8.5 over Saints
The teams with the two best records in the NFC will do battle, and a possible No. 1 seed in the conference might be a part of the outcome. San Francisco has two losses this season, both by three points. One was in OT to Seattle, and the other on the last play of the game against Baltimore. With how good the 49ers defense is, it's hard to see them losing by double digits to New Orleans unless they commit a slew of turnovers. Buzzing by the key numbers of 3, 6 and 7, in the last three seasons the Saints margin of victory at home off a division battle is only 5.3 PPG.
Doug's Doc's NFL Picks: 49ers +8.5
Cincinnati at Cleveland - Dec. 8 - Browns Taken From -8.5 to -2.5 over Bengals
Whatever fairly unrealistic hopes Cleveland had of making the playoffs were dashed with their failure at Pittsburgh. The best the Browns can hope for is to run the table and finish with a winning record and on a positive note. Cincinnati avoided the embarrassment of a winless season by upsetting the New York Jets at home, thanks in large part by reinstalling Andy Dalton as quarterback. The Bengals don't figure to go on a winning streak still lacking in talent. However, it makes sense to lower Cleveland to under as field goal favorite for NFL picks by being cautious. The Bengals are actually 15-6 ATS in road games the last three seasons, with their margin of defeat 6.1 PPG, which would make this a winner.
Doug's Doc's NFL Picks: Browns -2.5
Detroit at Minnesota - Dec. 8 - Vikings Taken From - 13 to -7 over Lions
Detroit has not given up, but they are running out of reasons for motivation at 3-8-1 and left to play a third-string quarterback. The Lions defense is deplorable, ranked 29th in total defense and No. 30 against the forward pass. This is not good with Detroit taking on a Minnesota offense that is averaging 31.2 PPG at home in 2019. The Vikings defense is doing its usual second half swoon, but move them to -7 against NFL odds for teasers and that makes them far more appealing. Besides, what will QB David Blough have in his first road start and Minnesota figures to test him with early blitzes. The Vikes take care of business.
Doug's Doc's NFL Picks: Vikings - 7
L.A. Chargers at Jacksonville - Dec. 8 - Jaguars Taken From +3 to +9 over Chargers
This AFC clash has two clubs going nowhere and plenty of reasons to ask questions about how much they really want to win. Generally, in their situations, it is best to grab the points, and we are with Jacksonville. There is little doubt Philip Rivers is in decline, and he has eight interceptions in his last three outings, all Los Angeles losses. Jacksonville is no prize, as they have dropped four in a row and are going back to Gardner Minshew in hopes of finding anything to spark their offense. This is an ugly duckling choice. Yet, taking the Jaguars off the three and past the important numbers of 6 and 7 is a big help. Besides, favorites like the Chargers forcing one or less turnovers a game, after three consecutive contests with a turnover margin of -1 or worse, have lost be 3.1 PPG the last 27 times when this exact situation arose.
Doug's Doc's NFL Picks: Jaguars + 9
Doug Upstone's NFL Teasers Method - Betting NFL teasers are not about taking off points in games you like, rather creating value going against key numbers. Those key numbers I am talking about are 3, 6, 7, 10, 13 and 14. This is the real secret to beating the oddsmakers NFL odds for teasers.
The other key component is betting wisely. Limiting your teasers to two, three or four-team groupings, that enhances your chances of winning. With most four-team teasers paying out about $240 on $100 bet when you go to a five-teamer that jumps to +365 and keeps rising as you add more games.
Along with that so does your chances of not winning. How often have you bet teasers and parlays of six or more and only had one wrong? My guess is too often. Long shots do come in, but more often than not the money won only pays for all previous losses.
Doug Upstone is the latest handicapper at Doc's Sports and he brings years of experience with him. Doug has 21 documented No. 1 titles and finished in the Top Ten 80 other times in a distinguished career. Doug as a professional handicapper/writer, has written for various well-known sports betting websites and several of the football newsletters you have read before.
$$ Doug's fired up for Thursday's football releases at 6:00 EST coming 3-1-1 NFL weeks and his 6-Unit or higher football plays are up $3,040! (6-1)
New Customers, use $60 Free Money to get my Hot Picks for a week or a month.
$$ Doug's 12-5 Last Four Days, up +2,000
$$ Doug's on a 5-1 Hockey Move! Cash with me!
$$ Doug's on a 62.5 percent NBA run! Join the fun!
$$ Doug's on an 80-60 NFL run and is 2016 Monitored Champion
$$ Doug has 21 No.1 monitored titles and 80 Top 10 finishes!
$$ Doug has 6-unit Winner coming in College Football (12/7) and 7-unit NFL Winner (12/8)!
Check out Doug's Winning Plays! Click Here