Free Football and Basketball Picks for Weekend by Handicapper Doug Upstone
by Doug Upstone - 1/10/2020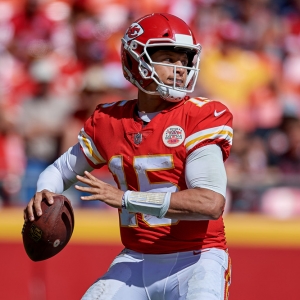 We have a variety of sports betting action from the NBA, college basketball and NFL Playoffs to cover this weekend. Take a minute to review all the betting trends, our free picks and predictions (175-143-3 of late) to see what we are thinking about today. See you back here next week.
NBA - (521) CHARLOTTE at (522) UTAH 9:05 ET FSCR, ATTRM
The NBA odds for this matchup have seen the total dip two points to 209. Though the last two games in Utah have both been "Under's", not sure I agree. Each team's regular scoring average is above the 209 barrier and the same is true of their performances in their past five contests. Utah does have some nice trends towards a lower score, yet, most are still end up at 210 or higher. With Charlotte 19-8 Over in road games after playing at home, snagging the Over.
Betting Trend - 67% backing Under
Doug's Doc's Take - Play Over
CBB- (839) BUTLER at (840) PROVIDENCE 9:00 ET FS1
The Big East is set to be a beast this season. There will be teams with losing conference records, yet, every victory will be earned by the victor. Butler has played like one the best in the country at 14-1 and they have a nasty assignment on Friday night. Providence was underachieving at 6-6 to start the year, but no more, on a 4-0 SU and ATS run out. This has pushed the Friars from +3 to +1.5 home underdogs in this encounter. Butler has really struggled with Providence in the past at 3-11 SU and ATS, which includes 1-5 SU and ATS in Rhode Island. Going below key numbers is hard in backing this home dog, leading to only a lean from here.
Betting Trend - 74% backing Butler
Doug's Doc's Take - Lean Providence
CBB - Saturday - (605) GEORGETOWN at (606) VILLANOVA 12:00 ET FS1
With Georgetown, you never quite know what to expect. They can go on the road and upset Oklahoma State, SMU and cover the spread at Duke and can get blown out as they have at Providence and at Seton Hall. Villanova is a good team but is lacking top tier athletes. Tough call, so let's take Nova at the lower end of the spectrum.
Anticipated Line - Villanova by 7 to 9 points
Doug's Doc's Take - Villanova covers (max -7)
CBB - Saturday - (623) BAYLOR at (624) KANSAS 1:00 ET CBS
These were the two best teams coming into the Big 12 season and both have lived up to the billing. Kansas has elite talent and experience which should be the difference in this one. Baylor has arguably the best all-around backcourt in the country and is terrific on the offensive glass, but this is a tall order at Allen Fieldhouse. Rock Chalk Jayhawk at these college basketball odds.
Anticipated Line - Kansas by 9 to 11 points
Doug's Doc's Take - Kansas covers
CBB - Saturday - (743) TEXAS TECH at (744) WEST VIRGINIA 6:00 ET ESPN2
Not crazy about doing two Big 12 tilts, but the Red Raiders and Mountaineers are both ranked. After last year's dismal showing, Bob Huggins has a hungrier team this season and they, of course, play defense. There are signs offense is going to be an issue for West Virginia and defense is still a trademark of Texas Tech under Chris Beard, though his squad has scoring limitations. West Virginia is setting up for college basketball picks as a team to back as an underdog and play against or pass as a favorite. Let's back Texas Tech and hope we get the bigger number.
Anticipated Line - West Virginia by 7 to 9 points
Doug's Doc's Take - Lean Texas Tech
NFL - Saturday - (301) MINNESOTA at (302) SAN FRANCISCO 4:35 ET NBC
With two of the Top 6 running teams in the NFL in the first matchup of the Divisional Round , conventional sports betting wisdom says running the ball uses the clock, which leads to lower scores, which is why the total slipped from 45.5 to 44. Minnesota is No. 6 and San Francisco is No. 2 toting the pigskin. However, not so sure this is the best course of action for NFL picks. Granted, both teams were in the Top 8 in scoring defense, but they were also in the Top 8 scoring. Don't be surprised if we see more trips to the end zone than field goals attempted and will lean with the Over.
Betting Trend - 62% backing Over
Doug's Doc's Take - Play Over
NFL - (305) HOUSTON at (306) KANSAS CITY 3:05 ET CBS
No team, at least to this point, has risen more as favorite than Kansas City , as they have gone from -8 to -9.5. With Patrick Mahomes and a boatload of skill players that can make big plays, there is reason to believe this could occur. Along with a K.C. defense that made vast improvement down the stretch. Yet, we still have to take other aspects into consideration. Kansas City was only 5-3 SU and ATS at Arrowhead in the regular season, while Houston was had the exact same numbers on the road, which included a 31-24 upset back in Week 6. If Mahomes and the Chiefs won by 17, nobody would be shocked. However, the Kansas City franchise is an abysmal 1-7 ATS in their most recent home games in the postseason. That is cause for pause here and we'll grab the digits with Houston.
Betting Trend - 62% backing Kansas City
Doug's Doc's Take - Houston covers
NFL - (307) SEATTLE at (308) GREEN BAY 6:40 ET FOX
At websites that track bets placed and money counted, the Seattle Seahawks are running from 57 percent to 65 percent in those two categories for their battle with Green Bay. Despite this, the Packers are up a point to -4.5 for NFL odds. As to why, the home team has won eight in a row (6-1-1 ATS) in this series for starters. Seattle went back a few years to bring back healthy bodies to play running back and their defense is the worst in terms of points allowed of those remaining. Nevertheless, unless Aaron Rodgers finds the magic, Russell Wilson is the best quarterback in is this conflict and his team is remarkable 8-1 SU on the road! Take the points.
Betting Trend - 64% backing Seattle
Doug's Doc's Take - Seattle covers
Public Consensus Record (since 12/1/2019) - 51% to 79% - 13-12 ATS
Public Consensus Record (since 12/1/2019) - 80% or Higher - 4-2 ATS
Line Movement Direction Record (since 12/1/2019) - 17-14 ATS
-----------------------------------------------------------------
Doug Upstone brought to Doc's Sports 21 documented No. 1 titles and finished in the Top Ten 80+ other times in a distinguished career. Doug as a professional handicapper/writer, has written for various well-known sports betting websites and several of the football newsletters you have read before.
----------------------------------------------------------------
$$ Doug has 4-Big Plays - Two 6-Unit Plays in NFL (plus one more) and 5-Unit National Championship Winner, all for HALF PRICE at only $49.00
New Customers, use $60 Free Money to get my Hot Picks for a week or a month.
$$ In the NBA, Doug's 4-Unit or higher plays are a sensational 25-12, 67.5%, up $0,090 profit!
$$ In College Basketball, Doug's hitting 57.1 percent of latest picks! Check out is daily, weekly or monthly action! (Save BIG with longer packages)
$$ Doug's on an 87-67 NFL run and is 2016 Monitored Champion
$$ Doug has 21 No.1 monitored titles and 80 Top 10 finishes!
$$ Doug's a 3-time NHL monitored handicapping champion. (2014-2016)
Check out Doug's Winning Plays! Click Here