NFL Power Rankings Week 16
by Robert Ferringo - 12/24/2020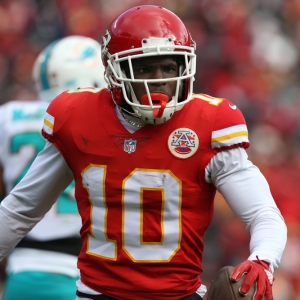 There have been 41 games this season in which a team lost a game despite holding at least a 14-point lead.
I want you to think about that for a second.
We've played 15 weeks. And we've had 14 comebacks of two touchdowns or more. That is an average of three wild, can't-believe-they-did-that comebacks every…single…week.
That is chaos. It has been one of the oddest, craziest NFL seasons in one of the oddest, craziest years in any of our lives. It's been frustrating and elating, depending on which side of these jaw-dropping comebacks you have been on. And that feeling of instability, uncertainty and paranoia – no lead is safe – is one of the defining characteristics of both this NFL betting season and 2020 in general. In a way this NFL season could be considered a perfect reflection of the zeitgeist.
But then again, maybe that's missing the point.
Maybe the point is that anything is possible. Or that no matter how bad things seem that they can, and do, get better, against all reasonable expectation. Maybe all of these wild NFL comebacks are a flashing red light telling people that hey, no matter how much you are down – even when you're down huge – you're never out. And that seemingly insurmountable odds can be overcome.
Hope isn't a uniquely American characteristic. It's a human one. The year 2020 has been a nonstop horror show. But if sports reflect society, then maybe what this NFL season has been telling us is that there is always a chance, and things are never as hopeless as they seem.
Here is Doc's Sports NFL Power Rankings:
1. Kansas City Chiefs (13-1) – Over the last five years, there have been 10 teams to finish the regular season with 13 or more regular season wins. Those 10 teams have gone a combined to go 101-59 ATS, and only one team – the 2018 Steelers – finished the regular season with 13 or more wins and a losing ATS record. The Chiefs are just 6-8 ATS this season, having failed to cover in six straight games.
2. New Orleans Saints (10-4) – It is safe to say that Sean Payton made an absolutely awful decision to rush Drew Brees back for last week's game against the Chiefs. Now the Saints have a quick turnaround before facing the Vikings this week in a big-time revenge game. Minnesota knocked the Saints out of the playoffs last year, the second time in three years that Brees and Payton had their seasons ended at Minnesota's hands.
3. Green Bay Packers (11-3) – This week's Titans-Packers game is the matchup that I am most excited about – by far. As I have been saying for weeks: the Packers haven't played anyone. They've had one of the easiest schedules in the NFL over the last two months and have lost to the only above .500 opponents they have faced. The forecast is also calling for 26 degrees and fog for this Sunday night affair.
4. Buffalo Bills (11-3) – The Bills are touchdown favorites in Foxboro against the Patriots in a December game with playoff implications. Think about that for a moment. The Bills are just 2-6 ATS in their last eight games against the Patriots. However, the road team is 22-9 ATS in this series, and Buffalo is a solid 4-2 ATS in their last six trips to Boston.
5. Pittsburgh Steelers (11-3) – I don't know that I would be ready to jump off the Steelers bandwagon just yet. I know they looked trashy on Monday against the Bungles. But Pittsburgh has a tendency to play up and down to their competition. The Steelers are still 22-9 ATS as an underdog and 16-5 ATS in their last 21 games as a home underdog.
6. Los Angeles Rams (9-5) – I know that Jared Goff is the Rams' "franchise quarterback". But if this guy was really The Man, he would've had the knowledge and the guts to check out of that awful fourth down play call on L.A.'s final drive on Sunday. There is trusting your coaches. And then there is knowing how stupid it is to throw deep on 4th-and-4 just outside of field goal range in a three-point game.
7. Tennessee Titans (10-4) – Don't turn the ball over. That's been the real secret to Tennessee's success. Not Derrick Henry. Not their deep passing game. The Titans are tied with the Packers for the fewest turnover in the league (9). In the last decade, only one team – the 2019 Saints – finished the regular season with 10 or fewer turnovers. Also, who had the Titans as an 'over' machine this year? They are 8-2 against the total in their last 10 games despite all but one of those totals being posted at 49.5 or higher.
8. Indianapolis Colts (10-4) – The first half 'over' has been the play with the Colts. Last week's first half 'under' snapped a streak of five straight games going way over the total in the first 30 minutes. The Colts have been allowing an average of more than 18 points per game in the first half over their last nine games. And if this team can't stop the bleeding on the defensive side of the ball, their stay in January will be short.
9. Tampa Bay Buccaneers (9-5) – This team is not winning the NFC. No way, no how. And mark my words: when they do lose in the playoffs, they are going to get absolutely blown out of the building by someone. It won't be a close game. When this team goes down, they will go down in flames.
10. Seattle Seahawks (10-4) – I think it is a bit of a red flag that Seattle is considered one of the NFC favorites but they are just 3-7 ATS in their last 10 games. Basically, no one should be betting on Seahawks games. Period. This team never slams the back door because of their shaky defense, and they are never out of any game because of Rusty Wilson. I'm done betting on or against this group.
11. Baltimore Ravens (9-5) – What happened to Baltimore's home field advantage? The Ravens are just 7-14 ATS in their last 21 games as a home favorite. They are a rock solid 8-0 ATS in December, though, and they are 7-3 ATS in their last 10 games against teams that are below .500.
12. Miami Dolphins (9-5) – That the Dolphins have posted a defensive yards per point number of 19.5 is pretty absurd and is nearly three full YPP ahead of the next closest defense (Ravens: 16.8). If Miami's number holds up over the last two weeks, it would mark the fifth-best DYPP number of the last decade. And that's a big reason they are just 1-4 ATS in their last five games.
13. Cleveland Browns (10-4) – The Browns will get a visit from the Ghost of Christmas Past this week when they take on the Jets. It wasn't that long ago that Cleveland was trying (and succeeding, then failing) at fending off an 0-16 season. Now they are in the thick of the playoff race and double-digit road favorites in a December game. That's the NFL for you.
14. Arizona Cardinals (8-6) – I still can't believe that I actually saw DeAndre Hopkins drop a pass and lose a fumble in the same game. I didn't think that was possible. Arizona has very much had the upper hand in the 49ers series lately, going 6-0 ATS in their last six meetings. That includes their upset win at San Francisco in the opening week of the season.
15. Chicago Bears (7-7) – I bet the Bears wish they had stripped Matt Nagy of his play calling duties earlier in the season. The Bears have now scored an average of 31 points per game over their last four games. It has helped that they have finally started to face some weaker defenses. But there's no denying that the Bears have something cooking on offense.
16. Los Angeles Chargers (5-9) – I can honestly see this team winning out to close the year and possibly steal an extra year for absolutely-should-be-fired head coach Anthony Lynn. The Chargers have a revenge game against Denver (and its mutilated secondary) this week. Next week they head to Kansas City, but the Chiefs will likely have the bye locked up and will be resting starters.
17. Las Vegas Raiders (7-7) – Everyone was heaping praise on Jon Gruden for coaxing a surprise 6-3 start out of the Raiders this year. So now does he deserve the blame for another late-season collapse? The word is that Derek Carr is lobbying hard to play this week despite his groin injury. I wouldn't be stunned to see him start the game. I would be stunned to see him finish it.
18. New England Patriots (6-8) – It was 4th-and-3 from the Miami 23 with 1:14 to play in the game and the Patriots down 10 points. Bill Belichick should've kicked the field goal to extend the game. That's the type of obvious late-game, situational call that Belichick has been nailing for 20 years. He didn't. And my only thinking is that Belichick is just over this season, over this team, and he just doesn't care enough to make the moves that he normally would.
19. Atlanta Falcons (4-10) – Another indicator that Raheem Morris is the man for the job in Atlanta: he announced this week that Ito Smith is the team's No. 1 back, not Todd Gurley. The Gurley signing was a cynical mess this offseason anyway, and he has been awful for the Falcons all year. Smith has clearly been the more effective back, and I like that Morris has the stones to make decisions based on performance and not any front office subplots.
20. San Francisco 49ers (5-9) – The 49ers defense absolutely played well enough to win last week's game in Dallas. But Nick Mullens simply could not stop staring down receivers, throwing two interceptions and threatening to throw at least three more. I do think San Francisco would be better off going with C.J. Beathard for their final two games. The 49ers are on a 1-6 ATS skid, but the road team is 7-2 ATS in the Arizona series.
21. Minnesota Vikings (6-8) – The Vikings have won three of their last four games against the Saints dating back to 2017. Minnesota is also an amazing 38-14 ATS following a loss and 4-1 ATS in their last five games on the road against a team with a winning record.
22. Denver Broncos (5-9) – Safeties Kareem Jackson and Justin Simmons are doing yeomen's work at the back end of the Broncos defense. But they don't have a single NFL-caliber cornerback on the roster right now. Denver has gone 3-0 SU and ATS against the Chargers over the past two seasons, and they are 6-2 ATS in the last eight meetings in this series.
23. Washington Football Team (6-8) – Is Dwayne Haskins kidding me? He had his best game as a pro on Sunday, shockingly looking like an NFL-caliber quarterback during a furious second half comeback against Seattle. Only to have pictures come out of him, mask-less, at a strip club. There are losers. There are massive losers. And then there is Haskins.
24. Carolina Panthers (4-10) – Another loss, but another spread covered for the Panthers. They have just one win in their last nine games yet have still been profitable for backers (5-4 ATS) during that stretch of futility. Carolina is 6-0 ATS on the road and a spectacular 8-1 ATS as an underdog this season.
25. Houston Texans (4-10) – I don't know about the Texans as an 8-point favorite this week. It is not often that you see an NFL team posted as more than a touchdown underdog one week and then more than a touchdown favorite the next. Houston is 8-2 ATS in its series with the Bengals. But the underdog has covered four straight and the road team has covered four straight.
26. New York Giants (5-9) – What in god's name was Joe Judge doing? Look, I'm all for trick plays. And Judge has tried several on special teams this year. But none of them have worked! The Giants are averaging just 12.3 points per game over their last four games, and they have been held without a touchdown in three games this season. They aren't bereft of talent. But the production is simply not there for this squad. The Giants are 6-0 ATS as a road underdog.
27. Philadelphia Eagles (4-9-1) – Let's all slow down on Jalen Hurts. I think he's proving to be a much better fit than overrated Carson Wentz. And Hurts looks like a legitimate NFL starter. However, he took a bad safety, had an INT dropped for the second week in a row, and already has six – SIX! – fumbles on the season. He's given the team a jolt but I'm not hopping on the bandwagon.
28. Detroit Lions (5-9) – The Lions have been down at least 10 points late in the fourth quarter in each of their past five games. They have a -60 point differential in those five games, and this absolutely looks like a team that is just staring at the clock waiting for the season to end.
29. Dallas Cowboys (5-8) – Forcing four turnovers will gloss over a lot of issues. San Francisco had two turnovers in the first quarter, essentially spotting the Cowboys a 14-0 lead, and Dallas was outgained by nearly 200 yards in their win on Sunday.
30. Cincinnati Bengals (3-10-1) – Win on Monday, lose on Sunday. It's a pretty clear letdown spot for the Bengals this week heading to Houston on short rest. Also, the Bengals are another team with nothing to gain by winning against the 4-10 Texans as a win would cost them draft position.
31. Jacksonville Jaguars (1-13) – This is the youngest roster in the NFL. This is the youngest team in the NFL, with 12 rookies (TWELVE!) and seven other players in their third year or less. Do you think anyone on this team cares about finishing this season? These guys are absolutely mailing it in, and they have zero motivation not to finish 1-15 in order to snag the No. 1 overall pick.
32. New York Jets (1-13) – Can someone explain to me why the NFL announces its Pro Bowl roster before the end of the regular season? I mean, shouldn't we let things play out? By the way, Evan Engram being named to the Pro Bowl is probably one of the biggest jokes I've ever seen. If Engram had any self-awareness, he would decline the honor for the sake of maintaining the integrity of the Pro Bowl honorific.
Robert Ferringo has been the top football handicapper in the country the past 10 years, earning nearly $40,000 in total football profit (average profit: +$3,800). He has also posted 8 of 10 winning seasons (including four straight winning years) and produced an amazing 54 of 83 winning football months over the past 13 years. Robert has hit at nearly 60 percent winners over his last 1,000 totals picks and has posted 12 of 14 winning Super Bowls. Robert is looking for a fifth straight winning football year and wants more profit this fall. SIGN UP HERE TODAY AND TAKE ADVANTAGE OF OUR 3-FOR-1 FOOTBALL SPECIALS!
We are offering new clients $60 in free college football picks for Robert's picks or any Advisory Board handicapper of your choosing. Get your free college football picks now!