NFL Power Rankings Week 7
by Robert Ferringo - 10/22/2020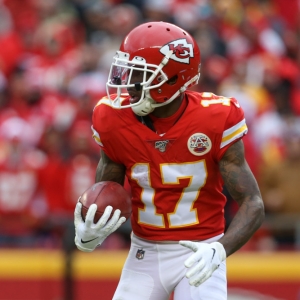 The 'under' was the big winner in the NFL last week, with 10 of 14 games staying 'under' the total. That was able to stem the high-scoring, high-rising tide of 'over' wagers cashing early in the season. And now the question is pretty clear: was last week the beginning of an 'under' avalanche that continues through the rest of the season or merely a blip on the radar as the NFL's highest scoring season continues?
The answer, as with most things in the NFL, is probably somewhere in the middle.
To this point in the season, 48 of 90 games (53.3 percent) have gone 'over' the posted total. That has occurred despite a shocking inflation of totals numbers each week and was in direct response to the jaw-dropping offensive numbers (and 'overs') that we saw the first three weeks of the season. (One oddsmaker I spoke with last week concurred with my belief that current totals have been inflated between 6-8 points from where they would be just two or three seasons ago.)
The inflated lines have worked. The 'over' has gone 8-7, 8-7 and 4-10 the last three weeks. Since most public "square" bettors bet games 'over' this has helped the sportsbooks stabilize their action in the totals market.
And I do expect the 'under' run to continue. This week seven of the 14 games on the board still have totals in the 50's. That is unprecedented this late in the season. The books are still erring on the side of caution. And they know that no matter how high they put these numbers – three of the totals are at 55 or above – the public will still want to pull the trigger on the 'over'.
That creates value betting the other way, against the general public.
Further, as we saw in Buffalo on Monday: the weather is about to turn. Week 8 marks the first games played in November. This week snow is in the forecast in Denver. Given how insane the rest of 2020 has been, there is no telling what fresh hell this winter has in store for us.
Given the pass-wacky nature of the NFL these days, I know it can seem foolish to bet that games will be low scoring. But it is better to be out in front of a trend than trying to catch up to it. Scoring in the NFL is going to go down over the next two months, and that will affect both against the spread and totals wagers. Be prepared for it, and don't get caught as the last one to realize which way the wind is blowing.
Here is Doc's Sports NFL Power Rankings:
1. Kansas City Chiefs (5-1) – The Chiefs won't forget who they are and what Patrick Mahomes can do. But I would expect a more consistent dedication to the run after watching them pummel the Bills with the ground game. The Chiefs totals are always one of the highest on the board. They've gone 'under' in four of five games, and the Chiefs may need that newfound running attack this week in what could be our first snow game of the season.
2. Baltimore Ravens (5-1) – Trading for Yannick Ngakoue was another aggressive and intelligent move by the Ravens. Baltimore does an excellent job of something that more NFL teams should do: add to your strengths. The Ravens are No. 1 in points allowed this year. What do they do? They get even better.
3. Seattle Seahawks (5-0) – I know the Seahawks have gotten a lot of love for their hot start to the season. Hell, I have them No. 3 in the league right now. However, Seattle doesn't have a single win over a team that is currently above .500 right now. Their best win is over a 2-3 Patriots team.
4. New Orleans Saints (3-2) – It will be interesting to see if the Saints get a little jolt from the 3,000 fans that will be in the stands for this week's game against Carolina. The Panthers have had the Saints number, especially in New Orleans where Carolina has gone 15-5 ATS over the last 20 years. The home team is just 11-27 ATS in this series and the favorite a dismal 2-10 ATS.
5. Pittsburgh Steelers (5-0) – Losing Devin Bush is a huge blow to this defense. Pittsburgh is ranked in the Top 10 in every major defensive category but just lost one of its most important run stoppers. That's a problem when your next opponent features Derrick Henry. Pittsburgh is 20-8 ATS as an underdog and 7-2 ATS in its last nine as a road dog.
6. Tennessee Titans (5-0) – It's really odd to think of a Steelers-Titans matchup as a potential shootout. But that's the case. Tennessee is No. 2 in the NFL in scoring and has rung up 31 or more points in four straight games, while the Steelers are No. 4.
7. Tampa Bay Buccaneers (4-2) – The Bucs are just 4-8 ATS in their last 12 games after a win, and they are just 1-6 ATS against a team that is .500 or better. Further, Tampa Bay is just 5-10 ATS in its last 15 games as a road favorite. The public still loves backing Tom Brady, though, and before the line was pulled at several books, Tampa Bay tickets were outnumbering the home team by a 2-to-1 clip.
8. Green Bay Packers (4-1) – Man, when the Packers lose, they certainly don't leave any doubt, do they? The Packers are still 17-4 straight up in their last 21 regular season games, and Aaron Rodgers should have a field day against a Houston defense that can't stop anyone. The Packers are 5-0 ATS after a loss and 10-1 ATS in a game after failing to cover the spread.
9. Indianapolis Colts (4-2) – I don't want to overhype it, but that really may have been a season-defining comeback for the Colts last week. If they had lost to the lowly Bengals and entered the bye week 3-3, then uncertainty would've washed over this squad. Instead, they get to shore up their offensive issues and rest of on defense while preparing for a November charge.
10. Buffalo Bills (4-2) – Wow. That's all I can say about the collapse of the Buffalo defense. Wow. These guys really can't stop anyone, and apparently the key losses from last year's group – Star Lotulelei and Lorenzo Alexander – were even more important than everyone thought.
11. Los Angeles Rams (4-2) – Like the rest of the NFC West, it is still tough to gauge where these teams really are because of their lopsided schedules. These teams from the West have been able to fatten up against the colossal losers in the NFC East. The Rams are 4-0 against teams from the East and 0-2 against everyone else. So how good is this Los Angeles squad and what do we really know about them?
12. Chicago Bears (5-1) – I'm telling you: I've seen this before. The Bears have won 11 or more games five times in the last 20 years. Four of those five times were in a season following a year with a losing record. Three of those five instances occurred after seasons in which the Bears went 5-11. So, keep doubting the Bears all you want. This team is going to win 11 games this season whether you believe in them or not.
13. New England Patriots (2-3) – The Patriots really are getting the full Cam Newton experience. There was the early success and the promise and potential of his unique skill set. Then came the drama – albeit in the form of COVID. And now they get to deal with the maddening inconsistency over the next two months. All I know is that I would never want him quarterbacking my team. The Patriots are just 2-6 ATS in their last eight home games but are 49-24 ATS after a loss.
14. Arizona Cardinals (4-2) – Win on Monday – lose on Sunday. Seattle has had extra rest for this week's game against Arizona, while the Cardinals are on a short week. That's a situational disadvantage for the host Cards. However, they've played Seattle tough in recent years. Arizona is 5-5 SU against Seattle the last five seasons and 7-3 ATS. Six of the last eight matchups have been decided by six points or less and five of eight by three points or fewer.
15. Cleveland Browns (4-2) – The Browns have zero chance of beating the Ravens or the Steelers until Baker Mayfield learns to handle blitz pressure. Those two teams bring heat on every…single…play. He simply can't handle it, and every drop back under pressure just seems like an INT waiting to happen. Mayfield desperately needs a bounce back effort this week against the Bengals or the calls for Case Kennum will grow louder. The favorite in the Bengals-Browns series is 8-3 ATS.
16. Las Vegas Raiders (3-2) – Losing Trent Brown from the offensive line to COVID is a massive blow. But so is the general uncertainty surrounding their offensive line this week. This whole situation just reiterates what I said last week: the NFL needs to go to 32 bubbles, one of each team in its home city, immediately.
17. Los Angeles Chargers (1-4) – Who knew that the Chargers and Jaguars had such an extensive recent history? This week's meeting will be the ninth game between the sides since 2010. The Chargers have absolutely dominated the series, going 8-0 ATS in the last eight meetings and 4-0 ATS at home against Jacksonville. That includes a 45-10 beat down on the road last December.
18. Miami Dolphins (3-3) – Just when I was starting to climb on board the Brian Flores bandwagon, he goes and does something like this. Miami is a game out of first place in the division. They are the only team in the AFC East with a positive point differential. Ryan Fitzpatrick is playing well behind a shoddy offensive line. Why the hell would Flores go to Tua? Especially now that Miami is heading into one of the more challenging portions of its schedule?
19. Carolina Panthers (3-3) – I know the Panthers are putting up numbers. And everyone has been gushing over Teddy Bridgewater's play. But I have to say: I think Bridgewater kind of stinks. He is the definition of replacement level. Somehow opposing defensive coordinators have not realized that Bridgewater absolutely collapses under any type of blitz or extra pressure. And he is the primary reason this team is No. 28 in the league in red zone scoring.
20. Detroit Lions (2-3) – Let's not look too much into Detroit's dominating effort over the Jaguars last week. As I pointed out in this very space, if Detroit couldn't beat a pathetic Jacksonville team with two weeks to prepare, then the Lions franchise should've been contracted immediately.
21. San Francisco 49ers (3-3) – I'm definitely not jumping right back on the 49ers bandwagon. Their front seven is still a mess, and 223 of their 268 passing yards came after the catch. They ran a ton of screens and shovel passes and look committed to rushing 40+ times per game. That tells me that Kyle Shanahan still has zero trust in his quarterback. I still think this team is on stilts. They are 6-1 ATS as an underdog.
22. Denver Broncos (2-3) – Denver has lost nine straight to the Chiefs, going just 1-8 ATS against their rivals dating back to 2015. The Broncos are on a healthy 4-1 ATS run and are 13-6 ATS in their last 19 games as a home underdog. They are just 7-19 ATS in their last 26 divisional games, though, and this team is still more about effort than talent.
23. Atlanta Falcons (1-5) – What do we make of these losers? In reality, they should be at least 3-3 with an offense ranked in the Top 5 in total yards and passing. Or is Bill Parcells right: you are what your record says you are? We are going to find out a lot about Atlanta's prospects for the rest of this season this week. The Falcons are 5-0 ATS against the Lions dating back to 2007, and Atlanta is 5-0 ATS against teams with a losing record.
24. Minnesota Vikings (1-5) – The Vikings are on a bye week, but don't be surprised to hear some noise out of Minnesota. The Vikings should absolutely be active at the trade deadline, as they have several valuable veterans – Reilly Reiff, Harrison Smith, Kyle Rudolph and Anthony Smith come to mind – that plenty of contenders would love to get their hands on.
25. Cincinnati Bengals (1-4-1) – Cincinnati is 10-2 ATS in its last 12 games against the Browns, and they are 4-1 ATS in their last five home games against Cleveland. Cincinnati is just 4-12 ATS in its last 16 home games and 2-8 ATS in their last 10 games as a home underdog. I also don't know how smart it is for the coaching staff to alienate one of the all-time great franchise players, Geno Atkins, but that looks like what is happening. Vintage Bengals.
26. Dallas Cowboys (2-4) – America's Team is now 0-6 ATS to start the season and 6-13 ATS in their last 19 games overall. Dallas has regained the upper hand in the Washington series. They've gone 5-1 ATS against the Football Team the last three years and have won seven of eight meetings. The Cowboys are 5-1 ATS in their last six games in Washington.
27. Philadelphia Eagles (1-4-1) – As if the Eagles needed more bad news: Zach Ertz, the only reliable offensive weapon they have, is going to miss the next four to six weeks with a high ankle sprain. Miles Sanders, Alshon Jeffery and DeSean Jackson are all set to return on Thursday. None of them will be 100 percent, though. And with Jeffery and Jackson, you have to wonder if their activations are window dressing to set up a potential trade.
28. Houston Texans (1-5) – Two weeks ago Romeo Crennel completely botched a situation in which he was supposed to go for a two-point conversion (the team's touchdown just gave them a 12-point lead in the fourth quarter). That makes sense, because Crennel is an incompetent. However, I actually fully agree with his decision to go for two and essentially end the game against the Titans last week. It didn't work out. That doesn't mean it wasn't the right decision, though.
29. Jacksonville Jaguars (1-5) – Turnovers really are just killing this team. They are doing a pretty good job of converting third downs (No. 7 in the NFL) and stopping teams on third down (No. 9 over their last three games). Nine turnovers to just six interceptions is crippling. The Jaguars are just 4-9 ATS in their last 13 games as an underdog, and I feel like these guys should be catching double-digits every week.
30. Washington Football Team (1-5) – Quarterback is not the reason that Washington's offense sucks. It sucks because they have absolutely no skill position talent. Terry McLaurin is like a great No. 3. He's not a No. 1. Their tight ends and other rookie wideouts are nonexistent. And they aren't strong enough or dedicated enough to the running game. If they can't ring up 24+ points this week against Dallas, it may never happen.
31. New York Giants (1-5) – The Giants haven't beaten either Philadelphia or Dallas since 2016. They shouldn't knocked off the Cowboys two weeks ago and were lucky to escape their matchup with Washington with a win. Honestly, anyone betting on these NFC East divisional matchups is just flipping a coin.
32. New York Jets (0-6) – Anyone can be negative when talking about a team that is on pace for the worst scoring differential in league history. I prefer to focus on the positive: the Jets are actually +3 in turnover differential. So, they are this pathetic and it isn't even because they are giving the ball away. I mean, imagine how ugly things would get if these guys were -12 like the Cowboys or -7 like the Eagles!
Robert Ferringo has been the top football handicapper in the country the past 10 years, earning nearly $40,000 in total football profit (average profit: +$3,800). He has also posted 8 of 10 winning seasons (including four straight winning years) and produced an amazing 54 of 83 winning football months over the past 13 years. Robert has hit at nearly 60 percent winners over his last 1,000 totals picks and has posted 12 of 14 winning Super Bowls. Robert is looking for a fifth straight winning football year and wants more profit this fall. SIGN UP HERE TODAY AND TAKE ADVANTAGE OF OUR 3-FOR-1 FOOTBALL SPECIALS!
We are offering new clients $60 in free college football picks for Robert's picks or any Advisory Board handicapper of your choosing. Get your free college football picks now!