NFL Office Pool Picks Week 16 with Expert Analysis and ATS Predictions
by Chris Vasile - 12/21/2021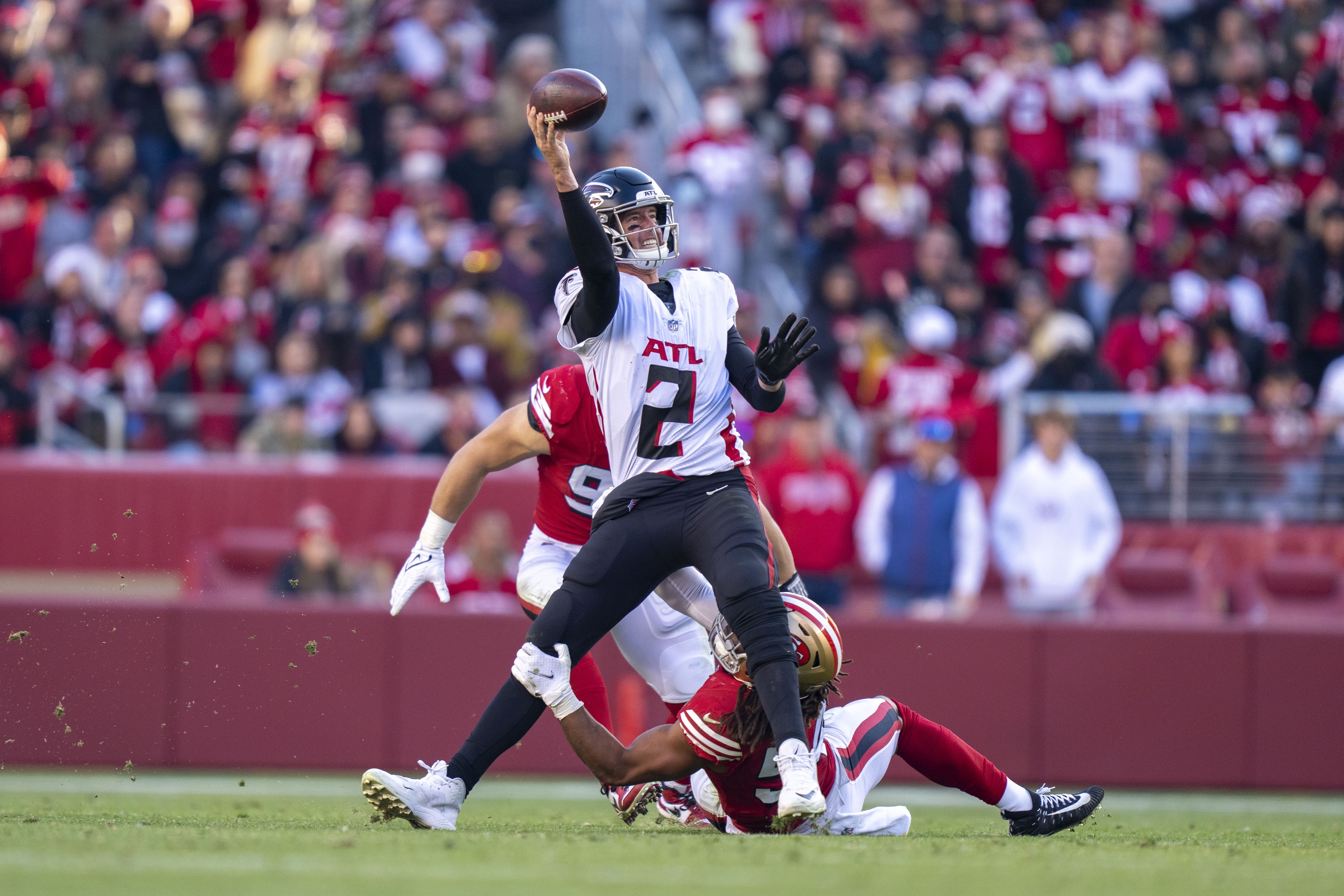 In what has been the longest and most chaotic NFL Week I've ever experienced; the results were exactly what you'd expect: chaos. You had the 1-11-1 Detroit Lions beat the 10-3 Arizona Cardinals by 18 points. You had the 10-3 Tampa Bay Buccaneers get shut out by the 6-7 New Orleans Saints on their home field. And you had the Baltimore Ravens nearly beat the Green Bay Packers with a backup quarterback under center. I hope you find time on Wednesday to get chores done, because we go right back to the grind with Thursday and Saturday games as we enter the holiday season. Good luck this week and Happy Holidays.
Doc's Sports offers NFL expert picks for every game on our NFL predictions page.
Week 16 Picks Against the Spread
San Francisco 49ers -3.5 over Tennessee Titans: The Titans are slowly falling apart, and I think the Niners, who are 4-1 in their last five games, are just a flat-out better team than Tennessee. I'm not too concerned about the travel as SF is playing for their playoff life and know they need to win this game to get in.
Green Bay Packers -8 over Cleveland Browns: I can't see the Browns keeping this game close at Lambeau Field. The Packers left the backdoor wide open for the Ravens, and I think they'll learn from that and kill this game off early.
Indianapolis Colts +1.5 over Arizona Cardinals: I'll take the team in better form right now, despite the travel, and that's the Colts. They've been on fire over the last five games, whereas the Cardinals are having issues on both sides of the football. I'll take the Colts getting points here.
Atlanta Falcons -4 over Detroit Lions: I don't know why the Lions are winning games this late in the season, but kudos to them. The Falcons were just destroyed by the Niners, but I like them in this bounce-back spot at home vs the fat and happy Lions.
Philadelphia Eagles -10 over New York Giants: The Giants just shut down Daniel Jones for the remainder of the season. And with Barkley looking like a fifth-round pick instead of a first-round choice, I'll take the Eagles at home in a must-win game.
New York Jets -2 over Jacksonville Jaguars: The Jaguars fooled everyone into thinking they would be a competent football team after the firing of Urban Meyer. I won't fall for it again this week. Take the Jets, who have some good pieces in place for next year.
Carolina Panthers +10.5 over Tampa Bay Buccaneers: The Bucs are falling apart a little bit as well. They are without Godwin, and possibly Mike Evans, through injury, and now have to go on the road and take on a pesky Panthers squad. I don't think Carolina is good enough to win, but the back door is going to be wide open for them.
Los Angeles Chargers -10 over Houston Texans: It's still unsure who will be in or out of the lineup for the Chargers. However, the way I see it is that if Justin Herbert is in the lineup, they have enough firepower to cover this spread against a bad Texans squad.
Buffalo Bills +2.5 over New England Patriots: This is a revenge game. The Bills know they are better than the Patriots even if they lost to them 14-10 in that weather-stricken game. The Bills will make up for the loss and put up a ton of points in this one and win outright.
Cincinnati Bengals -2.5 over Baltimore Ravens: This game is dependent on whether or not Lamar Jackson plays. If he does, that makes this pick a little riskier. If he doesn't, again, the Bengals have enough on defense to be fully prepared for Huntley. And, offensively, they should put up a good chunk of points against a weak Ravens' defense.
Seattle Seahawks over Chicago Bears: I don't really believe the Seahawks are all that good of a team (as indicated by their record), but I do trust Russell Wilson and his receiving corps more than Justin Fields and his. This will be an ugly game, but the Seahawks at home is the smart bet.
Denver Broncos +1 over Las Vegas Raiders: The Raiders won a football game they should have lost, while the Broncos lost to Cincinnati because they lost their starting quarterback. I'm banking on the "Ewing Theory" game here with the Broncos where everyone rallies around the absence of Teddy Bridgewater.
Kansas City Chiefs -9.5 over Pittsburgh Steelers: I don't know how, but the Steelers keep winning games. That ends this week with a blowout loss to the Chiefs, who despite possibly being without Travis Kelce and Tyreek Hill, have far too much firepower on offense for the Steelers to keep up with.
Dallas Cowboys -10.5 over Washington Football Team: Dallas simply has too much firepower for the Football Team to contend with. This is also going to be a game where the Dallas defense shows up in a big way and gains some confidence and momentum as they march towards the playoffs. Cowboys win going away.
Miami Dolphins +3 over New Orleans Saints: At this point in the season, with the way the Saints have been up and down, I don't think they should be favorites over anyone, even the Dolphins, who have won six straight games. Give me the field goal spread and watch the Fins win outright.
Get NFL picks on every single game, or if you want our very best bet premium picks by the experts, sign up for your free $60 account with a guarantee.