NFL Power Rankings Week 7
by Robert Ferringo - 10/19/2021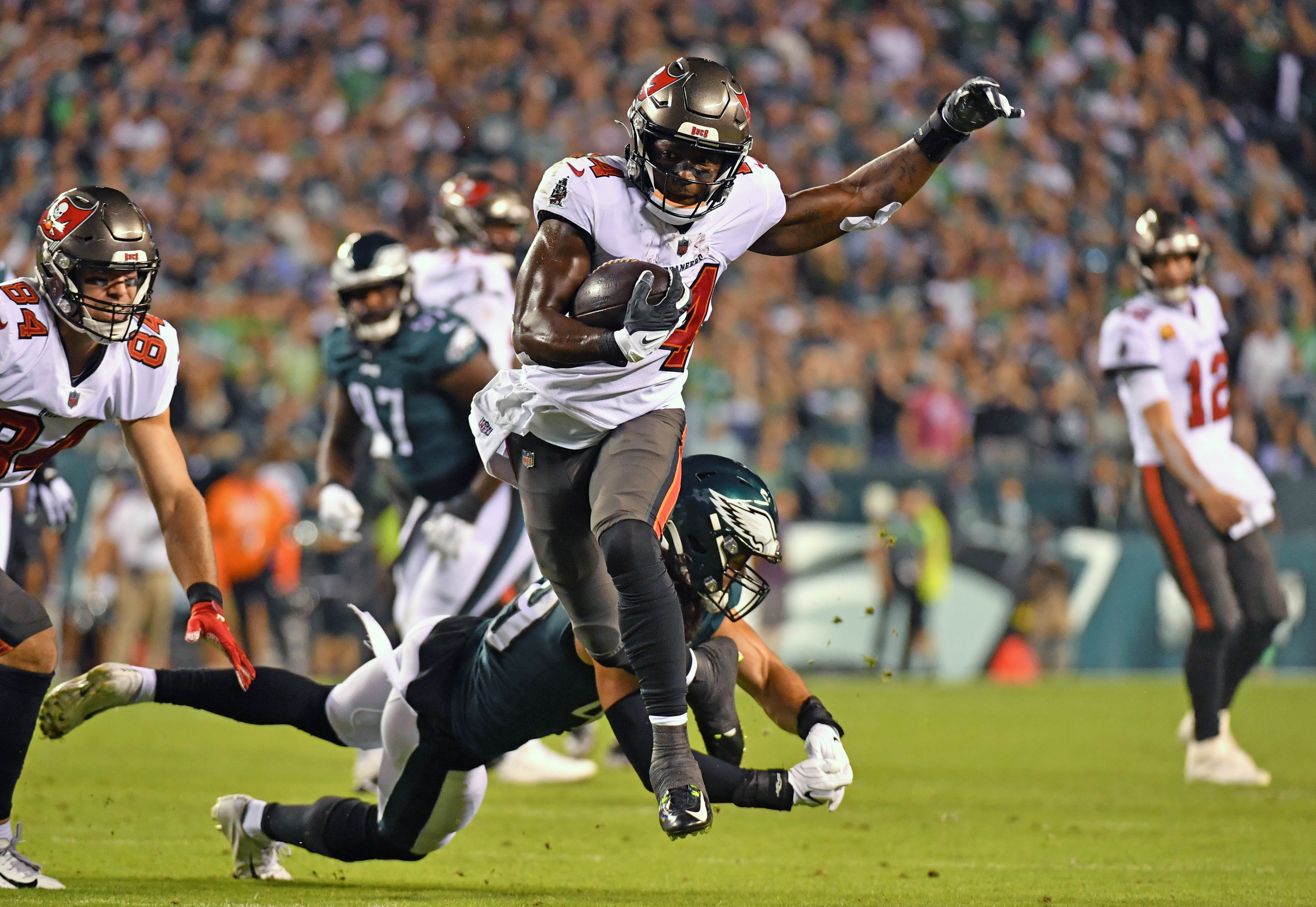 One of the biggest misconceptions of betting the NFL is that the spread is extremely important.
It isn't.
I know that statement flies in the face of what you've read and heard your entire life: that "line value" is critical. In some sports it is. The NFL is not one of those sports.
The most important thing to do in betting on the NFL is to bet on the team that you think is going to win the game. Betting on a team to "keep it close" or just to cover the spread is a losing proposition, and it always has been.
So far this season, the NFL teams that have won their games outright have gone 76-18 against the spread. That means that the teams that win cover the spread around 80 percent of the time. I can assure you that number is in keeping with the 20-year trend in pro football betting.
The reality is that the spread doesn't come into play all that often; maybe one in five games. Honestly, if your team wins the game and doesn't cover the spread, you can usually consider that a bit of bad luck. Interestingly, four of the six Thursday night games this season have featured that quirk, with the team that won the game failing to cover the spread.
So far this season, 24 games have been decided in the final minute of regulation or overtime (hat tip to PFT) and 11 games have been decided in overtime, the most through six weeks since 1995. This creates the illusion that parity rules in the NFL, teams are playing close games, and that should increase the value of getting a few extra points. That's false.
The reality is that if you don't think that Underdog A is going to (or at least has a great chance to) beat Favorite B, then you shouldn't beat on Underdog A. The spread, honestly, matters very little in these games. So only bet on teams that you think are going to win games outright.
Doc's Sports offers NFL expert picks for every game on our NFL predictions page.
Here is Doc's Sports NFL Power Rankings:
1. Tampa Bay Buccaneers (5-1) – I've been saying it all season: this team is completely different with Antonio Brown in the lineup. The guy is still a superstar, and I think he is their best offensive player (not named "Brady") right now. This is a revenge game for the Bucs, who lost 20-19 in Chicago last October.
2. Arizona Cardinals (6-0) – Spencer Whipple deserves all the credit for Arizona's big-time blowout in Cleveland last week. He kept things very simple and trusted the abundance of skill position talent on Arizona to win out. Arizona has forced a league-high 10 fumbles this year, recovering a league-high seven of them. Fumbles are one of those fluky kind of "luck" stats, though, so I wouldn't expect that rate to continue.
3. Buffalo Bills (4-2) – Look man, if you want to be a Super Bowl contender, and if you want to be one of the best two or three teams in the NFL, then you need to know that you are going to take everyone's best shot each week. They now have two weeks to sit on that loss, and we'll see how they respond.
4. Green Bay Packers (5-1) – The Packers are an amazing 13-1 in their last 14 division games. However, attrition is eating away at their defense. The Packers are going to be without five opening day starters this Sunday. Green Bay's defense has allowed 15 touchdowns in 15 red zone possessions, making them the first time in 40 years to allow a touchdown on every opponent red zone possession through the first six games in a season.
5. Los Angeles Rams (5-1) – Don't underestimate the emotional angle of Matt Stafford going up against his old team. Normally, this type of situation – with the Rams coming off a blowout win and posted as a 15.5-point favorite – is one in which a team could come out flat. I think that Sean McVay, who is still building his relationship with Stafford, knows how important this game is to his quarterback and is going to put in that extra effort to make sure the Rams blow Detroit's doors off.
6. Dallas Cowboys (5-1) – I'd like to say that I have been banging the drum against Mike "Analytics" McCarthy all offseason and all season long. It's good to see the rest of the bobblehead media catching up to the fact that this man is a fraud, an incompetent, and likely the reason that this team will end up falling short of a Super Bowl trip. Dallas should've beaten the Patriots by 30 last week. But thanks to dumb penalties, turnovers, and McCarthy, that game was much closer than it should've been.
7. Baltimore Ravens (5-1) – I've said for years that the Ravens have one of the most underrated home field advantages in the NFL. It was on full display on Sunday, and Baltimore is basically Seattle East. Baltimore has covered five of six at home, and they are 4-1 ATS as a home favorite. They are 10-4 ATS in their last 14 overall and 7-3 ATS in their last 10 games as a favorite.
8. Los Angeles Chargers (4-2) – I'm not going to crush the Chargers for getting their doors blown out in Baltimore. They were at a situational disadvantage in that game, and it showed. The Chargers are in a good spot heading into their bye week, and they come out the other side with three of their next four at home.
9. Kansas City Chiefs (3-3) – The Chiefs have twice as many turnovers on offense (14) through six games than they do sacks on defense (seven). That is insane! The Chiefs have punted just 10 times this season, by far the lowest in the league. They are also at .500 despite a -8 turnover differential. Basically, numbers don't make any sense when discussing this team. And the more you dig, the more bizarre they get.
10. New Orleans Saints (3-2) – No team in the league has had ATS results as disparate as the Saints this year. The average difference between the actual score and the point spread this season in Saints games is 21 points per game! So, if the Saints beat Seattle by 26 points this week, or if they lose by 16 points, either result would be in line with their average performance. Weird team.
11. Cincinnati Bengals (4-2) – It is going to be interesting to see how much ground the Bengals have made up with the Ravens when the two teams meet this week. The Bengals have lost the last three games against Baltimore by a combined score of 114-19. Cincinnati is 5-2 ATS in its last seven games in Baltimore, and the road team is 4-1 ATS in this series.
12. Cleveland Browns (3-3) – Injuries have decimated this roster. Both starting running backs, both starting receivers, both starting tackles and a slew of defenders are all either out or questionable for this Thursday's game. I do think that we are going to see Case Keenum sooner rather than later (which I mentioned last week), and the Browns season has a chance to go sideways quickly.
13. Tennessee Titans (3-3) – That first interception on Monday night looked like Miami Ryan Tannehill. That was a terrible throw against Buffalo's deep zone and set the Bills up to expand their lead. It was a rookie-level read from Tannehill, who has seen his passer rating drop to 89.5 after posting 117.5 and 106.5, respectively, over the last two seasons. Derrick Henry is basically The Hulk. But if Tennessee is going to get back into the AFC race, Tannehill has to play better.
14. Minnesota Vikings (3-3) – It has gone a bit unnoticed and underappreciated, but Mike Zimmer has done a great job of coaxing a bounce back effort out of the Vikings defense. They are No. 1 in the NFL on third down, allowing opponents to convert just 29.2 percent, and they are tied for No. 1 in sacks.
15. San Francisco 49ers (2-3) – It looks like everyone has jumped completely off the 49ers bandwagon. Only 25 percent of the early action this week has come down on San Francisco, which, after its bye week, is basically playing a must-win game at home this Sunday. The spread on their game with the Colts has dropped from an open of 5.5 to its current spot at 3.5.
16. Las Vegas Raiders (4-2) – Derek Carr, man. I was all over the Raiders last week because I knew that he would rally that locker room. Carr is an excellent quarterback and a solid leader. I think they are galvanized right now, and I think that they are going to ride this wave of emotion. The Raiders are just 20-42 ATS in their last 62 games as a favorite.
17. Denver Broncos (3-3) – Third downs have been a major problem for Denver's offense. They have converted just 25 percent of their third downs over their last three games, and they are a putrid 29.9 percent on third down for the season. They must find a way to sustain drives and take the pressure off their underachieving defense.
18. Chicago Bears (3-3) – The Bears have now scored 20 or fewer points in 27 of Matt Nagy's 56 games as head coach. The 'under' has hit in five straight Chicago games, and the 'under' is 15-6 when the Bears play as a road underdog.
19. Pittsburgh Steelers (3-3) – I told you: people wrote this team off way too early. Mike Tomlin has never had a losing season in his coaching career. Pittsburgh has clawed its way back to .500, and they now have two weeks to prep for Cleveland before home games against the Bears and Lions. Getting to 6-3 isn't out of the question.
20. Indianapolis Colts (2-4) – This is absolutely a team to keep an eye on over the next month. Four of Indy's next five opponents have losing records, including games against the Jets and Jaguars. They are in for a head-banger this week against San Francisco in a game that is huge for both teams. The Colts are 7-2 ATS in their last nine road games and on a healthy 4-1 ATS run overall.
21. Carolina Panthers (3-3) – There is a general belief that in the NFL the first and third quarters reflect coaching and preparation and the second and fourth quarters really come down to talent. If that's true, it doesn't speak well of Matt Rhule as the Panthers have been outscored 48-7 in the third quarter this season.
22. New England Patriots (2-4) – Prior to last week, the Patriots were 109-3 at home in their last 112 games in which they had a halftime lead. Now they are 109-4. The Patriots have been extra cautious with rookie quarterback Mac Jones. However, they still have 11 turnovers in six games this season, so it is obviously not working. Maybe it is time to let it rip a bit.
23. Seattle Seahawks (2-4) – It is poor form for D.K. Metcalf to be picking Twitter fights with media members when his play at the end of regulation – failing to get out of bounds even though Seattle had no timeouts and then fumbling – was one of the single worst plays of the weekend.
24. Philadelphia Eagles (2-4) – Philadelphia is just 2-7 ATS in its last nine road games, and they are 2-5 ATS in their last seven games as a road underdog. The road team is 4-1 ATS in the Raiders series, and the underdog has covered four straight. However, the Eagles are just 1-4 ATS in their last five games against Las Vegas.
25. Washington Football Team (2-4) – I think that one of the great regrets of my handicapping career will eventually be the fact that I didn't take more advantage of betting against this loser organization. I really should've just been running chase system after chase system against these clowns, who are off to a 1-5 ATS start this season.
26. Atlanta Falcons (2-3) – Calvin Ridley has rejoined the Falcons after bailing on them for the London trip. Details around this situation are sketchy, but there is something going on with Ridley. After looking like an up-and-coming No. 1 wideout for this franchise last year, Ridley has seen his stats drop precipitously across the board. With the emergence of Kyle Pitts, we will see if Ridley regains his spot as the No. 1 option in the passing game.
27. New York Giants (1-5) – Like everyone else, I have no idea why Joe Judge stuck with concussed quarterback Daniel Jones in the fourth quarter of Sunday's blowout. His response that "We're going to compete for 60 minutes" is the type of narrow-minded, meat-headed coach-speak that I would expect to hear from third-tier coaches.
28. Detroit Lions (0-6) – Dan Campbell has utilized an interesting strategy to keep his Lions – who have the worst roster in the league, hands down – competitive. Defensively, this team is playing nickel and dime pretty much all game. They are daring teams to run the ball, and teams are taking the bait. That is shortening the game and widening Detroit's margin for error. It is also a big reason why Detroit has gone 'under' in four straight.
29. Miami Dolphins (1-5) – Let's pump the brakes on all the Brian Flores hate. Maybe a big part of the problem is that people overestimated this team's talent, which is still pretty young. The Fins don't have a quarterback – Tua's underthrown interception last week literally made me laugh out loud – and their offense has fallen apart. I don't know how much of that falls on Flores' feet. But the guy got this team to massively overperform for two seasons. I think that can buy him at least one underachieving campaign.
30. Houston Texans (1-5) – They moved the ball, posting a 117.7 yards per point (three points on 352 yards). Their 32.9 yards per point over their last three games is more than double the league average.
31. Jacksonville Jaguars (1-5) – I still can't believe that Matt Wright's 54-yard game-tying field goal curved back in after it looked like it was heading wide right. I honestly can't remember ever seeing that before in an NFL game. Wright's three field goals in London led the Jaguars to finally cut Josh Lambo, the most accurate kicker in franchise history.
32. New York Jets (1-4) – You must ask yourself: do you think that the Jets coaching staff did anything productive with the extra week off? Me neither. New York is 5-15 ATS in their last 20 divisional games and 7-19 ATS in their last 26 road games. The Jets are 20-43 ATS in their last 63 games as a road underdog.
Robert Ferringo has been one of the best football handicappers in the country and for a full decade from 2010-2019 he banked over +$40,000 in football profit. Robert has produced four of five winning seasons (and 8 of 11) and has produced an amazing 55 of 85 winning football months over the past 13 years. Robert has 9 of 11 winning NFL preseasons and he is at nearly 60 percent winners over his last 1,000 totals picks. Also, Robert's proprietary KING College Football Betting System is back and Robert expects a MONSTER football season. Robert is looking for another winning football year and wants more profit this fall. SIGN UP HERE TODAY AND TAKE ADVANTAGE OF OUR 3-FOR-1 FOOTBALL SPECIALS!
Get NFL picks on every single game, or if you want our very best bet premium picks by the experts, sign up for your free $60 account with a guarantee.