NFL Office Pool Picks Week 18 with Expert Analysis and ATS Predictions
by Josh Weil - 1/4/2022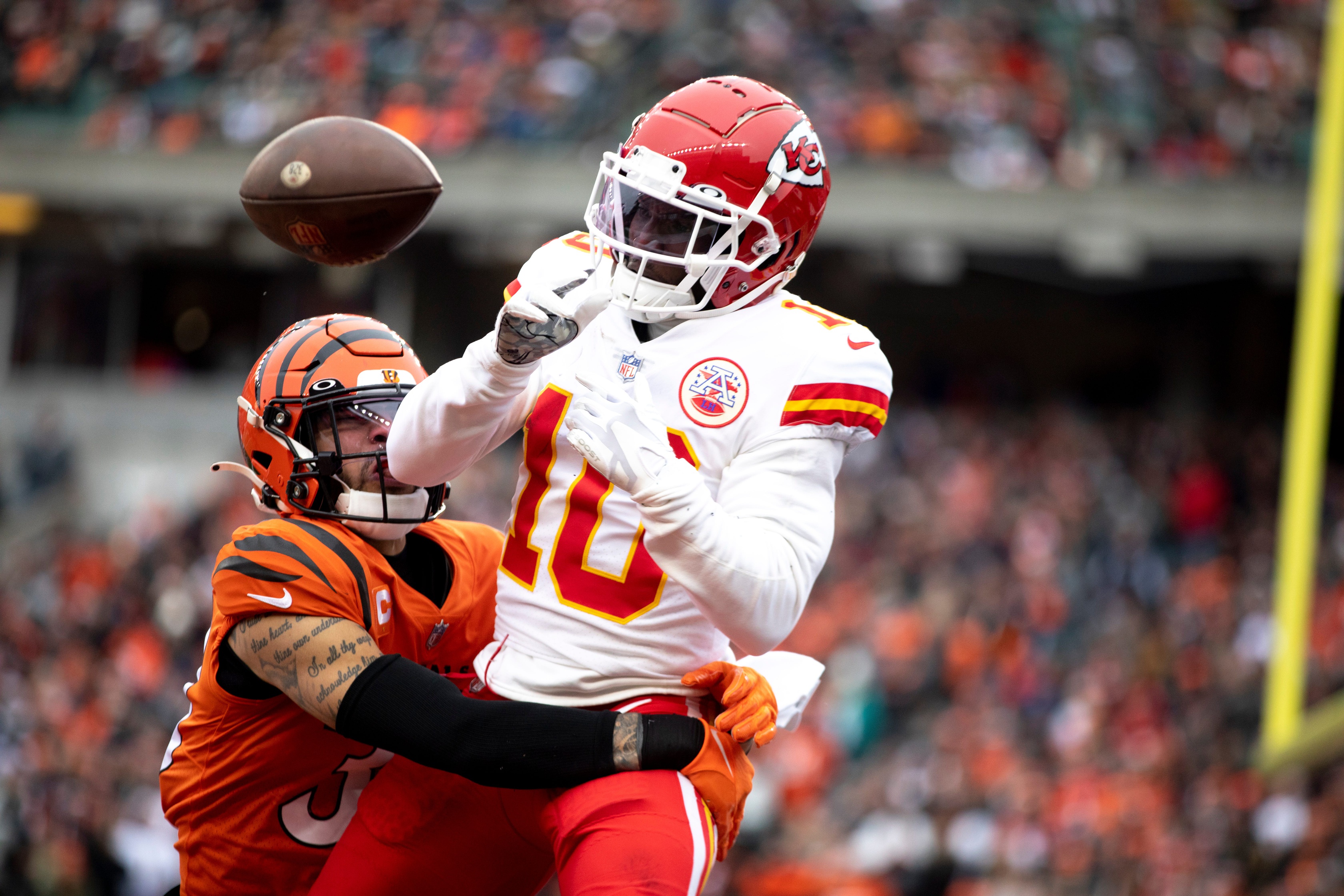 Week 17 saw a bunch of teams punch their ticket to the playoffs, as well as clinch their respective divisions, but that does not mean there is no reason to tune in for the final week of the regular season. Even though favorites went 9-6 ATS this weekend, underdogs are still holding the edge for the season. What fascinates me is that even though the dogs are getting wins just 36.9% of the time, they have covered the spread at a respectable 52.2% rate. Be aware of what teams have clinched going into this week, as some may be gunning for higher seeds, and others are just trying to get in! Here is how I expect it to go down:
Doc's Sports offers NFL expert picks for every game on our NFL predictions page.

Kansas City Chiefs -9.5 vs Denver Broncos: Patrick Mahomes and the Chiefs covered six straight times prior to the defeat in Cincinnati last time out. Tyreek Hill has amazing numbers against the Broncos, who are normally good defensively. Chiefs will secure the AFC two seed with a 14-point win in Denver.
Philadelphia Eagles +5.5 vs Dallas Cowboys: With a potential, yet unlikely, rematch looming in the playoffs, and the loss of Michael Gallup for the season, look for the NFC East Champion Dallas Cowboys to be content with where they are in the standings and not take any chances. Give me the Philly ground game and the points here in a stay-healthy game for both sides in Philadelphia.
Baltimore Ravens -4 vs Pittsburgh Steelers: With the Ravens limping to the playoffs down the stretch, look for their bitter rivals to bring the fire out of them whether Lamar Jackson suits up or not. This may be the last of Ben Roethlisberger. And while he has had a great career, he hasn't been worth betting on at all this season. The Steelers have an outside chance of making the playoffs, but I don't think that narrative is enough to carry them. Ravens by a touchdown.
Cincinnati Bengals -2 vs Cleveland Browns: The Browns are the definition of all of the tools being in place, but the carpenter not showing up to work. Nick Chubb barely played on Monday Night Football, and the Browns are sputtering to the finish line. On the contrary, the Bengals are rolling now. This young, energetic team doesn't need a week off as they want to control their seeding destiny. Bengals by 10.
Detroit Lions +3 vs Green Bay Packers: With Jordan Love at the helm, this extremely raw and athletic defense should be able to end the season on a high note. Since the Lions won their first game, they have looked much better as a unit. And with a 10-6 mark ATS, there is no reason to think that they shouldn't out-hustle an uninterested Packers team who has their eyes on February 13. Detroit wins outright.
Indianapolis Colts -15.5 vs Jacksonville Jaguars: Did you see the Jaguars' performance last time out? The Pats are no joke, but to let up FIFTY is an embarrassment. The Colts need a win here to secure their place in the playoffs, and I think that their pursuit is relentless, and they show that the Jaguars are true to their 4-12 ATS Record. Also, JT is 266 yards from two thousand, so if he gets that or not, it won't be for lack of effort. Colts by 24.
Chicago Bears +2.5 vs Minnesota Vikings: The Bears are looking to end the season strong, and this Vikings team is low on hope. Whether or not Kirk Cousins plays just tells me if this will be close or not, but I expect Justin Fields best game yet and the Bears to win outright
Washington Football Team -6.5 vs New York Giants: Washington showed that they are not going down without a fight, and the Giants are showing other ambitions. With Daniel Jones out, Mike Glennon and Jake Fromm have been closing the year at the quarterback position, and this has Giants fans wanting the season to be over. I have a hard time believing the Giants will muster any offense at all, so I think Washington by two scores.
Arizona Cardinals -6.5 vs Seattle Seahawks: Believe it or not, this game is extremely important for Arizona. They have shown the ability to win on the road, but they need to make a statement at home against a division rival to get into the playoffs buzzing, and I think they do just that. Cardinals by 17.
New Orleans Saints -4.5 vs Atlanta Falcons: Knowing that a win here gets the Saints into the playoffs will fire up that defense to play at their normal high level. Yes, the Falcons won last time they played, but I credit this to Trevor Siemian playing. Plus, the Saints won the 4th quarter 24-10 last time, coming back from 18 down only to lose on a last-second FG. Too many storylines not to back the Saints here. Saints by eight.
New York Jets +17 vs Buffalo Bills: Way too many points for a team that has scored at least 24 points in each of the last three games, including games against Tampa Bay and Miami. Plus, the Bills know that they just need a win to secure the AFC East. And with the way they played last week, I wouldn't back them to blow anybody out. Bills by 10.
Los Angeles Rams -4.5 vs San Francisco 49ers: The Rams know they're up against it with the narrative that SF has won five straight head-to-head, but they also know that winning this game would get other teams respect as championship contenders. Rams by a touchdown
New England Patriots -6.5 vs Miami Dolphins: The Dolphins beat up on bad and injured teams to vault themselves into the playoff picture, only to be mathematically eliminated last week. The Patriots show no mercy. EVER. Patriots by 14.
Tampa Bay Buccaneers -8.5 vs Carolina Panthers: The score was 32-6 last time out, and Tom Brady would love to avoid playing the Saints in the playoffs. Look for Brady to close out his amazing season with some elite numbers and a comfortable win.
Los Angeles Chargers -2.5 vs Las Vegas Raiders: What a story the Raiders have been, for all of the wrong reasons, but Derek Carr has had an amazing season and somehow has them in a position to play spoiler and MAYBE sneak in, but Justin Herbert is across the way. Look for the Chargers to hold tight onto that seventh seed in the AFC with a ten-point win here.
Get NFL picks on every single game, or if you want our very best bet premium picks by the experts, sign up for your free $60 account with a guarantee.