NFL Power Rankings Week 14
by Robert Ferringo - 12/6/2022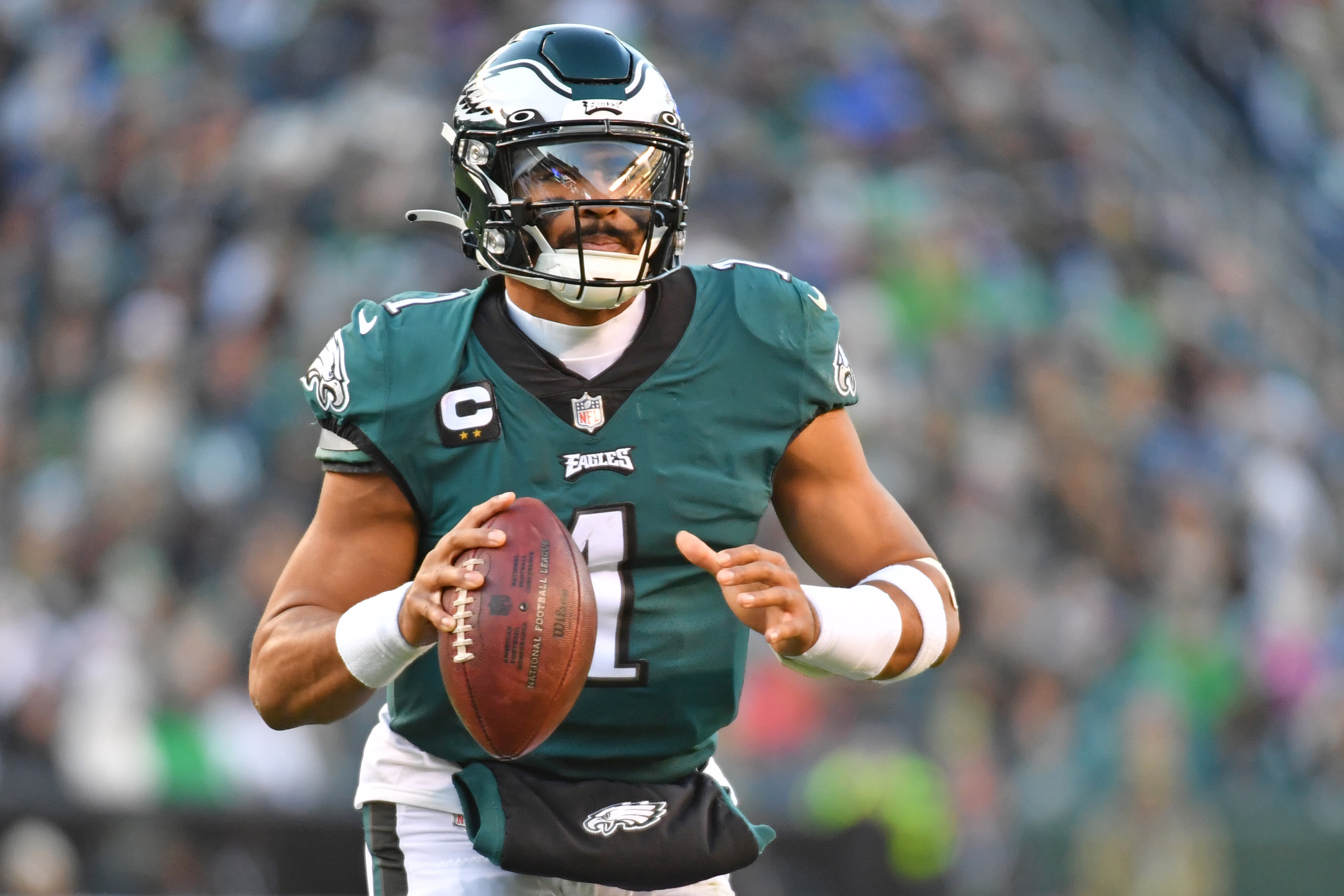 I don't like to have wild swings in my NFL Power Rankings. The reason is that I expect these to be a static, stoic, sober view of the pro football hierarchy each week. And to do that, you need to avoid wild swings, overcorrections, and overreactions to short-term results.
At this point in the year, I feel like I have a pretty strong grasp on who's who and what's what. As a result, my Top 10 from last week to this week is filled with the same 10 teams. Sure, we have a new No. 1 and did a little shuffling. But the Top 10 teams are the Top 10 teams. (Tennessee, which has overperformed this season, is the only weak link.)
Beyond that, we have the league's disgusting second tier. Seattle, New England, the Jets, the Giants, the Bucs, etc. These are not good football teams! Yet the next 10-12 teams in my rankings have found some success and put themselves in position to challenge for the postseason. These teams can beat any of the squads in the Top 10, as they've proven, while also showing an ability to lose to any of the league's bottom feeders.
That leads us to the dregs. The final 10 teams in these rankings are helpless and hopeless. They are going nowhere fast and are already making decisions based on the offseason and the next season.
That leads me to my point: you can't get lazy down the stretch. Just because we know who the top, bottom and middle teams are in the league, that doesn't mean that we have it all figured out.
There will be ample surprises over the final five weeks of the regular season (and beyond). And there is a tendency that bettors have to "records handicap". What that means is that instead of looking at things like matchups, motivations, line movements and recent statistical performance, lazy bettors (and some handicappers) will simply look at the records of two teams and make their plays based on that.
That's how the sportsbooks win.
Bill Parcells was wrong when he said, "You are what your record says you are." No, NFL teams are not. Not all records are created equal. Strength of schedule, injuries, close losses, and many other factors all coalesce to create the tapestry of a team's season. The minute you forget about all these fundamental factors, and start betting based on the standings, you are just setting yourself up to lose your money.
Doc's Sports offers NFL expert picks for every game on our NFL predictions page.
Here is Doc's Sports NFL Power Rankings:
1. Philadelphia Eagles (11-1) – The fact that this team completely shrugged off the Titans, a tough, physical, borderline dirty team, shows me that they are mentally tough enough to win the Super Bowl this year. The Eagles have lost each of their last two trips to New York, and they are just 2-5 ATS in their last seven games against the Giants.
2. Kansas City Chiefs (9-3) – Travis Kelce is the heart and soul of this team, so he is allowed a few mistakes. That includes his crippling fumble against the Bengals last week. The Chiefs are now 0-5 ATS in their last five games and 0-4 ATS against divisional opponents. Kansas City is 8-21 ATS against AFC opponents and 0-6 ATS against teams that are below .500.
3. Buffalo Bills (9-3) – The Bills will play their first game in Orchard Park in four weeks, and I am certain that the Buffalo faithful have missed them. This week is a revenge game for the Bills, who dropped their first matchup with the Jets. That 20-17 Jets win was one of just three times in the last 10 meetings that this game has been decided by less than a touchdown.
4. Dallas Cowboys (9-3) – The Cowboys could beat Houston by 40 this week if they want to. The question is: do they want to? I'm sure the Cowboys will clear the bench early in this one. But it is not as if there is a huge drop-off from the starters to the second unit guys on this roster. Three of Dallas' last four wins over its last five games have come by 20 points or more.
5. Minnesota Vikings (10-2) – It's a great big red flag this week that the Vikings, the team with the second-best record in the NFL, is posted as an underdog against a Detroit team that is below .500. Minnesota needed to come from behind in its first win over the Lions this season, and they are 0-4 ATS in their last four games against Detroit.
6. Cincinnati Bengals (8-4) – Revenge game for the Bengals this week after they took a 32-13 beating at the hands of the Browns on Halloween. Cincinnati has actually lost five straight games in this series, allowing an average of 33.2 points to the Browns in those defeats. The favorite is 0-6 ATS in the last six meetings between these squads.
7. San Francisco 49ers (8-4) – The Shanahan offense is pretty idiot proof when it comes to quarterbacking. There are a lot of simple reads, a lot of short throws, and a lot of running the football. If Purdy can limit turnovers – and use his legs to gain yards – then he should be OK in the short term. It just sucks that the 49ers had become a team to bet on blindly prior to Jimmy G. going down, and now we really have to give pause to how we are going to play them with Mr. Irrelevant under center.
8. Miami Dolphins (8-4) – Miami has elected to hang out in Los Angeles for the week rather than fly home to Miami and then back to L.A. for Sunday's game with the Chargers. This is still a young team with a rookie coach. We will see if that impacts their preparedness for Sunday. The Dolphins are just 1-4 ATS on the road, and they are just 2-8 ATS in their last 10 games after a loss.
9. Baltimore Ravens (8-4) – This week's game against Pittsburgh is going to come down to one thing: turnovers. Both teams are starting backup quarterbacks. Both have defenses that have been dominating lately. Whichever team wins the turnover battle will win the game. Baltimore is No. 4 in the league in takeaways this year (20), while Pittsburgh is 10th (17). The two teams are tied with 14 giveaways.
10. Tennessee Titans (7-5) – There has been a reverse line movement on Tennessee's game with Jacksonville this week as the Titans wait to see if Ryan Tannehill is fully healthy this week against the Jaguars. The Titans have won five straight over Jacksonville (4-1 ATS), and the last three meetings they have won by a combined score of 88-29.
11. Seattle Seahawks (7-5) – Alarm bells have definitely been doing off early this week as I have watched the Seahawks spread drop from -6.0 to -3.5 this week. Considering the path of these two teams, and Seattle's home field advantage, that movement doesn't make much sense. Seattle has dominated this series, winning three straight both SU and ATS and going 7-2 SU in the last nine meetings.
12. New England Patriots (6-6) – All summer, all training camp, and all preseason the talk was about how disjointed the Patriots offense is. So, it should surprise absolutely no one that they are ranked No. 20 or worse in every major offensive category. Frankly, I'm surprised it isn't worse and stunned they are averaging over 20 points per game.
13. New York Jets (7-5) – New York has been abysmal against divisional opponents, going 8-21 ATS in its last 29 games against fellow AFC East opponents. The Jets are 3-7 ATS in their last 10 games in Buffalo.
14. New York Giants (7-4-1) – The Giants' No. 26 ranked rushing defense has been shredded over the last month, allowing 165 rushing yards to Washington, 169 to Dallas and 160 to Detroit. I do not see how this group is going to stand up to the Eagles, although the underdog is 5-2 ATS in this series.
15. Los Angeles Chargers (6-6) – Last year Brandon Staley was some kind of coaching wunderkind, a bold, young gambler leading an exciting, up-and-coming squad. One year later, he is reportedly coaching for his job. Not For Long indeed. The Chargers, who have no home field advantage, are 7-20 ATS at home against a team with a winning road record. They are 5-2 ATS after a loss.
16. Tampa Bay Buccaneers (6-6) – Take the 'over' on Donovan Smith holding calls this week against San Francisco. He had two holding calls on Tampa Bay's final two drives against New Orleans, including one that took a Chris Godwin touchdown off the board, and he probably should've had four more. If Joey Bosa plays like he did against the Dolphins (and he probably won't; Bosa will probably leave with an injury in the first quarter and not play for three weeks), then Smith is screwed and Bosa may eviscerate Tom Brady.
17. Washington Commanders (7-5-1) – These late season bye weeks are killing me. I think I'd rather have more teams get bye weeks and have a smaller number of games in weeks 6-10 and have all the bye weeks done before Thanksgiving. The NFL also needs to consider that this dead period before college bowl season means people are craving NFL action even more.
18. Cleveland Browns (5-7) – I'm not going to completely excuse Deshaun Watson's performance in Houston as simple rust. Mark my words: there is a better than average chance here that Watson just stinks and that he never comes close to reaching the levels that people expected from him. That would be the perfect karmic end for the Browns.
19. Detroit Lions (5-7) – Here they come. The Lions have been playing great football over the last month. The defense is still undermanned. But now that they are healthy on offense at the skill positions, this attack has a chance to be one of the best in football over the final month of the year. Detroit has covered the spread in five straight, and this team will be a lot to deal with down the stretch.
20. Pittsburgh Steelers (5-7) – The Steelers have swept the Ravens each of the past two seasons, winning four straight over Baltimore by an average of 3.3 points per game. Neither team has won five straight in this series since Pittsburgh did it back in 2001-03.
21. Las Vegas Raiders (5-7) – Unfortunately, the Raiders won't be getting Darren Waller and Hunter Renfrow back this week to support an offense that has scored 20 or more in five straight games. The Raiders are 0-5 ATS in their last five attempts against the Rams and are 3-11 ATS against a team below .500.
22. Green Bay Packers (5-8) – The Packers (barely) won and (barely) covered against Chicago last week. They get the skeleton of the Rams in Lambeau after the bye week on Monday Night Football. A win there should be just enough to convince people that this team – which still stinks – is going on a run. Reality should strike in Week 16 in Miami.
23. Atlanta Falcons (5-8) – We will find out if Arthur Smith wants to roll the dice with rookie Desmond Ridder down the stretch. The positive of that decision would be that Atlanta might learn some things about their rookie quarterback in a season that doesn't seem likely to end in the postseason. The negative is that Ridder isn't going to fix their awful crop of receivers or their sloppy pass blocking.
24. Arizona Cardinals (4-8) – This is another one of those situations where you have to ask yourself: "Do I think that Kliff Kingsbury put his bye week to good use?" If you think so, then A) Arizona is the play on Monday and B) you haven't been paying attention to anything Kingsbury has done in his coaching career.
25. Carolina Panthers (4-8) – Excuse me if I am not excited about Sam Darnold's prospects down the stretch here for Carolina. He was given plaudits for leading Carolina to a win in Week 12 prior to the bye. The guy went 11-for-19 for 164 yards! He was awful. Carolina is facing a soft Seattle defense and should have some success. But the Panthers are just 2-7 ATS on the road and 4-9 ATS in conference games.
26. Jacksonville Jaguars (4-8) – There is a reason that Zay Jones and Evan Engram were available this offseason in free agency. The two combined for five dropped passes last week in Detroit, because that's kind of what they do.
27. New Orleans Saints (4-9) – I can't stress enough what a soul-crushing loss that was on Monday Night Football. Had the Saints won, they would've been a half-game out of the playoff race in the AFC South. Not only did they blow a two-touchdown lead in the final five minutes (Mark Ingram should be ashamed of himself for running out of bounds) and lose with 13 seconds to play, but now the Saints have two full weeks to let that game linger. Their season is over.
28. Indianapolis Colts (4-8-1) – There has been a lot of talk about the quarterback issues that the Colts have. There hasn't been a lot of talk about how pathetic Indianapolis' wide receivers are. I think the Colts have the worst collection of skill position talent in the NFL, so it doesn't matter who is under center.
29. Chicago Bears (3-10) – Last week's game goes in the books as a nine-point loss. But the Bears had a one-point lead with five minutes left in the game. That is another heartbreaking loss for this group in a season full of them. Mark my words: this team is going to the playoffs next year. Jump on the bandwagon now. I'm driving.
30. Los Angeles Rams (3-9) – Six points still seems short for the Rams this week against the Raiders. Aaron Donald didn't practice on Monday and is unlikely to play this week against Las Vegas. The Rams defense has allowed over 420 yards each of the last two weeks without him, and the Rams, with all the missing pieces on offense, have gone 'over' in three of their last four.
31. Denver Broncos (3-9) – Once again, the defense dominates. Once again, the Broncos lose. There is just no way that this team is mentally together enough to handle 60 minutes against the Chiefs, a team that their defense will not be able to completely shut down.
32. Houston Texans (1-9-1) – Here is one thing the Texans aren't last in the league in: they have a better turnover differential than the Rams, Saints and Colts. In fact, Houston's minus-six differential is only two worse than Kansas City this season.
Robert Ferringo has been one of the best football handicappers in the country and for a full decade from 2010-2019 he banked over +$40,000 in football profit. Robert has produced five of six winning seasons (including last year) and 9 of 12 profitable years. Robert expects a MONSTER football season. Robert is looking for another winning football year and wants more profit this fall. SIGN UP HERE TODAY AND TAKE ADVANTAGE OF OUR 3-FOR-1 FOOTBALL SPECIALS!
Get NFL picks on every single game, or if you want our very best bet premium picks by the experts, sign up for your free $60 account with a guarantee.