Oddsmakers Release Odds for 2020 NFL Top Draft Pick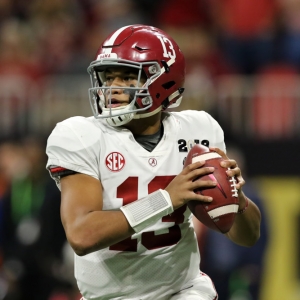 The 2019 NFL Draft has only barely passed us by. That means that the 2020 Draft is still almost a full year away. And that there is both an entire college season for the prospects, and an entire year of the NFL teams making their needs and the urgency of them clear. But because, as sports fans and bettors, we are ridiculous, we can't help ourselves. We have to look ahead as soon as we possibly can. Heck, if you watch any college ball at all you can't honestly tell me that you haven't thought at least a little about Clemson QB Trevor Lawrence and the 2021 Draft.
BetOnline has odds for which player will be the first overall pick next year. With the obvious qualifier that at this time last year Kyler Murray likely wouldn't have cracked the Top 50 in terms of odds, so this is a bit of a foolish process in reality. Regardless, let's look at the favorites as they stand right now:
Tua Tagovailoa, QB, Alabama (+200): The Alabama youngster seemed to be on the fast track to the Heisman this year but found a way to blow it in the end with a decided step down in performance when it finally mattered. But that was just a blip in the road. The guy is a seriously talented passer, and he has legs. And he plays for the highest-profile team out there, one that is again going to be among the best in the country. He's a good bet to be the top pick, and he's the justified favorite. He'll be under a serious microscope all year, with every move dissected, so there isn't any value in this price. But I would be far from surprised to see the first team on the clock take him.
Justin Herbert, QB, Oregon (+350): At the time when Herbert opted out of the draft this year, I was stunned. And as time has passed, I haven't wavered on that. Herbert is what NFL teams dream of in a quarterback - big, smart, and with a serious arm. He would have had a very good chance of being the second QB taken this year. But instead he chose to head back to Oregon for another season. I would get the decision if he was going back to a contender and he felt the need to scratch his national title itch. But that isn't happening in Oregon. It's not even a minor possibility. It's a big risk, and we have seen things like this play out enough times that, though I like him a lot as a player, I wouldn't touch anything close to this price.
Jake Fromm, QB, Georgia (+400): I'm not a Fromm guy and don't see him as near the same level as the two QBs above him, so I struggle to justify this price. Georgia is changing their offense, and they weren't exactly consistently brilliant last year. But Fromm is in his third year as a starter now, and he will get plenty of chances to pass, so he has a chance to make a real move up if he has a big season. But I'm sure not betting on it.
Chase Young, DE, Ohio State (+700): Defensive linemen can certainly rise up to go first overall. Heck, Nick Bosa from Ohio State almost did it last year. Young had a huge impact for the Buckeyes after Bosa was hurt and took the rest of the year off, and there is lots of room for him to be even better this year. He already looks like an NFL player, and his fundamentals are sound. It will come down, though, to who earns the first pick. A team that needs quarterback help isn't taking a d-lineman over this strong QB class. But if a team that has already picked up their franchise guy in the last year or two were to wind up with the pick, then Young would certainly be in play. The price seems about right.
Derrick Brown, DL, Auburn (+700): Like Herbert, I was quite surprised to hear that Brown had opted to return for his senior season. But he's a tackle, and that's not nearly as sexy for fans as a rush end, so it would be tough to take him first overall. And he would have to take a massive step forward to warrant that honor regardless of position - he was far from a first-round lock this year. I don't get this price at all.
Jerry Jeudy, WR, Alabama (+900): Jeudy is a freakish talent, and if he takes a step forward from last year then he would be very tempting for a team with a strong QB hungry for a big target. But we haven't seen a receiver go first overall since Keyshawn Johnson in 1996. We have seen 16 quarterbacks and four defensive ends - not to mention three left tackles - go first since then. Receiver just isn't a position right now that would get considered for this pick unless the quarterbacks all bombed and Jeudy set serious records. Of course, if Jeudy has a big year then so does Tagovailoa.
Read more articles by Trevor Whenham