2012 AFC East Predictions with Odds and Betting Preview
by Robert Ferringo - 8/8/2012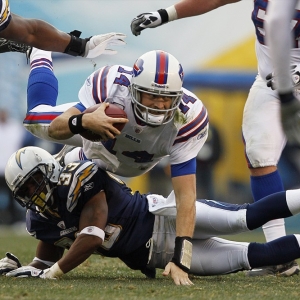 The New York Jets have been the single-most talked about team in football since obtaining Tim Tebow. The Miami Dolphins are being featured on HBO's "Hard Knocks". The New England Patriots are NFL royalty and feature several players – Tom Brady, Rob Gronkowski – that are just as likely to make an appearance in People or on TMZ as they are Sports Illustrated.
There is a lot printed and talked about regarding the AFC East heading into the 2012 season. But I've yet to hear a single commentator state the obvious about this division: it stinks.
Claim your 100% Xbet
Signup Bonus
CLICK HERE
If not for the amazing work done by the Patriots, the AFC would be among the two or three worst divisions in football over the past 10 years. Miami is about 15 years into their search for the next Dan Marino. Buffalo is still actively avoiding the Super Bowl and its painful memories. And the Jets have succeeded in becoming the New York Mets of pro football. (And no, that's not a compliment.)
New England has won the AFC East in eight of the last nine years. They are about to make it nine of 10. But the question for this group this season will be if anyone can take advantage of the East's mutual/collective easy schedule to break through and join the Patriots in the postseason.
Here are my AFC East predictions and betting odds:
New England Patriots Predictions
2011 Record: 13-3 (7-1 home, 6-2 road)
2011 Against the Spread: 9-7 ATS, 11-5 vs. Total
2011 Rankings: 2nd offense (2nd pass, 20th rush); 31st overall (31st pass, 17th rush)
2012 Odds: 6/1 to win SB, 3/1 to win AFC, 1/3.5 to win AFC East, 12.0 wins O/U
Offense: Devastating. That's really the only way to describe New England's attack. Brady is an all-time great and has a plethora of weapons at his disposal. The two-headed tight end monster of Gronkowski and Aaron Hernandez create matchup nightmares. That will help soften up coverage on the outsides and allow guys like Wes Welker, Julian Edelman and new addition Brandon Lloyd to do their thing. The Patriots still lack a go-to running back, but they haven't had one of those since Corey Dillon left. Also, the offensive line has undergone some renovations and likely will not be as good as it was at the end of last year. But none of these issues are major and the Pats should meet or exceed their 32-point per game output of a year ago.
Defense: This has been the major weakness on this team over the last three years. Some draft failures and roster turnover have sapped this team of the veteran playmakers that were at its core when they were winning championships. But the Patriots had to deal with a slew of injuries last year – overall the team lost the third-most starts in the league to injury – and I'm expecting a much more physical and active group. The Pats beefed up their front line by adding Jon Fanene, Trevor Scott and Chandler Jones, and their linebackers are a year older and more experienced. The Patriots are soft in the secondary and finished No. 31 in the league in pass defense. But with increased pressure up front I expect improvement there as well.
Skinny: The New England Patriots schedule is the easiest in the NFL this year. And when you factor in their superior talent and the dominating Brady-Belichick brain trust they have to be considered the clear-cut favorites in the AFC. New England has won an average of nearly 13 games per year over the last nine years. They are the model of consistency and excellence in the league and they should dominate once again.
Buffalo Bills Predictions
2011 Record: 6-10 (5-3 home, 1-7 road)
2011 Against the Spread: 6-9-1 ATS, 11-4-1 vs. Total
2011 Rankings: 14th offense (15th pass, 13th rush); 25th defense (19th pass, 28th rush)
2012 Odds: 75/1 to win SB, 25/1 to win AFC, 7/1 to win AFC East, 7.5 wins O/U
Offense: Three years ago the Bills gambled on fielding one of the youngest offensive lines in football. That bet is starting to pay off, and now Buffalo has one of the better young fronts in the game. The Bills were able to surprise some teams early last year with Chan Gailey's unique trapping offense. But as the season wore on and teams got more tape on Buffalo, the Bills scoring plummeted from 30.1 points per game in their first seven to just 17.9 after that. If the Bills are going to be more consistent this year they will need Ryan Fitzpatrick to throw the ball further than eight yards down the field. Their 10.4 yards per completion was among the worst in the league, and teams were able to bring their safeties up – helping slow down the Fred Jackson/C.J. Spiller-led running game – and press on the outside because they knew the Bills wouldn't beat them deep. Buffalo has to be more aggressive down the field.
Defense: The Bills have put together one of the best defensive lines in football. And that could have a ripple effect throughout the whole defense, similar to what we saw with Detroit last year. The Bills were the fifth-worst run defense in football last season, giving up nearly 150 yards per game. But with Marcel Dareus and Kyle Williams up front and added depth in the front seven they should be much better this year. After back-to-back seasons with a Top 5 pass defense, the Bills slid to No. 19 last year. An improved pass rush, led by free agent signees Mario Williams and Mark Anderson, should only help. They do need better linebacker play against the pass and more impact plays against the run. But overall this group has the potential to be a real plus.
Skinny: The Bills have been tripping over themselves for over a decade and they are the only franchise in football to not make the playoffs since the turn of the century. I know they have a lot of buzz right now, and this really could be their year to make a move. We've seen fast starts from the Bills before. And the organization needs to overcome its defeatist attitude. But, unlike years prior, they now have talent. The big question will be A) can they stay healthy and B) are Gailey and Fitzpatrick up to the task? If both answers are "yes" then I don't think that 10 wins is out of the question.
New York Jets Predictions
2011 Record: 8-8 (6-2 home, 2-6 road)
2011 Against the Spread: 6-10 ATS; 10-6 vs. Total
2011 Rankings: 25th offense (21st pass, 22nd rush); 5th defense (5th pass, 13th rush)
2012 Odds: 34/1 to win SB, 12/1 to win AFC, 6/1 to win AFC East, 8.5 wins O/U
Offense: The Jets made it to two straight AFC Championship Games in spite of Mark Sanchez, not because of him. But after finishing No. 1 and No. 2 in rushing attempts in 2009 and 2010, respectively, the Jets sank to No. 16 in the league and actually threw the ball over 100 times more than they ran it last year. By comparison, the two prior years they averaged over 100 more runs than passes. They brought in a new offensive coordinator to guide Mark Sanchez, who is nothing more than a mediocre NFL quarterback. This year New York's skill position players are severely lacking. Shonn Greene can't stay healthy or effective. Santonio Holmes has become somewhat of a locker room cancer, and two of their top four receivers from last year have moved on. The offensive line is still a major strength and I expect the Jets to go back to the ground-and-pound approach that had been successful for them – if they can find a consistent rusher not named "Tebow".
Defense: The Jets were in the Top 6 in the league in both total defense and points allowed in Rex Ryan's first two years at the helm. Last year their scoring defense plummeted to No. 20, and a quick scan of the roster shows me that this group is trending downward. New York's front seven was pushed around at times last year and their defensive line is average, at best. The Jets were No. 31 in red zone defense last year, allowing touchdowns on nearly two-thirds of all opponent possessions down there. The secondary could be a strength this year if LaRon Landry and Yeremiah Bell can shake off down seasons and raise their level of play. And New York has to do a better job of forcing turnovers and sacks, two areas where they finished No. 23 and No. 17, respectively, last year. Bluster won't do it; Ryan has to find a way to get the group to overachieve its average talent level.
Skinny: The focus on the Jets this offseason has revolved around the Tebow signing, but for all the wrong reasons. To me, his addition means one of two things: either the Jets are looking to shift back to their tough, physical, running roots and go back to the style that got them to back-to-back AFC Title games OR the front office pretty much knows this team is in decline and really did bring in Tebow in order to generate interest (and revenue) and try to stay relevant in the New York (and national) market. I don't think that this team is much of a threat in the AFC, and I think they enter the season as one of the more overrated groups in the conference.
Miami Dolphins Predictions
2011 Record: 6-10 (4-4 home, 2-6 road)
2011 Against the Spread: 9-6-1 ATS, 4-11-1 vs. Total
2011 Rankings: 22nd offense (23rd pass, 11th rush); 15th defense (25th pass, 3rd rush)
2012 Odds: 130/1 to win SB, 41/1 to win AFC, 12/1 to win AFC East, 7.5 wins O/U
Offense: When you are relying on David Garrard, Reggie Bush and Chad Johnson as the staples of your offense you are in trouble. All three players are either overrated, injury prone, or over the hill. In some instances all three. Miami brought in Joe Philbin to install an offense similar to what he oversaw in Green Bay. But the Dolphins aren't working with the same talent they have in Lambeau. Also, I still think that Matt Moore should be the quarterback and I think he has ability, leadership, and upside. The skill positions are depleted in Miami, but I do like their offensive line. Jake Long is a stud and they have a nice blend of youth and experience across the front five. The unit did give up 52 sacks last year and needs to be better there. But they should at least give Miami something to work with.
Defense: Three starters and several key contributors have been shed from Miami's defense last year. They were No. 6 in the league in points allowed and No. 3 against the run. The secondary is all over the map, and they have some big questions at safety. Miami is shifting to a 4-3 base defense, but they have drafted enough versatility on the edges where I think they'll adjust quickly. They also retained their defensive coordinator, and I think that was a smart move and will help with the transition. Depth is an issue. And Miami needs to find ways to hold up better and get key stops in clutch spots. They allowed only 19.6 points per game last year but almost 40 percent of those (7.5 per game) were given up in the fourth quarter.
Skinny: Miami would have been a playoff team last year if they had started Moore from Game 1. I'm deadly serious. And the Dolphins front office didn't see it, so they started a top-down purge that led to a new coach, new quarterback, and a significant roster turnover. People can say that Miami is rebuilding. But they have been in a perpetual state of retooling for the past decade. With a Pythagorean Win Factor of -2.5, the Dolphins were one of the biggest underachievers in football last year. That makes them dangerous as a rebound team. But until they get their schemes figured out this team is taking baby steps to respectability.
Robert Ferringo is a professional handicapper and has posted back-to-back profitable seasons (college and pro). Robert has turned a profit in three of four football seasons and over the last nine months his clients have earned nearly $10,000 in profit with his football selections. He is looking forward to building on his stellar football handicapping resume again this fall and you can check him out here. Also, you can also get $60 worth of free Robert Ferringo member picks (no salesman, no credit card, no obligation!) by clicking here for more info.