2009-10 Cincinnati Bengals Predictions
by Justin Johnson - 8/14/2009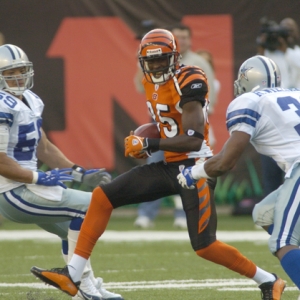 2008 Figures: Overall record: 4-11-1. ATS: 7-9. O/U: 5-10-1
2008 Rankings: Scoring offense: 12.75 (No. 32) Scoring Defense: 22.75 (No. 19)
2008 Inside the Numbers: Despite finishing in the middle of the pack in most defensive categories in 2008, the Bengals finished dead last in sacks with only 17. For perspective, Joey Porter and DeMarcus Ware each had more on their own.
2009 Super Bowl Odds: +10000
Free $60 in Member MLB Picks No Obligation Click Here
Offense: No team in the NFL scored fewer points than the Bengals did last year. By averaging less than two touchdowns per game (12.75 ppg) the Bengals were one of the best "under" plays for NFL handicappers - a distinction Cincinnati would like to avoid in 2009.
Back, and hopefully better than ever, will be QB Carson Palmer. Palmer, who missed 11 games in 2008, is just a few seasons removed from discussions of being one of the best in the game. This season he has the tools around him to drum up those discussions once again. Gone is possession receiver T.J Houshmenzadeh and in is older, but still dangerous, Laveraneus Coles. Cedric Benson returns at running back after jump-starting his career last season as does brash talking Chad Ochocinco. Ochocinco had a terrible year in 2008 as he was limited to just 53 receptions, 540 yards and only four trips to the endzone.
All of the best-laid plans for the Bengals could be for naught if the offensive line does not dramatically improve. Cincinnati allowed an AFC-worst 51 sacks and was in the bottom three in the entire league in points, total yards, first downs, and most other offensive categories. While there are dramatic changes across the front most do not point to optimism. Andrew Whitworth will slide outside to left tackle from left guard to replace the released Levi Jones. Both offensive linemen taken by the Bengals in the NFL Draft are expected to either compete or start immediately. Andre Smith, drafted No. 6 overall out of Alabama, will most likely be the opening game right tackle, while Jon Luigs, out of Arkansas, is in competition to start at center. Bobby Williams is the only holdover expected to start in his position from last season at right guard and Nate Livings appears to have an edge on the left guard position but may lose that job to Scott Kooistra.
Defense: While a 4-11-1 season would lead most to believe that the defense was just as bad as the offense, there was a lot more respectable play on this side of the ball in 2008. Despite only sacking the opposition 17 times all season and being in the bottom third of third-down defense, the Bengals ended the year12th in the league in yards allowed and just out of the top half in points allowed.
The strength of the defense will be the back seven, and will be lead by the linebackers.
MLB Dhani Jones is often overlooked for his leadership, tough, smart play and run stuffing ability. He knows his role in the defense and plays within himself. Along either side of Jones will be a pair of former USC Trojan teammates in Keith Rivers and Rey Maualuga. Rivers was on his way to a Pro Bowl season as a rookie when his jaw was broken by Steelers WR Hines Ward late in the season, but he should be completely recovered from that and ready to improve upon 2008. Maualuga was one of the more fierce defenders in the college ranks, but questions about his character saw his draft stock drop and he was a steal for the Bengals with the 38th pick.
2009 Cincinnati Bengals Football Predictions: The Bengals are not going to be good in 2009. But they are not going to be as bad as they were in 2008 where injuries and a slow start ended the season before it started. In 2009 the Bengals, if everything goes perfectly, can make it to 8-8 but 6-10 is more realistic. They can be explosive on offense with Ochocinco, Coles and Chris Henry out wide as all three can stretch the field and run good routes. And if Cedric Benson continues to progress as he did last year he can be dangerous. However, if things start going poorly this is a volatile mix with Ochocinco, Henry, Coles, Benson and newly acquired Tank Johnson and Roy Williams on defense this team could implode and limp to another sad finish.
---
Most Recent Fall Football Preview Articles