2023 Green Bay Packers Predictions with Season Win Total Odds
by Robert Ferringo - 7/27/2023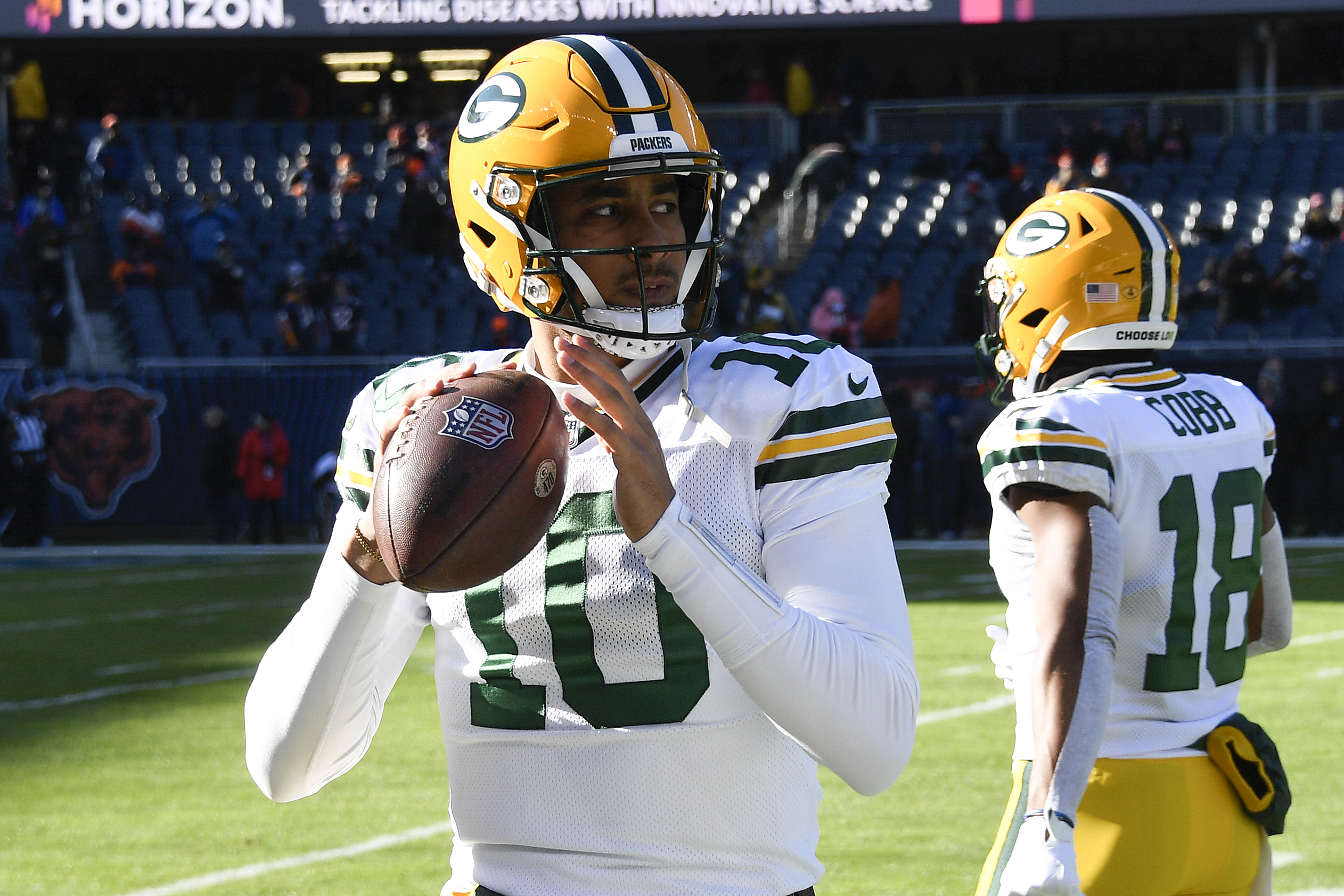 When I was younger, I never understood the phrase, "The Queen is dead. Long live the Queen."
The contradiction just didn't click with me.
Then one day it did. It's about turning the page. It's about moving forward. It's about the natural succession. It's about the institution being bigger than one person and living on in perpetuity.
Green Bay is experiencing their own version of this.
Aaron Rodgers, the King of Packers football since the end Brett Favre reign, is gone. The death of Rodgers' Green Bay career sent shockwaves throughout the franchise, and he leaves behind a complicated legacy.
But there's no time for that now. Jordan Love is ascending to the throne. Packers football moves on.
The King is dead. Long live the King.
Doc's Sports offers NFL picks for every game on our NFL predictions page.
GREEN BAY PACKERS 2023 OFFENSE
Show me some Love.
I feel like I am in the minority, but I think that Jordan Love is going to be fine. He's sat for a few years. He's learned. He's gotten some experience. That is the way NFL teams should handle quarterbacks.
I don't think he's going to be great, but I think he'll at least be competent and he won't be the reason the Packers have issues in 2023.
"Love will end up taking the blame. But their receiving corps projects to be the worst in the NFL. By a lot."
I think the Green Bay offense is going to be sloppy because their receivers are a mess.
Christian Watson had half of a good season. I think he's in line for a sophomore slump. Romeo Doubs is big and has chemistry with Love. If either of them gets hurt, though, the next three dudes on the depth chart are rookies.
Oh, and the top two tight ends? Also rookies. That makes their projected top seven pass catchers all either first- or second-year players. It's one of the youngest receiving corps of the last 30 years. Good luck with that.
Love will end up taking the blame. But their receiving group may end up being the worst in the NFL. By a lot.
To say that the Packers will lean on the running game is an understatement.
Aaron Jones and A.J. Dillon are proven thumpers. Jones has averaged 1,400 total yards from scrimmage each of the last four years, and Dillon has been good for an average of 1,000 each of the past two seasons. I expect them both to share a heavy workload in the running and passing game this season.
Rodgers was an all-time great. He papered over a lot of personnel issues on offense over the last several seasons. We will find out what the real talent level is on this side of the ball this season.
GREEN BAY PACKERS 2023 DEFENSE
Third-year Packers defensive coordinator Joe Barry is under as much pressure as any assistant in the NFL.
In his six career seasons at DC (with Detroit, Washington, and Green Bay), he has fielded two units that were ranked dead last in total defense and points allowed, versus just one group that finished in the Top 10 in total D.
"The defense could be exposed by a reduction in offensive production."
There is Pro Bowl talent at all three levels of this stop unit. Kenny Clark, Preston Smith, and Jaire Alexander are all proven commodities and among the best in the league at their respective positions.
Green Bay has invested considerable draft capital on the defensive side of the ball. They have six first round draft picks in their starting 11 and two more coming off the bench.
If the Packers are going to field another Top 10 defense, they will need top picks Quay Walker, Rashan Gary and Devonte Wyatt to all take a major step forward in their front seven.
Further, the defense is also going to feel the pain of losing Rodgers. The Packers were No. 1 in the NFL in 2021 and 2020 in time of possession. They have been in the Top 10 each of the last four years. The defense could be exposed by a reduction in offensive production.
GREEN BAY PACKERS 2023 SCHEDULE
Week 1: 9/10 at Chicago Bears, 4:25 PM, FOX
Week 2: 9/17 at Atlanta Falcons, 1 PM, FOX
Week 3: 9/24 vs. New Orleans Saints, 1 PM, FOX
Week 4: 9/28 vs. Detroit Lions (Thursday), 8:15 PM, Amazon
Week 5: 10/9 at Las Vegas Raiders (Monday), 8:15 PM, ESPN
Week 6: Bye Week
Week 7: 10/22 at Denver Broncos, 4:25 PM, CBS
Week 8: 10/29 vs. Minnesota Vikings, 1 PM, FOX
Week 9: 11/5 vs. Los Angeles Rams, 1 PM, FOX
Week 10: 11/12 at Pittsburgh Steelers, 1 PM, CBS
Week 11: 11/19 vs. Los Angeles Chargers, 1 PM, FOX
Week 12: 11/23 at Detroit Lions (Thanksgiving), 12:30 PM, FOX
Week 13: 12/3 vs. Kansas City Chiefs, 8:20 PM, NBC
Week 14: 12/11 at New York Giants, 8:15 PM, ABC
Week 15: 12/17 vs. Tampa Bay Buccaneers, 1 PM, FOX
Week 16: 12/24 at Carolina Panthers, 1 PM, FOX
Week 17: 12/31 at Minnesota Vikings, 8:20 PM, NBC
Week 18: TBD vs. Chicago Bears, TBD, TBD
GREEN BAY PACKERS 2023 SEASON PICKS AND PREDICTIONS
In 1992, two guys named Mike Holmgren and Brett Favre came to Green Bay. Since then, the Packers have had just five losing seasons in 30 years. They've experienced a level of stability and domination from the quarterback position that is peerless in professional football history.
Can Love continue that level of success? Time will tell. That question won't be answered in just one season, and I don't think he has an impressive supporting cast.
I've seen the Packers rated in the top half of the NFL in most preseason power rankings. I think part of that is muscle memory. Green Bay has been so good for so long, that people can't picture them among the dregs of the league.
I am obviously not as bullish on Green Bay as a lot of people. I think Rodgers covered up a lot of issues on this roster. I don't expect a smooth transition without him.
I also think that Green Bay is clearly the fourth-best team in a very intriguing division. Detroit and Chicago are both on the rise. Minnesota is in a weird spot and potentially on the verge of a major transition. But the Vikings have more high-end talent and a better quarterback.
Sell the Packers this year. I'm taking them to win fewer than 7.5 games and to post back-to-back losing seasons for the second time in the last seven years.
We will find out how good Love actually is. And we will find out how thick his skin is. Because when this team flops, he is going to take most of the blame, whether it is deserved or not.
Robert Ferringo has been the top football handicapper in the country the past 13 years, earning nearly $40,000 in total football profit (average profit: +$3,800) between 2010-2019 alone. He has posted 9 of 13 winning seasons (including five of seven winning years) and produced an amazing 64 of 100 winning football months over the past 16 years. Robert has hit at nearly 60 percent winners over his last 1,000 totals picks and has posted 14 of 17 winning Super Bowls. Robert is looking for another winning football year and wants more profit this fall. SIGN UP HERE TODAY AND TAKE ADVANTAGE OF OUR 3-FOR-1 FOOTBALL SPECIALS!
Get NFL picks on every single game, or if you want our very best bet premium picks by the experts, sign up for your free $60 account with a guarantee.