2021 Green Bay Packers Predictions with Odds to Win Super Bowl
by Chris Vasile - 8/2/2021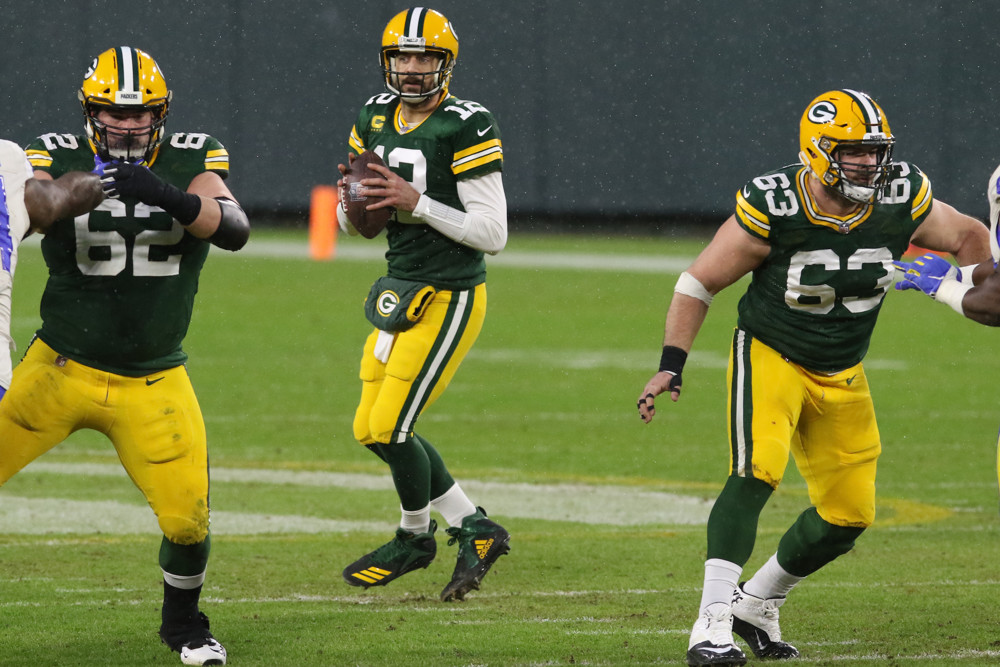 If there was a single season that was meant to be the one for Aaron Rodgers, it would likely have been last year. He led his team through an incredible regular season and took home MVP honors for his play. The problem was that the team around him couldn't get the job done when it mattered most, mostly on the defensive unit. Imagine if the Packers decided to use their first-round pick on getting Rodgers some help instead of drafting a third-string quarterback? We'll never know if things would have played out differently. However, falling short last year stings a little harder than usual for Packers' fans.
The Packers will open up their campaign on September 12 away to New Orleans. From there, the Packers are home to host the Lions then on the road again to San Francisco and then return home for a Week 4 clash with the Steelers. Starting in Week 5, four of the next five games are on the road with stops in Cincinnati and Chicago, home to Washington, then at Arizona and Kansas City. That's a pretty daunting schedule for any team. As of writing this, the Packers are +1300 to win the Super Bowl, +600 to win the NFC and -140 to win the NFC North.
Doc's Sports offers NFL expert picks for every game on our NFL predictions page.
Let's take a look at what to expect from each unit heading into this season.
Offense
Key Players: Aaron Rodgers, Aaron Jones, Davante Adams
I told everyone who would listen to me before last season that Aaron Rodgers is going on an EFF YOU tour of the NFL just to spite the Packers management team and show them that drafting a QB in the first round was a ridiculous idea. Aaron Rodgers did in fact win the MVP, and his stats were impressive. He threw for 4,299 yards while completing 70 percent of his passes. He threw for a career-high in touchdowns with 48 while throwing just five interceptions. He even added three rushing touchdowns to his resume.
However, what he didn't do was lead the team to a Super Bowl win as he was stopped short in the NFC Championship Game. You can blame Rodgers all you want for the teams' failings, but he doesn't stop the run nor does he break up passes as a cornerback. If the Packers had used their first-round pick a little more wisely, maybe the narrative would've been different, and we wouldn't have seen Rodgers trash the management team in the media and hold them hostage in a "will he retire or demand a trade" scenario.
In terms of weapons around him, the onus falls on Aaron Jones and Davante Adams to continue to be the go-to guys both in the backfield and out wide as the receiver position.
Jones is coming off a year in which he finally was "freed" and relied upon as an every-down back. Jones rushed for 1,104 yards, which is a career-high, and he found the endzone nine times. He also caught 47 balls for 355 yards and two touchdowns. If Jones can continue to bring stability in terms of the run game, the defenses will need to respect it and that will give Rodgers an extra second to make the right read.
Out wide, Davante Adams is one of the best wide receivers in the game. Last season, he caught a career-high, 115 passes for 1,374 yards and 18 touchdowns in just 14 games. He's the first read on almost every play for Rodgers. And if he can put up similar numbers again this year, the Packers will be just fine heading into the postseason.
Defense & Special Teams
Key Players: Derrick Barnes, Trey Flowers
Defensively, the Packers were a middle-of-the-pack type team. They ranked 13th overall in points allowed, giving up 23.1 per game. On the ground, the Packers were also 13th overall as they gave up 112.8 rushing yards per game. Defending the pass is where the Packers excelled as they ranked seventh in the league, giving up just 222.1 passing yards per game. The Packers will need another similar performance from the defense, if not a better one, if they are to be taken seriously as Super Bowl contenders. We saw what Tampa Bay did to them in the postseason last year. And if they don't have guys buy in, in what is a very fickle locker room, the Packers could fall flat on their faces. As for special teams, Mason Crosby will once again be relied upon to kick extra points and field goals. And while he's been solid for the most part, there are still a few times where he leaves you scratching your head.
Outlook
On paper, the Packers have one of the stronger teams in the league. They have a veteran and talented quarterback. They have a running back that is elevating his game to the next level. They have an elite wide receiver and a good supporting group. The defense will need to be better than it was last year if the Packers are serious about contending this season, but something tells me the dysfunction in the locker room between players, coaching staff and upper management will be too much to overcome. How focused is Rodgers going to be? He's likely done in GB after this season, so will he give it his all? Only time will tell, but another playoff berth seems likely.
Get NFL picks on every single game, or if you want our very best bet premium picks by the experts, sign up for your free $60 account with a guarantee.
Get all of this Weeks Free NFL picks
Get all of this Weeks Expert NFL Picks