2023 Los Angeles Rams Predictions with Season Win Total Odds
by Robert Ferringo - 7/27/2023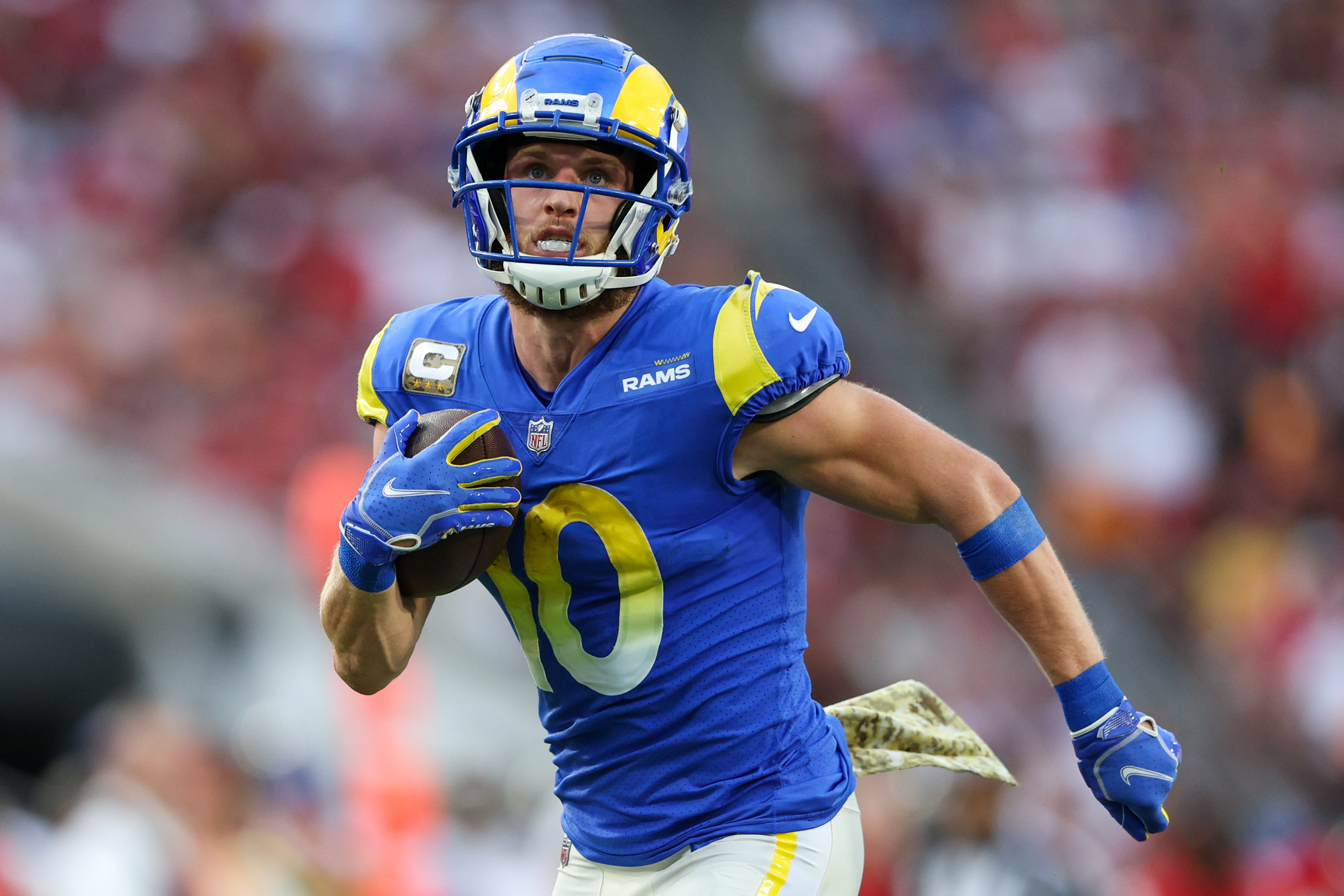 Remember that Super Bowl win in 2022? Wasn't that fun?
I hope so. Because this season isn't going to be.
The Rams are like a college kid that is still paying off the interest on the credit card that they used to buy a pizza in college. Los Angeles exhausted all its available resources to win the championship two seasons ago, and now they are paying the piper.
There are still enough big names associated with this franchise – McVay! Kupp! Stafford! Donald! – to engender a belief that they could be a factor in the NFC West.
The reality is that this is one of the youngest, least-talented rosters in the NFL.
McVay is a fantastic coach with a brilliant system. He won't stay down for long, and I'm intrigued by how he develops this young group.
It's not going to be pretty, though, and this year's Los Angeles team might be worse than the group that won just five games last season.
Doc's Sports offers NFL expert picks for every game on our NFL predictions page.
LOS ANGELES RAMS 2023 OFFENSE
Matt Stafford played only nine games last season. Even when he was healthy, he wasn't very good, tossing 10 touchdowns to eight interceptions in those nine starts.
He is back under center this season more out of necessity than anything. Age and ailments finally seem to be catching up to the 35-year-old, and his days as a stat-padding gunslinger are behind him.
"The reality is that this is one of the youngest, least-talented rosters in the NFL."
The Rams will run the ball. McVay built his offensive system on the back of the Shanahan/Kubiak system, which always pumped out 1,000-yard rushers. (Don't overdraft Cam Akers in your fantasy league, though.)

The offensive line is perfectly capable. Though there is zero depth.
If Cooper Kupp is healthy after a year lost to ankle injuries, then the receiving corps of Kupp, Van Jefferson and Ben Skowronek will be functional, but not spectacular.
LOS ANGELES RAMS 2023 DEFENSE
Aaron Donald is basically the real-life version of Thanos. And in 2020, he was the fulcrum of the defense that finished No. 1 in the league in yards and points allowed.
Unfortunately, he doesn't have anything else to work with.
Linebacker Ernest Jones is the only other player on the roster that played more than half of the team's defensive snaps last year.
There are five rookies on the defensive two-deep, and 12 of the top 22 players on the defensive depth chart are entering their first or their second year.
Oh, and third-year defensive coordinator Raheem Morris has never fielded a defense that has finished in the top half of the league in total defense. And he has led just one defense that has ever finished in the top half of the league in points allowed.
It's going to be a mess on that side of the ball.
LOS ANGELES RAMS 2023 SCHEDULE
Sun, Sep 10 3:25 PM at Seattle Seahawks
Sun, Sep 17 3:05 PM vs. San Francisco 49ers
Mon, Sep 25 7:15 PM at Cincinnati Bengals
Sun, Oct 1 12:00 PM at Indianapolis Colts
Sun, Oct 8 3:05 PM vs. Philadelphia Eagles
Sun, Oct 15 3:25 PM vs. Arizona Cardinals
Sun, Oct 22 3:05 PM vs. Pittsburgh Steelers
Sun, Oct 29 12:00 PM at Dallas Cowboys
Sun, Nov 5 12:00 PM at Green Bay Packers
Sun, Nov 19 3:25 PM vs. Seattle Seahawks
Sun, Nov 26 3:05 PM at Arizona Cardinals
Sun, Dec 3 3:25 PM vs. Cleveland Browns
Sun, Dec 10 12:00 PM at Baltimore Ravens
Sun, Dec 17 3:05 PM vs. Washington Redskins
Thu, Dec 21 7:15 PM vs. New Orleans Saints
Sun, Dec 31 12:00 PM at New York Giants
Sun, Jan 7 6:00 PM at San Francisco 49ers
LOS ANGELES RAMS 2023 SEASON PICKS AND PREDICTIONS
When McVay isn't acting like a coaching version of Brett Favre (by that I mean threating to retire every offseason, not allegedly defrauding the government of money meant for poor people), he is one of the sharpest and most innovative minds in the game.
That's not going to be enough.
The Rams are in the opening stages of what I expect to be a protracted rebuild. This year is all about finding out what they have in their young crop and establishing which players will part of the foundation moving forward.
They've shed a lot of veteran salaries and are projected to have nearly $50 million in cap space next season. They won't be down for long. And even with a dearth of talent, McVay isn't a guy that I like to bet against.
The Rams could have some underdog value at the betting window. But if they top last year's five wins, I will be absolutely stunned.
Robert Ferringo has been the top football handicapper in the country the past 13 years, earning nearly $40,000 in total football profit (average profit: +$3,800) between 2010-2019 alone. He has posted 9 of 13 winning seasons (including five of seven winning years) and produced an amazing 64 of 100 winning football months over the past 16 years. Robert has hit at nearly 60 percent winners over his last 1,000 totals picks and has posted 14 of 17 winning Super Bowls. Robert is looking for another winning football year and wants more profit this fall. SIGN UP HERE TODAY AND TAKE ADVANTAGE OF OUR 3-FOR-1 FOOTBALL SPECIALS!
Get NFL picks on every single game, or if you want our very best bet premium picks by the experts, sign up for your free $60 account with a guarantee.