2023 Minnesota Vikings Predictions with Season Win Total Odds
by Robert Ferringo - 8/2/2023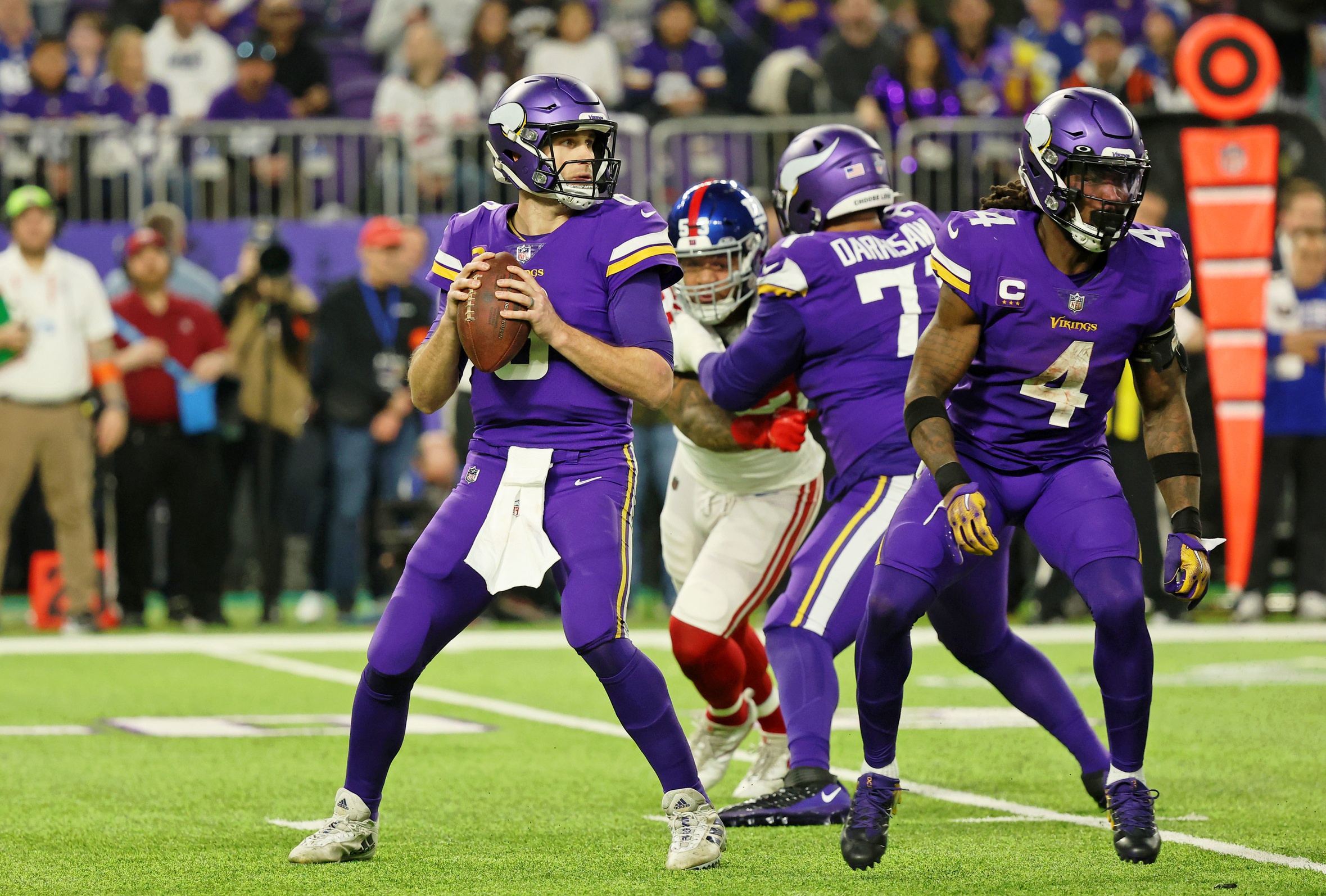 Sports and gambling are bottom-line businesses. They are both binary situations; either you win or you lose. The rest is just excuses.
As a gambler, the excuses matter. Was it an anomaly? Was it predictable? Is it an indicator of future results?
That's a big part of handicapping. You have to figure out how things happened before you can accurately predict if they will continue to happen.
When you look at the 2022 Minnesota Vikings, you have to ask yourself, "Were they lucky or were they just that good?"
The obvious answer was that the Vikings were lucky. They set an NFL-record by going 11-0 in one-score games. They posted an incredible 13-4 regular season despite posting a negative scoring differential (-3), and they beat their Pythagorean Wins Expectation by a jaw-dropping 4.6 games.
"Luck" is kind of a dirty word in sports and in gambling. It presumes that there wasn't actual skill involved in a successful (or unsuccessful) event.
Saying Minnesota was just lucky last year diminishes their accomplishments. It is reductive. That doesn't mean that you're wrong, though. There is a certain amount of luck involved in professional football. "That's why they play with a funny-shaped ball."
If Minnesota wants to prove that last year wasn't a fluke, they will have every chance this season. If they go out and put up another winning season, compete for another NFC North crown, and defy expectations yet again, then no one can doubt this squad's ability.
Doc's Sports offers NFL picks for every game on our NFL predictions page.
MINNESOTA VIKINGS 2023 OFFENSE
Justin Jefferson became the third Viking, joining Adrian Peterson (2012) and Fran Tarkenton (1975), to win the NFL Offensive Player of the Year Award. He was the second wideout since 2019 to win the award (Cooper Kupp) and is a dominating presence in the Minnesota attack.
If anything happens to Jefferson, then the Vikings are absolutely screwed.
Rookie Jordan Addison was drafted in the first round to provide a complilment to Jefferson in the passing game. He's a rookie receiver, though, so how much can you really expect? Beyond that, it is a hodgepodge of K.J. Osborn, Jalen Reagor and Jalen Nailor.
The midseason addition of T.J. Hockenson was brilliant. He caught 60 balls in 10 games and should be even better in his second year in the system.
Minnesota finished No. 7 in the league in scoring and No. 8 in total offense last year despite carrying the league's No. 28 rushing attack. They have invested significant draft capital in the offensive line (all five projected starters were taken in either the first or second round the last five years), and they need more production.
Minnesota let Dalvin Cook walk this offseason and will hand the keys to the running game to Alexander Mattison. I think Mattison will be very good. Depth behind him is nonexistent, so he is another guy the Vikings need to keep healthy.
You'll notice that I saved Kirk Cousins for last. Look, at this point what is there to say? Like it or not, Cousins is one of the better quarterbacks in the NFL. Will he ever win a Super Bowl? Maybe not. But he is 70-56 as a starter over the last eight years, has completed 67 percent of his career passes, and has 153 touchdowns to just 60 interceptions in five years in Minnesota.
The guy is better than all but about 10 or 12 quarterbacks in the NFL. Deal with it.
MINNESOTA VIKINGS 2023 DEFENSE
The Vikings won 13 games last year despite a defense that was No. 31 in yards allowed and No. 28 in scoring. Not great!
Brian Flores was brought in to retool this side of the ball. He has a defensive pedigree but has never been a defensive coordinator in his career. Also, Flores' first defense in Miami (as a head coach) finished No. 30 in yards allowed and No. 32 in points allowed in his first season. He may not be an instant fix.
Flores was brought in because he is a 3-4 guy. The 2023 season will be just the second year that Minnesota has run a base 3-4 after running a 4-3 for a long time.
There has been a lot of turnover on the stop unit this offseason. Guys like Dalvin Tomlinson, Eric Kendricks, Patrick Peterson, and Za'Darius Smith are big names and big producers. All three are gone.
It's hard to argue about changes when you were the second-worst defense in the league, though.
The defensive line is a major problem on this side of the ball. The loss of Tomlinson is massive, and the Vikings are simply too small and too overmatched at the point of attack.
That's going to put a lot of pressure on their linebackers. Brian Asamoah and Jordan Hicks are solid on the interior. And free agent addition Marcus Davenport was brought in to support Pro Bowler Danielle Hunter.
Harrison Smith has made six Pro Bowls and is on the downside of his outstanding career. He will again be the leader of a secondary that allowed the second-most passing yards in football. These guys aren't going to be any better after losing Peterson, even if free agent pickup Byron Murphy has a big season.
Minnesota's defensive starting 11 isn't terrible. It's mediocre. A major problem is that there is a major drop-off from the starters to the backups. And if injuries hit this side of the ball (Minnesota was No. 5 last year in fewest starts lost to injury), then they are in big trouble.
MINNESOTA VIKINGS 2023 SCHEDULE
Week 1: 9/10 vs. Tampa Bay Buccaneers, 1 PM, CBS
Week 2: 9/17 at. Philadelphia Eagles (Thursday), 8:15 PM, Amazon
Week 3: 9/24 vs. Los Angeles Chargers, 1 PM, FOX
Week 4: 10/1 at. Carolina Panthers, 1 PM, FOX
Week 5: 10/8 vs. Kansas City Chiefs, 4:25 PM, CBS
Week 6: 10/15 at. Chicago Bears, 1 PM, FOX
Week 7: 10/23 vs. San Francisco 49ers (Monday), 8:15 PM, ESPN
Week 8: 10/29 at. Green Bay Packers, 1 PM, FOX
Week 9: 11/5 at. Atlanta Falcons, 1 PM, FOX
Week 10: 11/12 vs. New Orleans Saints, 1 PM, FOX
Week 11: 11/19 at. Denver Broncos, 8:20 PM, NBC
Week 12: 11/26 vs. Chicago Bears (Monday), 8:15 PM, ESPN
Week 13: Bye Week
Week 14: 12/10 at. Las Vegas Raiders, 4 PM, FOX
Week 15: 12/17 at Cincinnati Bengals, TBD, TBD
Week 16: 12/24 vs. Detroit Lions, 1 PM, FOX
Week 17: 12/31 vs. Green Bay Packers, 8:20 PM, NBC
Week 18: 1/7 at. Detroit Lions, TBD, TBD
MINNESOTA VIKINGS 2023 SEASON PICKS AND PREDICTIONS
The Vikings are one of the biggest wild cards in the entire NFC.
It is easy to predict a regression from this group after their charmed 2022 season. Statistically, they were a .500 team last year. It is questionable whether they added more than they lost in the offseason. And they are in a division with two teams (Detroit and Chicago) that are on the rise.
That said, it is tough for me to completely write off the Vikings. Cousins just wins. Jefferson is a stud. This offense has ranked in the Top half of the league in points and yards in each of the last four seasons. Flores could have a positive impact on the defense after Wes Phillips' mess of a 2022.
There are still some things to like here. Even if they are a team in transition.
General Manager Kwesi Adofo-Mensah has turned over a lot of the roster in just 18 months. They are getting younger, and this team looks like it could be on the verge of diving into a rebuilding phase if they cut Cousins next summer. His precarious contract situation could cast a cloud over this season.
Minnesota's Las Vegas season win total is set at 8.5, and they are +300 to win the NFC North. I'm not going to bet against Math. The Math says that last year's close wins and injury luck won't translate over to this year. I agree. I've seen it too many times.
But everyone and their sister is lining up to bet against this team heading into 2023. I don't know if they are as weak people seem to think.
If I'm going to make a mistake on this team, I will make a mistake on the side of regression and pick them to go 'under' their season win total. This one won't be a bet for me, though, as I need to see how the story plays out for this intriguing bunch.
Robert Ferringo has been the top football handicapper in the country the past 13 years, earning nearly $40,000 in total football profit (average profit: +$3,800) between 2010-2019 alone. He has posted 9 of 13 winning seasons (including five of seven winning years) and produced an amazing 64 of 100 winning football months over the past 16 years. Robert has hit at nearly 60 percent winners over his last 1,000 totals picks and has posted 14 of 17 winning Super Bowls. Robert is looking for another winning football year and wants more profit this fall. SIGN UP HERE TODAY AND TAKE ADVANTAGE OF OUR 3-FOR-1 FOOTBALL SPECIALS!
Get NFL picks on every single game, or if you want our very best bet premium picks by the experts, sign up for your free $60 account with a guarantee.