2021 New Orleans Saints Predictions with Odds to Win Super Bowl
by Chris Vasile - 8/16/2021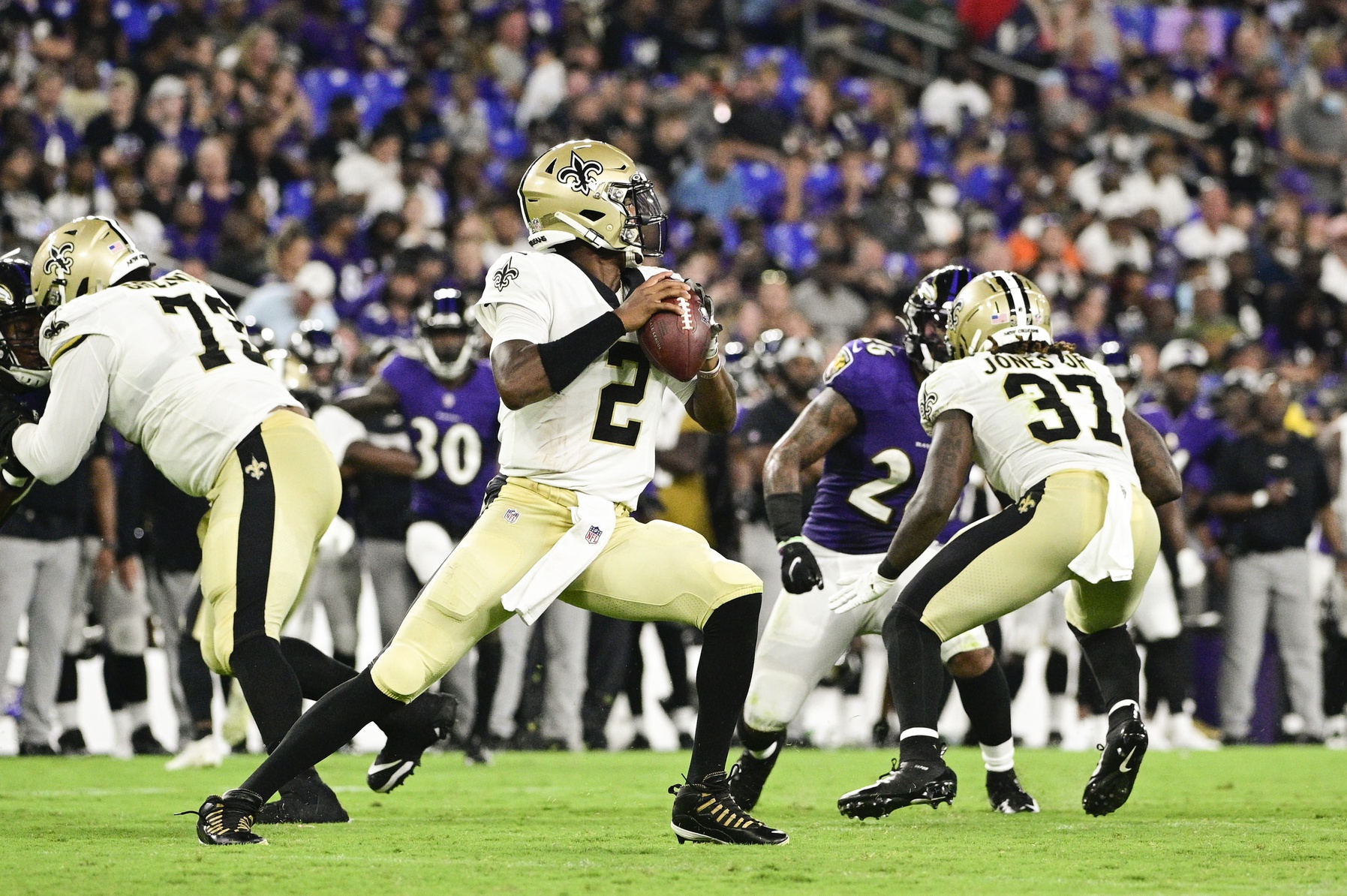 The end of an era.
That's what the New Orleans Saints franchise and fan base are facing as the Drew Brees era is over in the Big Easy, and in comes one of Jameis Winston or Taysom Hill to fill the void and lead the team to glory. I don't know about you, but I don't see either of those guys having what it takes to continue to produce wins for the Saints. Over the course of the last four seasons, the Saints have finished the regular season with 12, 13, 13 and 11 wins, each time winning the NFC South. However, playoff success is another story. The Saints have made just one NFC title game, and that was the year they were robbed by the refs and beaten by the Rams. The Saints have good pieces on both sides of the ball. However, with quarterback play set to take a major step back, I'm not sure the Saints can continue to churn out positive results.
The Saints kick off their season at home on September 12 against the Green Bay Packers. From there, the Saints head out on the road for two games with stops in Carolina and then at Foxboro to take on the Patriots. The Saints return home in Week 4 to host the Giants before hitting the road again to face another NFC East team, Washington. Week 6 is their bye week, so it'll be a long and grueling home stretch as they play the final 12 games of the season without any break.
Doc's Sports offers NFL expert picks for every game on our NFL predictions page.
As of writing this, the Saints are outsiders to win the Super Bowl as they check in at +2800. They are among the top six teams to win the NFC as they appear at +1300, but they are +300 to win the NFC South, far off the -200 odds of the Tampa Bay Buccaneers.
Let's take a look at what to expect from each unit heading into this season.
Offense
Key Players: Quarterback X, Alvin Kamara, Michael Thomas
Now that Drew Brees has retired and set sail into the sunset (probably), the Saints are looking for the next long-term solution at quarterback. At the present time, it does not appear that they have that guy as both Taysom Hill and Jameis Winston have severe flaws. Let's start with Hill. He's one of Sean Payton's favorite players, for some reason. He has appeared for the Saints at quarterback, running back, wide receiver and kick returner. He is a "swiss army knife" as you would say in the football world. And while those guys are good to have on your team, starting him at quarterback is not a winning idea. There are no real stats to speak of for Hill as he threw just 121 passes last season and racked up 928 yards with four touchdowns and two interceptions.
As for Winston, he should be relatively fresh for this season as he threw just 11 passes all of last year for 75 yards. We know what Winston can do as a starting quarterback thanks to his time in Tampa Bay. Winston can sling it with the best of them, but he did throw 30 interceptions to go along with 33 touchdowns and 5,109 yards in 2019. I don't think he's the long-term solution the Saints are looking for. However, for now, with Kamara and Thomas helping him out, he will do just fine.
Speaking of Kamara, he is coming off a year in which he racked up 1,688 total yards from scrimmage and 21 touchdowns. That's a very good year for a running back, especially one as versatile as Kamara. He'll likely be relied upon a bit more depending on which QB is in the game, and we see him having another similar season.
As for Thomas, he played just seven games and produced 438 yards. He'll be fresh and eager to get back in the lineup and show the NFL world that he is still in fact that +1,700-receiving yard receiver that we saw back in 2019. If Winston plays the majority of the snaps, Thomas will be and should be a high draft pick in the fantasy world.
Defense & Special Teams
Key Players: Cameron Jordon, Marshon Lattimore
Defensively, the Saints were among the best units in the league in all major defensive categories. They ranked fifth overall in terms of points allowed, giving up just 21.1 points per game. They were just as good against the pass, ranking fifth and giving up a shade over 217-passing yards per contest. They were one better against the run, ranking fourth, allowing teams to rush for just 93.9 yards per game. Defensively this year, the Saints return the bulk of their starters that helped the team reach the top of the defensive charts, so a similar performance should be in the cards for them. The only issue I see with the defense is that they won't have the explosive offense to rely upon now that Brees is retired, and they may need to play perfect football in the majority of games to make up for the offense's shortcomings. As for special teams, the Saints were set to rely on Will Lutz once again to do the extra point and field goal kicking. And while he's been extremely reliable, he's starting the season on the injured list.
Outlook
So, what are we to make of the Saints? They are a team that are stuck between transitioning away from the Drew Brees-led offense, to a team that is unsure what kind of play it'll get from the quarterback position. The win total opened at 9.5 and had been bet down to 8.5. I don't think that's low enough. I'm fading this team until I see how the quarterback situation plays out.
Get NFL picks on every single game, or if you want our very best bet premium picks by the experts, sign up for your free $60 account with a guarantee.
Get all of this Weeks Free NFL picks
Get all of this Weeks Expert NFL Picks