2012 NFC East Predictions with Odds and Betting Preview
by Robert Ferringo - 8/8/2012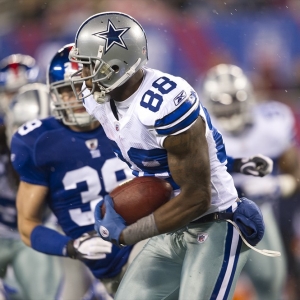 The NFC East should once again feature one of the more entertaining and hard-fought division races in football. The Giants, Cowboys, and Eagles will be in a four-month knife fight for control of the most hyped division in the game. As always, the stakes are high. But not just for bragging rights – the winner of the East has gone on to represent the NFC in the Super Bowl four times in the last 12 years, the most in the conference.
Here are my NFC East predictions and betting odds:
Philadelphia Eagles Predictions
2011 Record: 8-8 (3-5 home, 5-3 road)
2011 Against the Spread: 8-8 ATS, 8-7-1 vs. Total
2011 Rankings: 4th offense (9th pass, 5th rush); 8th defense (10th pass, 16th rush)
2012 Odds: 12/1 to win SB, 6/1 to win NFC, 1.5/1 to win NFC East, 10.0 wins O/U
Offense: The Eagles had a Top 5 total offense and a Top 10 scoring offense last season and bring back all of the primaries from that group. Its tough to criticize a group that produced those numbers, but there are still issues. Mike Vick is really not that good of a quarterback. His numbers can be nice and his highlights can be spectacular. But on a game-in, game-out or even a drive-in, drive-out level he is erratic, turnover prone, and unreliable. He always has been and always will be, and I wouldn't trust him in a big spot against a top defense. Philadelphia lacks a true No. 1 receiver (Maclin is a No. 2 and Jackson is a good slot guy), and part of the Eagles problem is their mediocre red zone attack. They finished No. 14 in red zone scoring percentage last year and haven't been in the Top 10 since 2004. They need to be more physical at the goal line (and in short yardage) if they want to be able to put teams away. LeSean McCoy is legit and could have another big year behind Howard Mudd's beefy offensive line. But they need a big back and a big red zone target to compliment all the speed they possess.
Defense: The Eagles have been beat up so far in Training Camp. But when their defensive line is healthy it one of the best in football. Philadelphia managed a league-high 50 sacks last year and has an eight-man rotation as deep as any in the game. Even more impressive is that the line carried all that water despite the fact that the Philly linebackers were among the worst in football and contributed just three of those sacks. The addition of two-time Pro Bowler and overall beast DeMeco Ryans lends stability to that position. But that is still a significant weakness. The secondary received a lot of hype last year because of its corners. But they never really gelled. Asante Samuel's departure will mean more press-man coverage. But that will also mean more pressure on the safeties, which have been another weak link. Nate Allen had a great rookie year but a feeble follow up. He needs to take control at the back end or this team will again be among the league leaders in most big plays allowed.
Skinny: There are several key indicators pointing to a bounce-back season for the Eagles. They were statistically better than their 8-8 record suggested last season and they blew five games in which they had a lead in the second half. But there is still too much hype around this group. Yes, they have speed and talent. But they are a lot more flash than they are substance. Vick is really a perfect microcosm of this team; they are both overrated and too inconsistent to be counted on. And at the end of the day this team has a lot to prove this year against a significantly tougher Philadelphia Eagles schedule. My expectations are much lower for this group – I think the playoffs is their ceiling – and at this point I wouldn't rate them anywhere better than the sixth-best team in the NFC.
New York Giants Predictions
2011 Record: 9-7 (4-4 home, 5-3 road)
2011 Against the Spread: 8-7-1 ATS; 8-7-1 vs. Total
2011 Rankings: 8th offense (5th pass, 32nd rush); 27th defense (29th pass, 19th rush)
2012 Odds: 21/1 to win SB, 9/1 to win NFC, 2/1 to win NFC East, 9.5 wins O/U
Offense: Hakeem Nicks and Victor Cruz may be the most dynamic receiving duo that the Giants have had in the last 40 years. They are amazingly explosive and, along with Eli Manning, form the heart of the New York attack. The offensive line is still very strong even though they have been forced to shuffle a lot of pieces the last two years due to injury and defection. But they need to earn back some of the toughness in the rushing game that used to be their calling card. The Giants were last in the NFL in yards per carry and total rushing yards. Ahmad Bradshaw is not exactly a workhorse back. But the G-Men need to find a way to get more consistent and more explosive in the running game to keep the pressure off Manning and Co.
Defense: You wouldn't have guessed it by the way that they played in January, but the Giants were No. 27 in yards allowed and No. 29 in pass defense. That won't cut it this year. The strength is still their uber-athletic defensive line. The Giants were No. 3 in the league in sacks and tackles for loss out of their line and, at times, their front four can be unblockable. And if they can resuscitate Shaun Rogers' career they could be even tougher against the run. Much like the Eagles, the Giants line has had to make up for average to below-average linebacker play. The G-Men added Keith Rivers and have some young players developing. The secondary is still a mish-mash of disappointing draft picks and guys with more potential than performance. They've had to overcome a ton of secondary issues over the past several years, but they will soldier on.
Skinny: New York played brilliantly at the end of last season and were rewarded with another championship. But they really did catch a ton of breaks in the postseason, and it's easy to forget that at one point this team was 6-6 and getting tooled on by Dallas (down 34-22 with less than six minutes to play). They came back and won that game and went 7-1 the rest of the year en route to the title. But they were still "that" close to missing the postseason for the third straight year. Bottom line: this is a very good team with a tough schedule. Going into 2012 they may have a lot of confidence, but I don't know that they have that level of focus to be great for any longer than they have to. We've seen them play at a high level before. But can they do it for 16 weeks?
Dallas Cowboys Predictions
2011 Record: 8-8 (5-3 home, 3-5 road)
2011 Against the Spread: 5-10-1 ATS, 6-10 vs. Total
2011 Rankings: 11th offense (7th pass, 18th rush); 14th defense (23rd pass, 7th rush)
2012 Odds: 28/1 to win SB, 12/1 to win NFC, 2.5/1 to win NFC East, 8.5 wins O/U
Offense: The Cowboys offense was a bit of a contradiction last year. They put up serious passing numbers, finishing No. 7 in yards and No. 5 in TDs. They didn't turn the ball over much and they were excellent in terms of time of possession. But while Dallas was No. 10 in the league in yards per play, they were just just No. 20 in yards per point last season. They were extremely inefficient last year and finished No. 20 in red zone scoring, converting less than 50 percent of their red zone trips into touchdowns. The core names you know: Romo, Witten, Austin and Dez Bryant. But Dallas could use a leading rusher to step forward and provide them a stronger goal line and "tough-yard" presence. Also, the offensive line is still nothing better than average. They have gotten a lot younger and the projected starters average only about three years experience apiece. If the line doesn't play better that is going to put more pressure on Romo. And we've all seen what happens to an otherwise solid quarterback when he faces too much pressure. Not good things.
Defense: The Dallas defense is average. They finished No. 16 in scoring defense one year after finishing No. 31 in points allowed. That was the seventh time in eight years that the Cowboys have been outside the Top 10 in points allowed, and that's probably where they will be again. DeMarcus Ware and Jay Ratliff are studs. But beyond those two the Cowboys have a bunch of very average or below-average players on this side of the ball. And just because Dallas drafted a cornerback and signed Brandon Carr doesn't mean that they have solved the comical secondary issues that have plagued them for several years. The Cowboys are still weak at safety, and that leaves them vulnerable to the big plays that have crippled them over the past three years. Finally, defensive coordinator Rob Ryan is one of the most overhyped and least-competent coaches in the game. In eight years as a DC he has had four defenses finish ranked No. 28 or worse and six of his eight defenses have finished No. 20 or worse. He doesn't know what he's doing, and I expect his blitz-happy schemes to expose those safeties yet again.
Skinny: People may refuse to acknowledge it, but this is not the same team that went 13-3 in 2007, earned their only playoff win in 2008, and went 11-5 in 2009. Those teams had overwhelming offensive lines and a dominating defensive front seven. The current Cowboys have neither. And then there is the real weakness: because of poor personnel moves, disappointing draft picks, and salary cap constraints the Cowboys lack the depth that they need to hold up in the rugged East. They have some high-end talents. But the drop-off from the starters to the backups, across the board, is enormous. Mix in the fatalistic attitude that has seemed to creep into this franchise because of their late-game failures and I think Dallas still has a long road to travel before they can overcome the Giants or Eagles. Their margin for error is razor thin.
Washington Redskins Predictions
2011 Record: 5-11 (2-6 home, 3-5 road)
2011 Against the Spread: 7-9 ATS, 7-8-1 vs. Total
2011 Rankings: 16th offense (14th pass, 25th rush); 13th defense (12th pass, 18th rush)
2012 Odds: 95/1 to win SB, 22/1 to win NFC, 9/1 to win NFC East, 6.5 wins O/U
Offense: Pathetic quarterback play and inconsistency from all facets of the offense have shackled the Redskins over the last several seasons. Washington hasn't finished higher than No. 25 in scoring over the last four years and they are hoping that rookie quarterback Robert Griffin III will be the catalyst that somehow magically makes everything click into place for the attack. But outside of Trent Williams, the offensive line is shaky and the wide receiving corps is full of retreads. Oh, and let's not forget Kyle Shanahan, the nepotistic offensive coordinator of this rabble. Shanahan is one of the worst coordinators in the league and even if RGIII adapts to the league quickly I'm sure his OC will so something to derail his progress. Needless to say, while Washington's attack should be better, it is still not anything I would consider a strength.
Defense: Considering what little help the Redskins offense provides, it is fair to say Washington's defense was better than its No. 13 ranking last season. They may have finally adjusted to Mike Shanahan's 3-4 defense and are a stout, physical group that does not get pushed around at the point of attack. They had one of the best red zone defenses in the league. But the problem for this D is that they don't produce enough game-changing plays. The Skins were just No. 22 in turnovers produced and they were victimized by more big plays than they created with their offense. The defense doesn't look much more explosive this year (they are hoping some of their new free agent safeties are playmakers). But if the offense improves maybe the D can be more aggressive since they will be playing with a lead instead of chasing games.
Skinny: I actually went back and watched tape on several Redskins games from last season. As has been the case over the last four years, they were better than their final record indicated. But pathetic quarterback play and poor coaching has kept them in the East basement. I don't know if RGIII is the answer. We'll find out. But if they can just get anything out of that position then I think they can only improve. Mike Shanahan's system should be firmly in place by now. It is time to see if it will start to pay dividends.
Robert Ferringo is a professional handicapper and has posted back-to-back profitable seasons (college and pro). Robert has turned a profit in three of four football seasons and over the last nine months his clients have earned nearly $10,000 in profit with his football selections. He is looking forward to building on his stellar football handicapping resume again this fall and you can check him out here. Also, you can also get $60 worth of free Robert Ferringo member picks (no salesman, no credit card, no obligation!) by clicking here for more info.