2023 NFC East Predictions with Betting Odds and Expert Analysis
by Joey House - 7/27/2023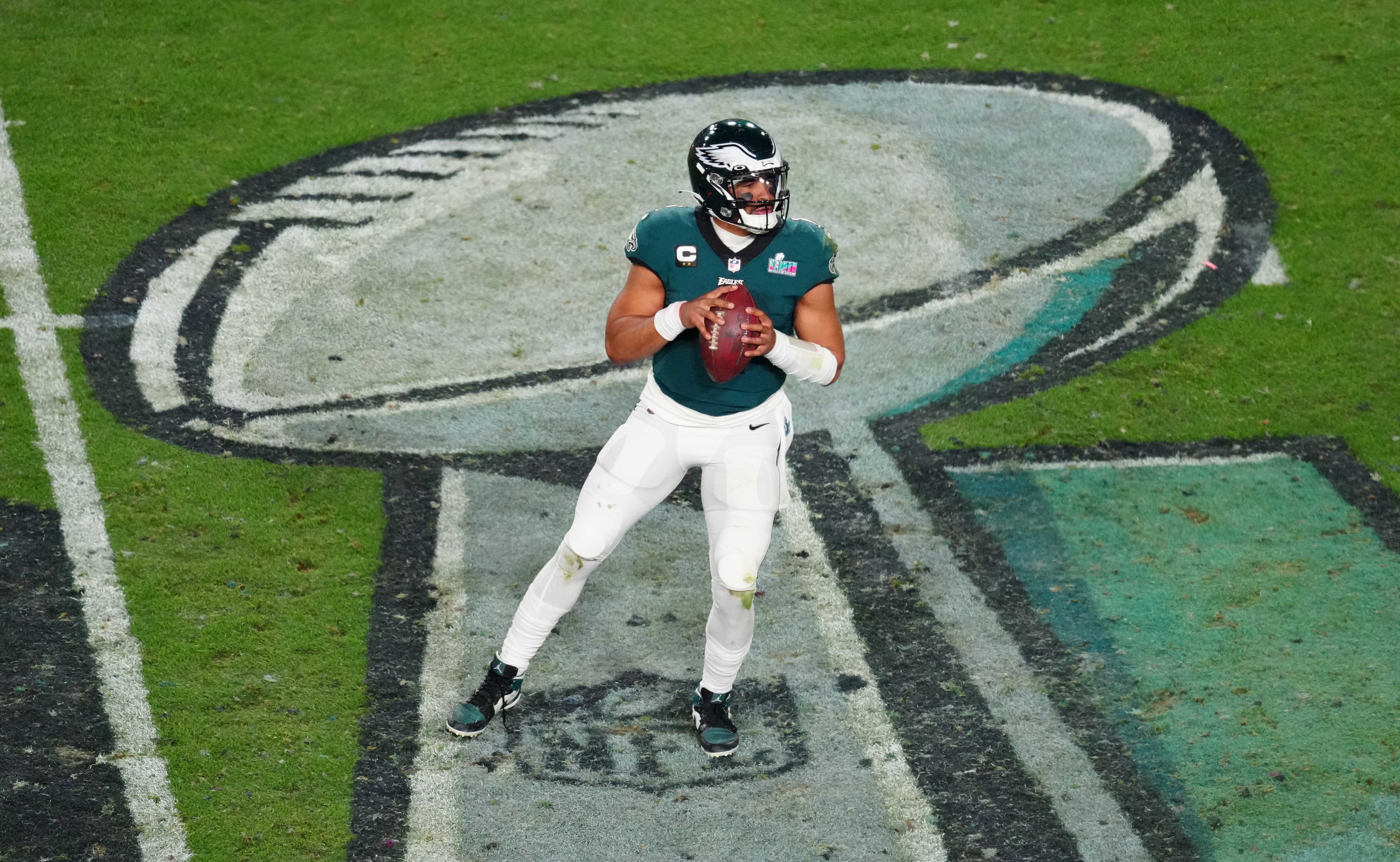 A very compelling case could be made that the NFC East was, up and down, the toughest division in the NFL last year. It featured a Philadelphia Eagles team that was tied for the best record in the NFL and was Super Bowl runner-up. It had two wild-card playoff teams, and the worst team had a .500 record, the only division in the NFL without a losing record. With some interesting changes, this year's version promises to be just as unpredictable as last. What you can predict, with 100% certainty, is that Doc's will have a game plan to deal with the unpredictable NFC East and the whole NFL.
Doc's Sports offers NFL expert picks for every game on our NFL predictions page.
Philadelphia Eagles
NFC East: -105
NFC Conference: +330
Super Bowl: +800
Win Totals (O/U): 11.5
2022: 14-3 SU, 8-9 ATS, 10-7 O/U
The Philadelphia Eagles dominated the NFL's regular season with the best record, cruising through the NFC playoffs and beating every opponent by over three touchdowns in each game. In the Super Bowl, they held a halftime lead against the Kansas City Chiefs but fell short by a field goal as one-point favorites. Following their playoff success, the Eagles faced the challenge of losing coordinators and defensive coaches to head coaching positions. However, Jalen Hurts has shown promising growth as a franchise quarterback, filling a void since Donovan McNabb. Supported by an exceptional receiving corps, including A.J. Brown, Devonta Smith, Quez Watkins, and tight end Dallas Goedert, Hurts has strong support. The Eagles acquired Rashaad Penny from the Seattle Seahawks and D'Andre Swift from the Detroit Lions to compensate for Miles Sanders' departure. Penny's injury history is concerning, while Swift's size limits his role. On defense, first-round pick Jalen Carter from Georgia strengthens an already formidable unit that led the league in sacks. Notable trends include Hurts' impressive 13-5-1 ATS record at home and the Eagles' struggles as underdogs under head coach Siranni, going 3-7 ATS. Compared to other teams with an 11.5-win total, the Eagles have shorter division-winning odds, indicating skepticism from Vegas. Thus, a closer look at the UNDER 11.5 win total is advised.
Dallas Cowboys
NFC East: +165
NFC Conference: +650
Super Bowl: +1600
Wins Totals (O/U): 9.5
2022: 12-5 SU 9-7-1 ATS 8-8-1 O/U
Long known as "America's Team", the highlight of the NFL season might have been ending the career of one Thomas Edward Patrick Brady Jr. They are in the midst of a slight franchise overhaul, with RB Ezekiel Elliot still a free agent and solid TE Dalton Schultz leaving for New Orleans. QB Dak Prescott, who had been a rock the first 4 years of his career, has battled injuries two out of three seasons. His passing yards per game were the lowest since his first two seasons. The Cowboys have thrived as an ATS underdog, going 10-5 in their last 15 games as a dog, dating back to 2020. Strong defenses are the best way for underdogs to cover, and the Cowboys qualify, as they surrendered 20.1 PPG, 5th in the NFL. Micah Parsons, the uber-talented hybrid lineman/linebacker is currently tied with Myles Garret as being the shortest odds to win NFL Defensive Player of the Year at +700 and this is a very enticing wager as Parsons is supposed to transition to being a full-time edge rusher, which should give him 26.5 career sacks. There hasn't been a repeat winner in the NFC East since the Eagles won four in a row from 2001-2004. Since I don't think Philly will repeat this year, the Cowboys at +165 to win the division is the play.
New York Giants
NFC East: +900
NFC Conference: +2800
Super Bowl: +1600
Wins Totals (O/U): 9.5
2022: 9-7-1SU 13-4 ATS 7-10 O/U
The New York Football Giants owned the NFL's best ATS mark last season with their sterling 13-4 record, one more win but the same amount of losses as Cincinnati. However, after going 10-2 ATS as dogs in 2022, I don't think they're going to sneak up on people this year. QB Daniel Jones had his best year in his four years as a starter, posting career-best in completion percentage (67.2%), yards (3205), and interceptions thrown (5). Now that New York has coaxed Barkley into one more year, an offense that was 4th in the NFL in rushing yards (2,519) and rushing TDs (21) is set to run away from their opposition once again. Even though the Giants went 3-1 ATS last year as a home dog, since Jones became the starting QB in 2019, the Giants have only been 9-14 ATS when they were underdogs at home. However, they have been road warriors against the spread during this time, going 21-13 ATS (10-24 SU) and 20-11 ATS (8-23 SU). Vegas has already installed them as early underdogs in 10 of their games this season, but this was done before Barkley re-signed. I think they'll finish the season with 10 wins and think they represent excellent value at +900 to win the division.
Washington Commanders
NFC East: +1300
NFC Conference: +4000
Super Bowl: +6500
Wins Totals (O/U): 6.5
2022: 8-8-1SU 8-8-1 ATS 5-12 O/U
Proving that anything really can happen on any given Sunday (or Monday), the Commanders handed the last undefeated team, the Philadelphia Eagles, their first loss last season in week 10. The two main starters at QB last year, Carson Wentz and Taylor Heinicke, have both departed, and now it's second-year QB Sam Howell's show. The addition of offensive coordinator Eric Bieniemy should help the growth of this talented young QB immensely. They picked up a couple of offensive linemen that should help a rushing attack that was 12th in the league in rushing yards (2,143) and third-from-last in rushing TDs (9). The Commanders did well outside the division last year, posting a 6-4-1 mark. Buoyed by a defense that was 3rd in the league in yards allowed (5,178) and 7th in scoring, (343 points allowed), the UNDER cashed in 11 of the 17 games Washington played last year, including going 7-2 under at home. The big "if" surrounding this team is obviously the first-year starter Howell. If he takes to new OC Bieniemy's offense, the Commanders have a weak enough schedule to win about eight or nine games. Currently, Vegas doesn't think that will happen, as they are underdogs in 13 of the first 16 games (no line in the season finale). I'm a believer in Bieniemy and think they go 7-10 or 8-9, both of which go OVER the season total.
Best Bets and NFC East Predictions
--Eagles UNDER 11.5 wins
--Rest of the division OVER on season win totals
--Giants +900 to win the division
Get NFL picks on every single game, or if you want our very best bet premium picks by the experts, sign up for your free $60 account with a guarantee.