2021 NFC West Predictions with Odds and Expert Betting Picks
by Gary Patrick Garry - 8/23/2021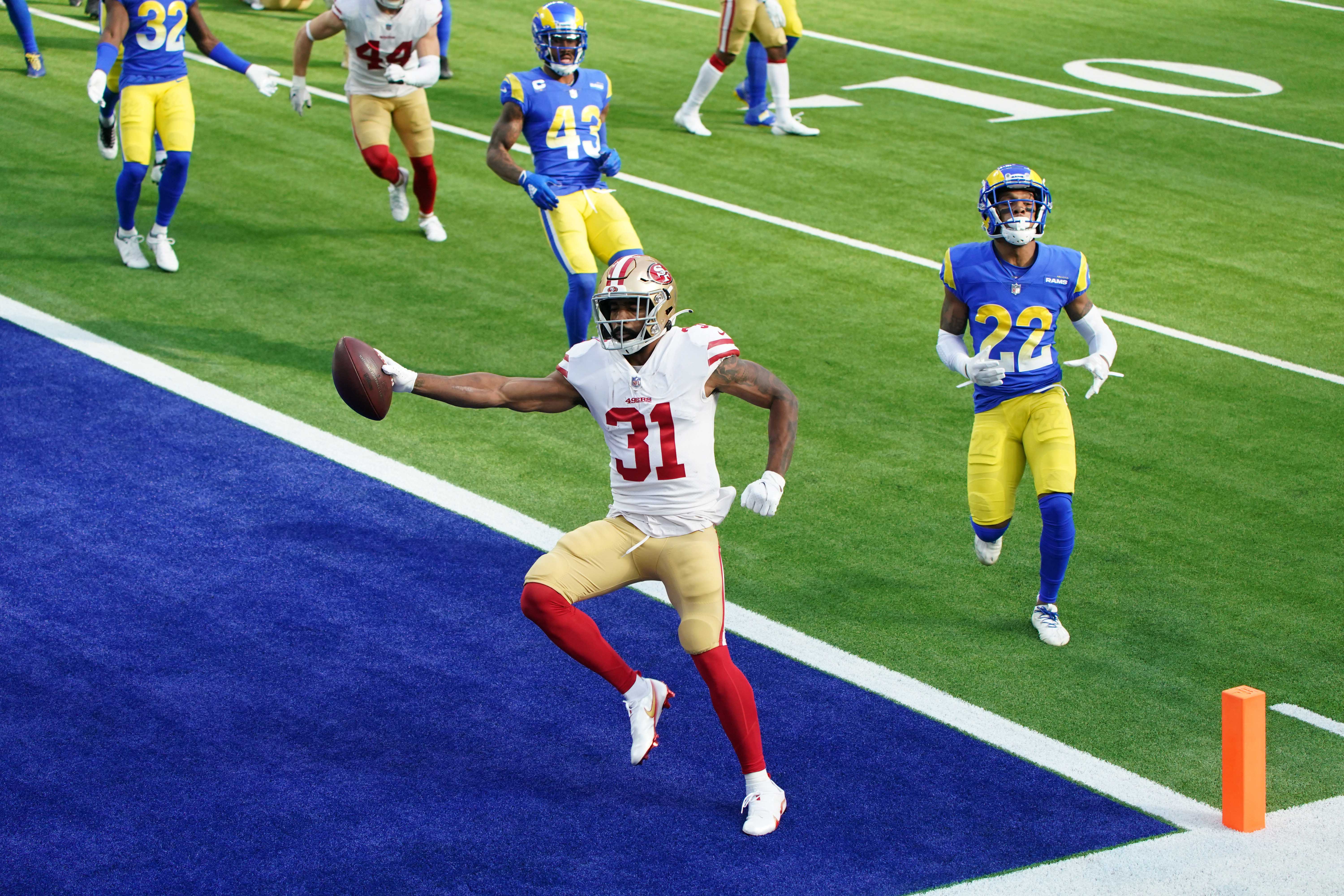 On paper, the NFC West is the most competitive division in the conference. You can make a case for every team, and it starts with the 49ers, who are the tepid favorites.
Doc's Sports offers NFL picks against the spread for every game on our NFL predictions page.
San Francisco 49ers
FanDuel Odds +190
San Francisco had a disappointing 2020 campaign after making the Super Bowl in 2019. They were the cellar dwellers with a 6-10 record, and injuries had a lot to do with their lack of success.
The 49ers drafted North Dakota State quarterback Trey Lance with the third pick of the first round, and he is competing with veteran Jimmy Garoppolo for the starting spot.
They have an outstanding defense that should keep them in any game, and they are just one year removed from a near miss in the Super Bowl. At odds of nearly 2-1, this is an enticing bet, but the competition is stiff.
Los Angeles Rams
FanDuel Odds +200
Matthew Stafford is in, and Jared Goff is out in Los Angeles, and head coach Sean McVay couldn't be happier with that arrangement. Goff was protected by insanely conservative play calling, and this tells you a lot about the way that he was viewed by the coaching staff.
Stafford is a talented vet that knows what he's doing, and stud wide receivers Robert Woods and Cooper Kupp will be joined by oft-injured speedster DeSean Jackson and rookie playmaker TuTu Atwell.
The Rams defense was at the top of the heap in the NFL last year, so this team has a great chance to bring home the money at +200.
Seattle Seahawks
FanDuel Odds +280
Russell Wilson and the Seattle Seahawks will contend for the division title once again with a similar cast of characters. DK Metcalf and Tyler Lockett are among the best wide receiving duos in the league, and running back Chris Carson is a stalwart as long as he stays healthy.
The offensive line did not give Wilson enough time to throw last season, and the Seahawks responded with the signing of guard Gabe Jackson. He is a top-quality quarterback protector that will definitely make a difference.
Their pass defense was horrible in 2020, but they took a step in the right direction when they acquired strong safety Jamal Adams in a trade with the Jets.
I don't think the Seahawks are going to win this division, and the odds don't look juicy enough for me to take an outside chance.
Arizona Cardinals
FanDuel Odds +600
Kyler Murray has two years under his belt as the starting quarterback for the Cardinals, and he has progressed nicely during his short career. In addition to the human highlight reel DeAndre Hopkins, and the dangerous Christian Kirk, he will have newly acquired A.J. Green and rookie Rondale Moore to target.
On the defensive side of the ball, they added A.J. Watt and they drafted Bronco Nagurski Trophy winner Zaven Collins out of Tulsa in the first round. Their defense was in the top half of the NFL last year, and they should be better in 2021.
I would not be surprised if these guys take a big step forward, and I think there is authentic value in the Cardinals at +600 in the NFC West.
Get NFL picks on every single game, or if you want our very best bet premium picks by the experts, sign up for your free $60 account with a guarantee.