2012 NFC West Predictions with Odds and Betting Preview
by Robert Ferringo - 8/9/2012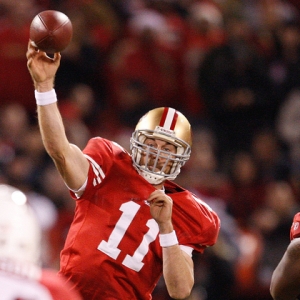 If the NFL is a quarterback league then there is little wonder why the NFC West has been the worst division in the sport since the league went to an eight-team divisional alignment in 2002. Two of the four teams enter 2012 with full-blown quarterback controversies, while the two others enter the year with major question marks about the overall healthy and competency of their signal callers.
This division has been one of the least predictable in football over the last decade. They have produced the fewest wins in the league against other divisions, and every winter it seems like someone from this foursome advances to the postseason more because they have to rather than because they earned it.
Last year was a bit different on that front, as San Francisco played excellent football en route to a 13-3 mark and the No. 2 seed in the West. But that doesn't mean that success is going to carry over into this season. We've seen frontrunners fall flat before and, it was just last year at this time that everyone was clamoring about St. Louis – right before the Rams hit a 2-14 wall of a season.
Here is my 2012 NFC West predictions with betting odds courtesy of 5Dimes:
San Francisco 49ers Predictions
2011 Record: 13-3 (7-1 home, 6-2 road)
2011 Against the Spread: 12-3-1 ATS, 7-9 vs. Total
2011 Rankings: 26th offense (29th pass, 8th rush); 4th defense (16th pass, 1st rush)
2012 Odds: 45/1 to win SB, 6.5/1 to win NFC, 1/2.5 to win NFC West, 10.0 wins O/U
Offense: Apparently I'm one of the only people that likes Alex Smith and thinks he could have a breakout year. The former No. 1 overall pick has proven that he is a good decision-maker and that he can make the throws. His biggest problem has been lack of weapons, which the Niners feel they addressed in the offseason by bringing in Mario Manningham, Randy Moss and A.J. Jenkins. I'm not sold on that crew, but they can only be better than what Smith had to work with last year. No matter, the strength and foundation of this team will be the running game. Frank Gore will shoulder most of the load but Coach Jim Harbaugh will try to pound teams on the ground with his full stable of backs. San Francisco's main goal is to limit mistakes and turnovers, play the field position game, and grind out wins through execution. It worked well enough last year. But the Niners absolutely have to get better on third down (29 percent conversions was No. 31 in the NFL) to help relieve the pressure on their overburdened defense.
Defense: The best compliment that I can give any defense is that they HIT people. And wow, did the Niners hit people last year. San Francisco's D was among the most physical and violent groups in football in 2011. And their 20.5 yards per point was the best mark in football. The Niners gave up only 3.5 yards per rush and surrendered less than 80 rushing yards per game. It helps that the 49ers play in the division with the worst collective quarterback play in the game. But this team has incredible linebackers, an excellent defensive line (led by hero Justin Smith) and solid secondary play that is always looking to create a turnover. Barring injury I don't see this unit taking much of a step back, and they should again be one of the best defenses in football.
Skinny: Last year the 49ers were consistently better than their opponents at two things: being physical and turnovers. San Francisco had an unbelievable +28 turnover margin. They executed flawlessly and would simply wait for opponents to make mistakes. In the West, teams make a lot of mistakes. But that turnover differential is completely unsustainable and is the primary reason why I'm predicting a step back for this team this year. The San Francisco 49ers schedule is more challenging this year as well, with San Francisco logging three primetime games – which means three short weeks – and starting the year with three of four on the road. This team may be better than last year's, but I don't see them winning more than 10 games.
Seattle Seahawks Predictions
2011 Record: 7-9 (4-4 home, 3-5 road)
2011 Against the Spread: 9-6-1 ATS, 10-6 vs. Total
2011 Rankings: 28th offense (19th pass, 31st rush); 9th defense (11th pass, 15th rush)
2012 Odds: 80/1 to win SB, 31/1 to win NFC, 4/1 to win NFC West, 7.0 wins O/U
Offense: Like everyone else in this division, Seattle has quarterback issues. After massively overpaying for Charlie Whitehurst and Tarvaris Jackson the Seahawks went out and massively overpaid for former Green Bay backup Matt Flynn. Right now they have no idea who is going to be leading this team in Week 1, much less Week 15. Marshawn Lynch is coming off a brilliant season and the offensive line clearly is much more comfortable in run blocking than pass protection. Lynch will need to stay healthy and keep running hard to give this unit any hope of improvement. Sidney Rice was supposed to give them an anchor in the passing game, but he is injured yet again. That means that whoever is the quarterback will have to scratch together a corps filled with past-their-prime retreads (like T.O. and Kellen Winslow) and underachieving young players (Golden Tate and Doug Baldwin). Even with all their issues, the Seahawks averaged 24.8 points per game in their last eight and topped 30 points four times on the season.
Defense: I don't know if there was a more underrated unit in football last year than the Seattle defense. They were physical and well-rounded and this group far exceeded everyone's expectations. They will definitely miss David Hawthorne at linebacker this year. But they brought in James Jones to help boost the pass rush on the line, so they are hoping to trade steady play for spectacular moments. The defensive line depth is impressive. And their secondary play was exceptional at times last year, led by a dynamic safety duo of Earl Thomas and Kam Chancellor. The focus this year will be on improving their subpar pass rush. I don't expect rookie Bruce Irvin to make much of an impact. But the fact that Seattle so desperately reached for him in the draft shows that they know this area is a major problem.
Skinny: Seattle was a little better than people realize last year, as indicated by their 10-6 record against the spread. They actually outscored their opponents by six points on the season but still finished with a losing record. They are one of the "Great Unknowns" as we head into this season, and neither a 6-10 nor a 10-6 season would surprise me. The defense is solid and should hold up in this offensively-challenged division. But it really will all come down to quarterback play and the team will need to rally around whomever Pete Carroll decides to go with. However, if it is Jackson again then you know this team is in trouble.
St. Louis Rams Predictions
2011 Record: 2-14 (1-7 home, 1-7 road)
2011 Against the Spread: 3-12-1 ATS, 6-9-1 vs. Total
2011 Rankings: 31st offense (30th pass, 23rd rush); 22nd defense (7th pass, 31st rush)
2012 Odds: 180/1 to win SB, 60/1 to win NFC, 10/1 to win NFC West, 6.0 wins O/U
Offense: There's nowhere to go but up, right? The Rams averaged just 12.1 points per game last year and were a complete disaster. But they jettisoned loser coordinator Josh McDaniels, they are hoping that Sam Bradford can stay healthy, and they have a whole new system, scheme and approach now under Jeff Fisher. Job No. 1 for this unit is to stabilize the offensive line. Terrible draft picks and limited free agent movement have left them with one of the weakest fronts in the game and they allowed 55 sacks in 2011. The talent and depth is still nil along the front, but perhaps a change in scheme can help mask some deficiencies. I expect a more run-heavy attack this year and the Rams have to pray that Steven Jackson has one more workhorse season in him. I believe in Bradford. He's a good quarterback. But he's got absolutely nothing to work with on the outsides. If he stays upright this group will improve, but expect progress to be gradual
Defense: The Rams defense was decimated by injuries last year and I think they ran through about 487 different players in the secondary. They still finished in the Top 10 in pass defense though – but that might have had more to do with the fact they were allowing 152 yards per game on the ground. The front four has potential, led by stud Chris Long, but no depth. And St. Louis has to get better linebacker play if this unit is going to get more stops. Again, if the offense can get better it will only help to protect this group.
Skinny: With 110 adjusted starts lost to injury St. Louis was by far the team most decimated by injury last year. They were outscored by 214 points, worst in football, and they are 15-65 in their last 80 games overall. So they have a ton of ground to make up. But Fisher is an excellent, disciplined coach who always did his best work with the Titans when expectations were low. The talent level is still among the worst in football and depth and skill is a major issue on both sides of the ball. But I think that this team is still going to be improved just because they have more stability and capability at the top.
Arizona Cardinals Predictions
2011 Record: 8-8 (6-2 home, 2-6 road)
2011 Against the Spread: 9-7 ATS; 7-8 vs. Total
2011 Rankings: 19th offense (17th pass, 24th rush); 19th defense (17th pass, 21st rush)
2012 Odds: 100/1 to win SB, 36/1 to win NFC, 7.5/1 to win NFC West, 7.0 wins O/U
Offense: The main storyline in camp for the Cardinals this year is about the quarterback "battle" between Kevin Kolb and John Skelton. But both guys are third-stringers at best, so my prospects for the offense this year aren't too optimistic. Their receiving corps is dangerous, with Larry Fitzgerald the obvious star among a group that has size, speed and playmaking ability. But the Cards desperately need Beanie Wells and Ryan Williams to stay healthy and provide consistent support in the ground game. Arizona has been by far the worst rushing team in football over the past decade and they haven't finished higher than No. 24 on the ground since 2004 – when they were No. 22. Part of that is their feeble offensive line. But if Arizona can't find a way to run the ball then all of the pressure will be on their terrible quarterbacks. The Cards were among the worst teams in football last year on third down (converting just 32 percent) and with turnovers (two giveaways per game). They have to get better.
Defense: This group was actually a bit friskier than their overall yardage rankings suggested last year. Their 42 sacks were seventh in the league and they were in the Top 12 in opponent's passer rating. Their defensive line is active, led by Darnell Dockett, the linebacking corps is athletic, and the safety duo of Kerry Rhodes and Adrian Wilson hits as hard as any in football. That helped them finish No. 2 in the NFL in red zone defense, right behind Baltimore. But Arizona managed just 10 interceptions last year. They need to create more turnovers and big plays because I don't anticipate they will be that stout at the goal line again this year. Also, they need to cut down on defensive penalties. Their 122 flags on defense were second-most in football.
Skinny: The Cardinals are really a tough team to get a grasp on. The last four years they have seemed to be better than the sum of their parts. But they are just 32-32 during that stretch and are just one year removed from a 5-11 calamity. They were headed for an even worse season in 2012, starting the year 1-6, before an excellent second half. But four of their wins came in overtime last year and they were probably closer to a 5-11 team than an 11-5 team. Until their get a decent quarterback I think that projecting anything over .500 is way too optimistic.
Robert Ferringo is a professional handicapper and has posted back-to-back profitable seasons (college and pro). Robert has turned a profit in three of four football seasons and over the last nine months his clients have earned nearly $10,000 in profit with his football selections. He is looking forward to building on his stellar football handicapping resume again this fall and you can check him out here. Also, you can also get $60 worth of free Robert Ferringo member picks (no salesman, no credit card, no obligation!) by clicking here for more info.