2009-10 Pittsburgh Steelers Predictions
by Justin Johnson - 8/24/2009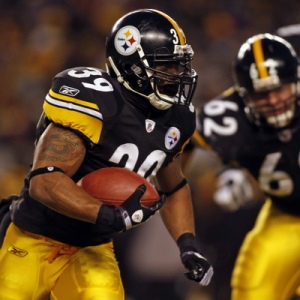 2008 Figures: Overall record: 12-4. ATS: 9-7. O/U: 8-8
2008 Rankings: Scoring offense: 21.69 (No. 20) Scoring Defense: 13.94 (No. 1)
2008 Inside the Numbers: The Steelers are 30-18 SU since 2005, but are just 24-23-1 ATS in that same time.
2009 Super Bowl Odds: +900
Free $60 in Member MLB Picks No Obligation Click Here
Offense: The 2009 Steelers have a lot of optimism heading into the season. With a now healthy offensive line and RBs Willie Parker and Rashard Mendenhall having a full offseason to heal injuries that cost them much of the 2008 season, they could be more potent than the 20th ranked scoring offense from 2008.
Ben Roethlisberger, still just 26, now has two Super Bowl titles under his belt and is the unquestioned leader of the offense. His 2008 stats were quite pedestrian for Super Bowl winning quarterback standards. He had just 17 touchdown passes versus 15 interceptions despite a 60-percent completion percentage. Roethlisberger may also be slowly developing into one of the most solid game managers in the league as he has only eclipsed 18 touchdown passes one time in his five year career.
The 2008 Steelers only finished in the top half of league in one offensive category (third-down efficiency) and must improve on those numbers to be a better bet. NFL handicappers will look at the schedule and notice a lot of opportunities for another season of SU wins, but will have a lot of high point spreads as the Steelers will take on a lot of teams expected to struggle - Oakland, Detroit, Kansas City, and Denver.
Defense: As always, the strength of the Steelers in 2008 was the defense. The Steelers were tops in total defense (237.5), pass defense (157.1), and scoring defense (13.9) in the league last season, and while it is unlikely they will repeat that performance it can be expected for Pittsburgh to be in the Top 5 of most of those categories.
Returning to lead the defense is 2008 NFL Defensive Player of the Year, and Super Bowl hero, James Harrison. Harrison has stepped in as yet another in a long line of Steelers linebackers. Harrison's season was highlighted with the 100-yard interception return in the Super Bowl, but his regular season was also spectacular with 93 solo tackles and 16 sacks for the best defense in the league.
The biggest, and, aside from injury, only cause for concern is the aging defensive line. Aaron Smith, Casey Hampton, and Brett Keisel are all now into their 30s and may have lost a step with age. Playing the defensive line is certainly not a forgiving position and the wear and tear may start to show its toll on the big bodies up front.
The 2008 Steelers were one of the best statistical defensive teams, ending the year in the Top 5 in most every defensive category and they do have a chance to repeat those numbers with a softer schedule. While age is a concern the Steelers staple has been defense for decades and there is no reason to think this unit can't again dominate the opposition in 2009.
2009-10 Pittsburgh Steelers Predictions: The Steelers have been very successful SU for the past five seasons (56-24) but have barely been above average for bettors. This is, in large part, due to overvalued lines against weaker competition. The Steelers are generally not an explosive team rather relying on a tough physical play so covering large lines is not their style.
The 2009 version will be similar to those in recent Steelers memory. Parker and Mendenhall will, once again, be the featured attack with emerging wideout and Super Bowl MVP Santonio Holmes poised for a breakout season as the No. 1 target. Hines Ward, now 33, is on the back side of a great career but still has the grit and tenacity to be a very good over the middle possession receiver and red zone threat. The passing game can also be expected to see more of TE Heath Miller. Miller is slowly evolving into a do-everything tight end that may end up playing his way into a Dallas Clark (Indianapolis) type of receiver.
Expecting as dominant of a performance on defense may be a bit much, but expecting a similar record is not out of the question. The Steelers own the division and have a very easy schedule. An 11-win season, baring injury, is almost a given, and do not be surprised to see upwards of 13-wins and home field advantage throughout the AFC playoffs.
---
Most Recent Fall Football Preview Articles