2023 Washington Commanders Predictions with Season Win Total Odds
by Robert Ferringo - 8/1/2023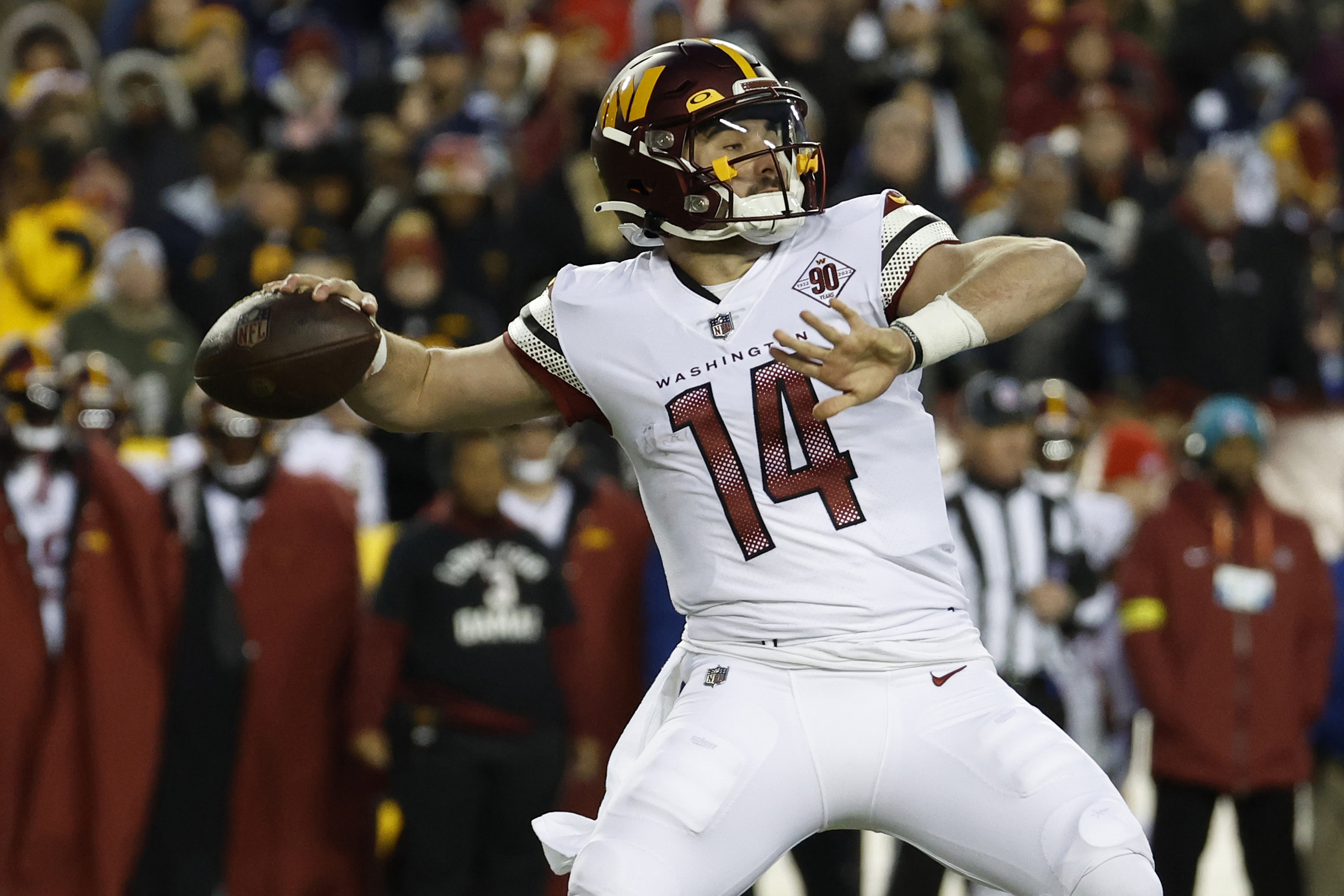 The Washington Commanders have already won the 2023 NFL season.
They won't win the Super Bowl. Hell, they might not even make the playoffs. But this organization is the biggest winner in the National Football League because they were able to extricate themselves from Daniel Snyder.
Snyder is one of the worst human beings in America. His gross incompetence, mean-spirited pettiness and flagrant contempt of humanity has helped turn one of the league's flagship franchises into a laughingstock.
Now Snyder has been run out of town. Naturally, because life is not fair, Snyder walked away with billions of dollars as a reward for his ineptitude. But in football circles, his name will forever be associated with complete and total failure.
It's a new day in Washington. And we will see if the clouds of bad karma surrounding Snyder will follow him away from this over this franchise.
New owners aren't the only thing unique about this upcoming season in our nation's capital. New quarterback Sam Howell and new offensive coordinator Eric Bieniemy will attempt to resuscitate an offense that has consistently been one of the worst in football over the last two decades.
Doc's Sports offers NFL expert picks for every game on our NFL predictions page.
WASHINGTON COMMANDERS 2023 OFFENSE
To say that Bieniemy and Howell are the two biggest factors for the 2023 Commanders offense is a bit of an understatement.
Bieniemy is finally trying to come out from the shadow of Andy Reid and Patrick Mahomes and prove his worth as an NFL coordinator, with the hopes of parlaying that success into a head coaching gig.
Howell will attempt to prove that he is an NFL-caliber starting quarterback.
It is easy to forget that at one point Howell was a first-round draft prospect. He has a lot of intriguing tools. But he's still a first-year starter and will experience plenty of growing pains.
Washington has a decent crop of pass catchers for Howell to work with. Terry McLaurin is a game-changer and a true No. 1. Jahan Dotson and Curtis Samuel are nice complimentary pieces, and third-year man Dynami Brown put up monster numbers with Howell in their time together at North Carolina.
The Commanders need to do something about the tight end position. Logan Thomas is never healthy and overrated. Having a reliable tight end would be a nice security blanket for Howell.
Three years ago, the offensive line was a major strength. Washington has retooled up front since then and are hoping Kansas City castoff Andrew Wylie can take a leadership role along this mediocre front.
Brian Robinson showed a lot of heart last year and is the lead back. Although a resurgence from Antonio Gibson, who tallied 21 touchdowns his first two seasons before a dud 2022 campaign, would be a major boost. Keep an eye on rookie Chris Rodriguez as well.
The Commanders have finished an average of No. 24 in scoring and No. 23 in total offense in each of Rivera's three years in Washington. In fact, this franchise has fielded just one Top 10 unit in yards and points since the turn of the century.
Washington has some decent pieces on this side of the ball. They need Bieniemy to scheme up some goodies and Howell to show some rapid growth.
WASHINGTON COMMANDERS 2023 DEFENSE
The Commanders were in the Top 10 in points allowed and total defense last year, the second time in three years they have pulled that off.
Jonathan Allen, Daron Payne, Montez Sweat, and Chase Young make up one of the best defensive lines in football. There is a massive drop-off to the second unit, though, and they need Young to make a statement in this contract year.
While the front four sets the tempo, the back seven lacks high-end talent or consistent playmakers.
Free agent pickup Cody Barton was brought in to man the middle. Jamin Davis has settled in well in his new spot on the outside. This team plays a lot of base nickel, and they seem content to go into the season with one of the worst linebacking corps in football.
The secondary is perfectly fine to apply Rivera's bend-but-don't-break Cover-2 style. Safety Kamren Curl, a former seventh-round selection, has blossomed into a baller and leader of the back end. Benjamin St.-Juste and Kendall Fuller should mentor rookie Emmanuel Forbes.
Rivera has proven himself as one of the best defensive minds of the last 25 years. He was the man behind the Urlacher-led Bears defenses, he fielded a No. 1 total defense with San Diego in 2010, and built a Super Bowl-caliber group in his time in Carolina. That's before his two Top 10 groups in three years with Washington.
Suffice to say, Washington should be fine on this side of the ball.
WASHINGTON COMMANDERS 2023 SCHEDULE
Week 1: 9/10 vs. Arizona Cardinals, 1 PM, FOX
Week 2: 9/17 at Denver Broncos, 4:25 PM, CBS
Week 3: 9/24 vs. Buffalo Bills, 1 PM, CBS
Week 4: 10/1 at Philadelphia Eagles, 1 PM, FOX
Week 5: 10/5 vs. Chicago Bears (Thursday), 8:15 PM, Amazon
Week 6: 10/15 at Atlanta Falcons, 1 PM, CBS
Week 7: 10/22 at New York Giants, 1 PM, CBS
Week 8: 10/29 vs. Philadelphia Eagles, 1 PM, FOX
Week 9: 11/5 at New England Patriots, 1 PM, FOX
Week 10: 11/12 at Seattle Seahawks, 4:25 PM, FOX
Week 11: 11/19 vs. New York Giants, 1 PM, FOX
Week 12: 11/23 at Dallas Cowboys (Thursday), 4:30 PM, CBS
Week 13: 12/3 vs. Miami Dolphins, 1 PM, FOX
Week 14: Bye Week
Week 15: 12/17 at Los Angeles Rams, 4 PM, CBS
Week 16: 12/24 at New York Jets, 1 PM, CBS
Week 17: 12/31 vs. San Francisco 49ers, 1 PM, FOX
Week 18: TBD, vs. Dallas Cowboys, TBD, TBD
WASHINGTON COMMANDERS 2023 SEASON PICKS AND PREDICTIONS
It is easy to forget that Washington went on a 6-1-1 run over two months in the middle of last season. They were in the playoff mix despite putrid quarterback play from Taylor Heinicke and Carson Wentz.
If Bieniemy and Howell can bring the offense into the top half of the league – not a huge ask! – then Washington could be a spoiler in the NFC East. And they probably have more talent on offense than they do on defense, so the pressure really is on Bieniemy.
Washington is in a tough division and has to crossover with the absolutely brutal AFC East. However, they are one of the leaders in the NFL in terms of net rest differential. And with only three trips west of the Mississippi, they have a manageable travel schedule.
I'm intrigued by Washington. I think they will be a tough team to bet on or against this year. The Commanders don't look posted to make a leap into the league's top half. But they have better coaching, more talent and a better defense than most of the teams below them on this list.
Their 2023 Las Vegas season win total of 6.5 seems spot on, and I have the Commanders around seven wins. I wouldn't touch this as a preseason wager. And I think all the value on the Commanders this year will come with betting them in the underdog role.
If you absolutely want to pin me to a pick, I would take Washington to go 'over'.
Robert Ferringo has been the top football handicapper in the country the past 13 years, earning nearly $40,000 in total football profit (average profit: +$3,800) between 2010-2019 alone. He has posted 9 of 13 winning seasons (including five of seven winning years) and produced an amazing 64 of 100 winning football months over the past 16 years. Robert has hit at nearly 60 percent winners over his last 1,000 totals picks and has posted 14 of 17 winning Super Bowls. Robert is looking for another winning football year and wants more profit this fall. SIGN UP HERE TODAY AND TAKE ADVANTAGE OF OUR 3-FOR-1 FOOTBALL SPECIALS!
Get NFL picks on every single game, or if you want our very best bet premium picks by the experts, sign up for your free $60 account with a guarantee.