Best NFL Betting Teams Against the Point Spread
by Trevor Whenham - 10/13/2010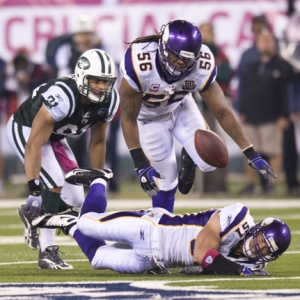 It has been a very strange season so far in the NFL. The Chiefs and the Cardinals are leading their division after five weeks, while the Vikings, Cowboys, Niners, and Chargers - all serious contenders coming into the season - have been worse than awful. That strange performance has led to some strange happenings against the spread as well. Some teams that are usually strong are burning bettors' money, while some surprising teams are being very kind to bettors. Here's a look at the five best ATS teams of this young season:
New York Jets (4-1 ATS) - The season hasn't been without drama for the Jets - a rough start for Mark Sanchez, the Darrelle Revis injury, and so on. Still, you have to give this team credit - they came into the season with all eyes on them, and they have performed in the face of those expectations. They have won all three of their divisional games so far, they beat the Vikings solidly last time out, and their only loss was just by one point. Given all of the attention that was directed towards this team in the offseason and the preseason, and all of their bravado, they were certain to be a magnet for public betting action. It's a sign of how well they have played so far that they have managed to cover all but one of their games despite that attention and the inflated NFL lines that it brings with it.
Detroit Lions (4-1 ATS) - The Lions still aren't a world-class team or anything close to it, but they are much better than they have been the last couple of years, and even though they aren't winning a lot of games yet they are clearly performing better than the public is giving them credit for. They have covered four of five of their games - including three losses - and in the one game they failed to cover they only missed by one point. As impressive as the 4-1 ATS record is the fact that they are 2-1 ATS on the road, and those have all come against opponents that are either good or should be - Chicago, Minnesota, and Green Bay.
Detroit's defense is not yet good, but it is definitely better as it has been, and the most notable improvement has been on the line. Offensively, the team is the sixth best passing team and is sixth in the league in points scored. This team is going to continue to improve, and the public is going to catch on to that - especially if they keep doing things like the stunningly impressive win last week - but until they do there is value with these guys.
Kansas City Chiefs (3-1 ATS) - The Chiefs are a very unexpected division leader. We knew that they would be improved thanks to the changes they made in the offseason, but it seemed reasonable to think that they were at least a year away from being ready for prime time. I don't want to be too hard on this team - they deserve respect for what they have done - but the schedule they have faced has definitely added to their record. They have played two horribly struggling teams in the Chargers and the Niners, and a road trip to Cleveland was hardly frightening. Only a trip to Indianapolis was a tough game, and they failed to cover that one. I'm not a huge believer in what this team has done so far, but luckily for them they face a reasonably soft schedule all year.
Pittsburgh Steelers (3-1 ATS) - If you had told the Steelers before the season started that they were going to be 3-1 despite losing their starting QB to a suspension, and their second and third stringers to injuries, I think they would have been more than happy. Big Ben needs to take the defense to dinner, because it's them that has kept things on track and minimized the impact of his suspension - they are No. 1 in the league against the run and in points allowed. What will be interesting going forward is how the public reacts to the team with Roethlisberger back under center. Because of his absence and all of the QB uncertainty that followed the public certainly wasn't on Pittsburgh nearly as heavily as they would normally be. That should change now, and it makes all that has happened against the spread so far irrelevant.
Tampa Bay Buccaneers (3-1 ATS) - If you told me that you thought that the Bucs would be 3-1 at this point in the season I would call you a liar. They've been a huge surprise. Like the Chiefs, though, you have to regard this team with a healthy amount of skepticism. They have beat two bad teams in Cleveland and Carolina, and a badly underperforming one in the Bengals. Their only loss was to Pittsburgh and it was very ugly - they lost by 25 at home.