NFL Office Pool Picks - Week 1
by Trevor Whenham - 9/6/2010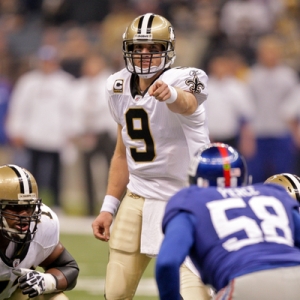 The NFL season is finally here - or at least it will be on Thursday. That means a lot of things, and all of them are good. One of the greatest parts of the great NFL is the annual tradition of the office pool. As we have the last couple of years, we're going to help you out with your NFL office pool picks by picking a winner for every game all season - straight up, not against the spread. Without further ado, we have NFL office pool picks for Week 1:
Vikings at Saints - The Saints are at home, and they'll be celebrating with a stadium full of fans in a meaningful game for the first time. That will be a huge boost for them. The Vikings will have revenge on their minds after the playoffs last year, but I just don't trust the offense right now - from the diva at quarterback to the receivers. Take the Saints.
Dolphins at Bills - I am very high on the Dolphins this year. I think Chad Henne is on the brink of big things, I think Cameron Wake will emerge as a star on defense, and I think that this team has a good shot at being the winner of their very tough division. I obviously don't feel the same about the Bills. I don't really feel anything about them besides pity. Take Miami.
Lions at Bears - I really think the Lions are moving in the right direction. They just aren't there yet, though. They have issues at cornerback, and if anyone can exploit that it's Mike Martz - even with a second rate quarterback. Take Chicago.
Raiders at Titans - You have to be contrary once in a while to do well in office pools, and this is one of those spots for me. The Titans are solid favorites, but I just can't get excited about them and where they are at. The Raiders are moving in the right direction nicely, and they are going to be hungry to start the post-Russell era off right. Take Oakland.
Bengals at Patriots - I think - actually I know for certain - that Marvin Lewis is the worst coach in football. At any level. From Pop Warner on up. There is a lot about the Pats that make me nervous this year, but they'll be so much better prepared in this one, and I expect them to win. Take New England.
Panthers at Giants - This is the worst game of the week in my eyes. I just can't find anything to care about. I guess I'll take the Giants at home, but the thought of trusting Eli Manning makes me a bit sick to the stomach.
Falcons at Steelers - Simply put, the Steelers just don't have enough confidence in their QB situation to allow me to have any confidence in them. The Falcons are in good shape, and I expect much better years from Matt Ryan and Michael Turner this year - starting here. Take Atlanta.
Browns at Buccaneers - How do you pick this game? Both teams have a long, long list of flaws. They are both taking good steps towards rebuilding, but the road is long. Neither seems to have the coach that will take them to the promised land. Take Tampa Bay because they are at home.
Broncos at Jaguars - I am a believer in two things for the Broncos - Kyle Orton and Josh McDaniels. I the QB is better than he gets credit for, and the coach is going to be one of the good ones. This is a tough spot for them, but for those two reasons I'll jump on them. Take Denver.
Colts at Texans - Sooner or later the Colts are going to break through and make some noise. This could be the year, but I just don't see it starting off well for them. Indy just matches up too well in too many ways. Take Indianapolis.
Cardinals at Rams - Derek Anderson v. Sam Bradford - I can honestly say that I didn't see that one coming. I like Bradford a lot - how can you not - but the Cards are just so much deeper, and Anderson is far more experienced and coming off a good spring. Bradford will provide a couple of highlights, but Arizona will notch the win.
Packers at Eagles - The Eagles absolutely did the right thing in handing things over to Kevin Kolb. It's interesting that he starts his career as a starter playing against a team that did the very same thing two years ago. Green Bay has that two year edge, and it's going to make all the difference here. Take Green Bay.
49ers at Seahawks - San Francisco is going to win their division. Seattle really, really isn't. The Seahawks slashed and burned when they cut down their roster, and Pete Carroll is smart enough to realize that this is going to take a while to get this team back on track. The Seahawks will struggle to score against a very good San Francisco defense, and they will struggle to stop a pretty good San Francisco offense. Take the Niners.
Cowboys at Redskins - I am not a McNabb fan, and I am really not a fan of how this team has handled the Haynesworth soap opera. The Cowboys are a very complete team that very strongly feels like this is their year. They may be right. This is certainly their week. Take Dallas.
Ravens at Jets - I'm supposed to believe, apparently, that the Jets are headed to the Super Bowl. I really don't. I don't like how they handled their camp, and they capped it with the chemistry-crushing decision to cut Tony Richardson. Baltimore is a better team on both sides of the ball in my eyes - and the gap is wide on offense. Take Baltimore.
Chargers at Chiefs - San Diego is going to win this one. San Diego had better win this one.San Diego should be ashamed of themselves if they don't win this one. Take San Diego.
Robert Ferringo is a writer and a professional college football and NFL handicapper for Doc's Sports. Last year he brought home +62.5 Units for his clients for NFL picks and he is regarded as one of the top totals players in the sport. He guarantees a winning football season this year or he will work for free until you turn a profit. He has a very rare 7-Unit NFL Total of the Month coming this weekend! You can sign up for his college football and NFL picks and get more information here.
---
Most Recent NFL Office Pool Picks