NFL Office Pool Picks - Week 10
by Trevor Whenham - 11/9/2010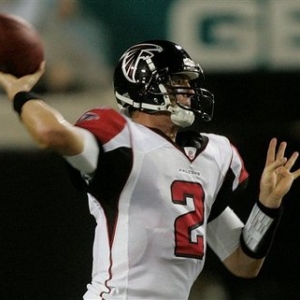 It was a decent week last week in our efforts to pick straight up winners for NFL office pool picks. It could have been better, but then I don't feel bad at all about not picking the Browns to beat up on the Patriots. If you saw that one coming in the way that it happened, you live on a different planet than I do. Here's how this week's game set up. Remember that the Ravens and Falcons play the battle of the birds on Thursday night, so you need to get your picks in early this week:
Baltimore at Atlanta - I like the Ravens a lot, but they aren't the most consistent team in the league. Atlanta hasn't put forth consistent effort, either, but Matt Ryan has a stunning home record of 17-1 on his career. That's enough to give them and edge in what should be a very good game. Take the Falcons.
Detroit at Buffalo - When I looked at this game early in the season I thought that it could be the worst game of the season. I no longer think that. The teams have only two wins between them, but they are both playing tough, feisty football recently. That means that we can expect solid efforts and an interesting game. Take the Lions.
N.Y. Jets at Cleveland - The Browns have played by far their two best games of the season in their last two. The Jets have played by far their worst. I really respect Colt McCoy and the way he is playing right now for Cleveland, but the Jets haven't lost on the road yet this year, and they have more talent on both sides of the ball. The Browns could suffer a letdown after such a huge win last week, too. Take the Jets.
Carolina at Tampa Bay - The Bucs have been one of the biggest surprises in the whole league - the biggest, probably. The Panthers have been surprising only in that they have been even worse than seemed possible. Now Carolina has lost their best QB - and even he was lousy. This one could get ugly. Take the Bucs.
Cincinnati at Indianapolis - The Colts are imperfect this year, and injuries are exacting a heavy toll. Luckily for them they are playing a very lousy team that just can't get out of their own way. Take the Colts.
Tennessee at Miami - I really want to like the Dolphins, and I really want to be unimpressed by the Titans. Miami has been struggling offensively, though - Chad Henne hasn't taken the step forward I was hoping for. Tennessee has been solid, and there should be a Randy Moss boost in this one. Take the Titans.
Minnesota at Chicago - How unimpressed am I by Jay Cutler and the Bears this year? I am willing to overlook all of the chaos and ridiculousness in Minnesota and take the Vikings. The way Minnesota came back to get the win last week could really boost this team here. Take the Vikings.
Houston at Jacksonville - Both of these teams are like vanilla ice cream - not offensive, but a whole long way from exciting. Either one of the teams is capable of a big effort at any time, but they are also capable of looking totally hopeless. I guess I take the Texans.
Kansas City at Denver - A friend of mine, a huge Kansas City fan, is traveling to Denver to go to this game. He's already frustrated after last week's loss to Oakland, so I can only imagine how depressed and whiny he would be if a loss here further challenged Kansas City's pursuit of a division crown. To avoid that, and because they are the better team, I take the Chiefs.
St. Louis at San Francisco - Coming into the season I had very high hopes for the Niners. Those have been repeatedly and emphatically crushed. Fortunately, I also had very high hopes for Sam Bradford, and he has really exceeded those. Bradford and the Rams believe in what they are doing, and they are capable of winning this one. Take the Rams in a mild upset.
Seattle at Arizona - Seattle is very inconsistent, and not very good on the road. Arizona is struggling badly to find offense. I'll take inconsistent with a good proven QB over struggling with no obvious QB any time. Take the Seahawks.
Dallas at N.Y. Giants - The Cowboys would potentially be relevant in this one if Jason Garrett was a dramatic improvement over Wade Phillips. I'm not convinced that he is, and even if he was I'm not sure it matters with this mess of a team. Take the Giants.
New England at Pittsburgh - I assume that the Patriots were so bad last week because they were looking ahead to this game. Even if that is the case, though, the loss to the Browns exposed some real problems for this team. Pittsburgh is more than capable of exploiting those weaknesses. Take the Steelers.
Philadelphia at Washington - I like what the Eagles have going on at quarterback. So does the team, apparently. The same can't be said on either count about what's going on in Washington. For that reason alone I take the Eagles.
Jason Sharpe has been excellent for his expert football picks at Doc's Sports, and he has shown a profit in 9 of 10 weeks for his NFL handicapping and college football picks and $100 players are up $8,500 on the season! He sees some weak NFL point spreads on the board this week and is very excited to extend his current run. Call us toll-free at 1-866-238-6696 to find out about a free one-week football package from Sharpe or any Advisory Board handicapper of your choice (new clients only).
---
Most Recent NFL Office Pool Picks