2011 AFC West Predictions and Super Bowl Betting Odds
by Robert Ferringo - 8/25/2011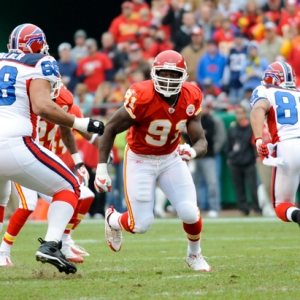 The Raiders swept their six AFC West games in 2010 and finished in third place in the division.
The Chargers had the No. 1 offense and No. 1 defense in the entire league and didn't make the playoffs.
The Broncos – who have owned the Raiders for decades – lost 59-14 at Mile High Stadium to their rivals from Oakland.
The Chiefs used a suddenly solid defense and a roughshod running game to win 10 games – the same amount they had managed to win the three previous years combined.
The AFC West was Bizarro World in 2010. The division may have had more jaw-dropping moments and more head-scratching blowouts than any other in football. And when the dust settled the West had a new champion for the firs time in four years.
The question for this year's AFC West is whether or not last season was an aberration; has San Diego's close-fisted grip over the division been truly broken, or was last year a fluke? Will Kansas City and Oakland build on their surprising success from last season? Just how many years did Josh McDaniels set the Denver franchise back?
I don't know all the answers, but I know that it will be entertaining again out West. Here are my 2011 AFC West predictions and NFL betting odds, including division, conference and Super Bowl odds:
San Diego Chargers Predictions
2010 Record: 9-7 (6-2 home, 3-5 road)
2010 Against the Spread: 8-7-1 ATS, 8-7-1 vs. Total
2010 Rankings: 1st offense (2nd pass, 15th rush); 1st overall (1st pass, 4th rush)
2011 Odds: 10/1 to win SB, 11/1 to win AFC, 1/2.5 to win AFC West, 10.0 wins O/U
Offense: The pieces shuffle around like ice in a drink. But as long as Philip Rivers is the bartender this one is going to go down smoothly. Yes, they lost x-factor Darren Sproles. And Antonio Gates' foot problems are a big concern. But Rivers will have Vince Jackson for a full 16 games, and no matter who is toting the rock they usually enjoy a solid running game. Look, they were first in yards and second in points last year. So nothing needs to change. They just need to stay healthy and hope that they can continue to plug-and-play around Rivers and enjoy success.
Defense: Losing defensive coordinator Ron Rivera could be a bigger deal to this unit than people let on. But they brought in two low-risk, high-reward players in Takeo Spikes and Bob Sanders. Each has been, at one point in their careers, among the best in the league at their positions. But if one or both of them get injured then San Diego's lack of depth could rear its ugly head. Again, this was the No. 1 defense in football last year, but in name only. They were 10th in points allowed and they benefitted from A) playing a load of terrible offenses, and B) not having to play defense after all of those specials teams touchdowns they were giving up. This group doesn't scare anyone. But it is still "good enough" for what the Chargers need.
Skinny: I do think that the window for this core group of Chargers to win a Super Bowl is closed. However, I also think that they are primed for a big bounce-back season. Last year was a bit of a fluke, and special teams cost them – directly – at least two games last year. If they had gone 11-5 I don't think anyone would have any questions about this squad. I have seen a level of focus this preseason that this team hasn't had in years. I think it will carry over to the regular season and I believe they will dominate the West once again.
Kansas City Chiefs Predictions
2010 Record: 10-6 (7-1 home, 3-5 road)
2010 Against the Spread: 9-7 ATS; 7-9 vs. Total
2010 Rankings: 12th offense (30th pass, 1st rush); 14th defense (17th pass, 14th rush)
2011 Odds: 40/1 to win SB, 20/1 to win AFC, 4.5/1 to win AFC West, 7.5 wins O/U
Offense: The Chiefs gladly rode the back of the NFL's best backfield to the No. 1 rushing attack in football last year. And they proved once again that if you can run the ball in the NFL you could win games. The offense could be even better this year. Dexter McCluster should be more involved, they have improved their offensive line depth, and another year of rapport between Matt Cassel and Dwayne Bowe should only help. The Chiefs have quality tight ends and they added Steve Breaston to further boost the passing game. However, I will be stunned if Cassel can match last year's efficiency (27 TDs to 7 INTs). And if the defense struggles (which I think it will) I don't know how the Chiefs offense will respond to playing from behind compared to playing with the lead.
Defense: After back-to-back seasons as one of the worst defenses in football the 2010 Chiefs made a quantum leap in both scoring and total defense. Unfortunately, I think that they are going to take a step back this season. And although they shouldn't fall back among the dregs, I don't think that the Chiefs will benefit from the same amount of big plays – sacks and turnovers – that they did last year. Their defensive front is stout and the right side of their linebackers (Derrick Johnson and Tamba Hali) really broke out. Also, Eric Berry is a keeper. But I don't like K.C.'s corners and their depth at safety and rush linebacker – two critical spots in the 3-4 – leaves a lot to be desired.
Skinny: The Chiefs caught every break in the book last year. From turnovers to injuries (their 11 starts lost were the fewest in the NFL) to close wins, Kansas City benefitted from a great deal of "football luck". They were basically the anti-Chargers that way. But that's not going to happen again this season. The Kansas City Chiefs schedule is not soft like last season and teams are going to have more tape to analyze on how to slow down this offense. Kansas City is still a quality team and won't fall back to the four-win groups we saw in 2007 and 2009. But, statistically speaking, they face astronomical odds of matching or surpassing last year's success.
Denver Broncos Predictions
2010 Record: 4-12 (3-5 home, 1-7 road)
2010 Against the Spread: 5-10 ATS, 11-5 vs. Total
2010 Rankings: 13th offense (7th pass, 26th rush); 32nd defense (25th pass, 31st rush)
2011 Odds: 80/1 to win SB, 40/1 to win AFC, 10/1 to win AFC West, 5.5 wins O/U
Offense: The Orton-Tebow saga became the most overblown, overrated debate in football this preseason. (I mean, this isn't Montana vs. Young or even Bledsoe vs. Brady we're talking about here.) And all that nonsense has detracted from the fact that Orton is actually a very underrated quarterback and the leader of a sneaky-good offense. Orton carried an attack that was a carousel at running back and wide receiver. Brandon Lloyd and Eddie Royal are solid options, but a nice tight end or red zone target can only help a group that seemed to move the ball at ease between the 20's but then struggle in the red zone. This team was also terrible on third down (32 percent) and improvement there is a must if they want to stay in the top half of the league in total offense.
Defense: Denver's -7.9 scoring differential last year was the fourth-worst in the NFL, and the main reason was that their defense couldn't stop anyone. Ever. Denver has spent the last two years as an "accidental" defense, meaning that the only stops they get are based more on screw-ups by the opposition rather than the Broncos actually making a play. They are making yet another schematic adjustment, back to the 4-3, and I think that will only help due to the fact that their linebackers couldn't cover or make plays in space. Having Elvis Dumervil back is crucial. But Denver needs some of their young secondary players to step up because Champ Bailey and Brian Dawkins aren't good enough to carry that unit anymore.
Skinny: I am kind of torn on Denver. Josh McDaniels was an overmatched ass-clown, and the upgrade to John Fox is immense. Fox excels in an underdog role and Denver certainly fits the bill. They were among the worst teams in the league for turnovers (-9) and, statistically speaking, they were one of the biggest underachievers in the AFC. The West is pretty open. And as the Raiders and Chiefs showed last year, San Diego is now mortal. I don't think the Broncos have enough talent (thanks to McDaniels' personnel moves) to hold up for 16 games and make the playoffs. But I could see them scratching out seven wins and being more competitive this year than they have been over their last 26 games (6-20 SU, 8-17 ATS).
Oakland Raiders Predictions
2010 Record: 8-8 (5-3 home, 3-5 road)
2010 Against the Spread: 8-7-1 ATS, 7-9 vs. Total
2010 Rankings: 10th offense (23rd pass, 2nd rush); 11th defense (2nd pass, 29th rushing)
2011 Odds: 65/1 to win SB, 30/1 to win AFC, 6/1 to win AFC West, 6.5 wins O/U
Offense: Not much is going right with the Raiders offense these days. Jason Campbell has a concussion. I think two of their top three starting wideouts have had limbs fall off. Their free agent tight end – who was brought in to fill the shoes of their Pro Bowl tight end – is now injured. Darren McFadden had a breakout season in 2010 and Oakland was able to bludgeon people with their running game. McFadden's health is critical. The offensive line is surprisingly solid in the run game, but they were victimized for 44 sacks last year. This offense is going to struggle without consistent play from the skill positions. And if the injuries continue to pile up this team hasn't done a good enough job stocking talent to stay competitive.
Defense: Nnamdi Asomugha's departure will send shockwaves through this unit. Stanford Routt – who I don't think is any good – is now their No. 1 corner. Their safeties are stronger against the run than the pass and I think that the skies are going to be awfully friendly for pass offenses going up against this secondary. As a result, the pass rush should suffer. And since the Raiders were No. 29 against the run last year that means if they suddenly can't stop the pass things could get very ugly for a group that made huge strides last year.
Skinny: An optimist will look at Oakland and say that they have matched or improve their win total every year since 2006, increasing from two to four to six to six to last year's 8-8 mark. But a realist will point to Oakland's soft schedule and fluke mark in divisional games (only the Patriots seem to go 6-0 in their division) as earmarks that the Raiders will come back to earth this season. They had only 28 starts lost to injury last year and their offensive yards per point (13.8) is in the range of a regression. Also, they had some key personnel losses and the reality is that they have another new coach, another new system, and seemingly another new roster to work with. Nothing about this franchise is cohesive and the Raiders won't return to the playoffs until that is remedied.
Robert Ferringo is a writer and a professional sports and NFL handicapper for Doc's Sports. In 2009 his NFL picks brought home +62.5 Units for his clients and in 2010 he managed another profitable overall football season (college and NFL). He guarantees a winning football season this year or he will work for free until you turn a profit. You can sign up for his college football and NFL picks and get more information here.