2011 NFC East Predictions and NFL Betting Odds
by Robert Ferringo - 8/19/2011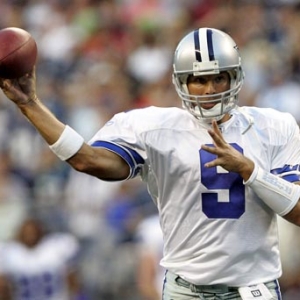 Separating Hype from Hope in the NFC East can be a dicey proposition. The four teams that comprise this venerable division are four of the most successful, proud, storied organizations in the sport. And no matter what the offseason give-and-take produces there is always the belief that these teams are among the best in the conference and in the sport.
Even with a truncated free agent period the East was among the most active groups in terms of signings, losses, controversy and bad blood. Whether it was Rex Grossman boldly claiming that the Redskins would win the division, Vince Young foolishly branding the Eagles as the "Dream Team", or the Giants angered over the Steve Smith Situation, the NFC East managed to cram a full offseason's worth of bulletin board material into a scant two weeks.
Of course, drama may sell tickets, but it doesn't win games and it doesn't cover NFL spreads. And although I project two teams from the NFC East will reach the postseason, this January I don't believe that this division is currently as strong as it has been in the past. It's just louder.
Philadelphia Eagles Predictions
2010 Record: 10-6 (4-4 home, 6-2 road)
2010 Against the Spread: 7-9 ATS, 10-6 vs. Total
2010 Rankings: 2nd offense (9th pass, 5th rush); 12th defense (15th pass, 15th rush)
2011 Odds: 7/1 to win SB, 3.5/1 to win NFC, 2/3 to win NFC East, 10.5 wins O/U
Offense: Speed thrills. And the Eagles have speed to burn. With Mike Vick, LeSean McCoy, DeSean Jackson and Jeremy Maclin (assuming he doesn't have some flesh-eating disease), the Eagles will be able to simply overwhelm certain secondaries and teams that they face that can't keep up. They boast a powerful offensive line and with big red zone targets like Brent Celek and Riley Cooper providing depth, points won't be a problem. That said, I have made my position on Vick very clear: he's not to be trusted. Vick is an athletic freak; we all know this. And he looks like a much more mature passer than we ever saw in Atlanta. But he is also inconsistent, he makes questionable decisions, and there are certain coverages that he simply isn't equipped to efficiently beat. There are some games he will win all by himself. But there will be plenty of others where he has the opposite effect.
Defense: All the talk this summer was about the secondary upgrades for Philly. They grabbed Nnamdi Asomugha and Antonio Rodgers-Cromartie to add with four-time Pro Bowler Asante Samuel. That's obscene. But kind of an underrated loss was safety Quintin Mikell, who signed with St. Louis. Safety Nate Allen had a brilliant rookie year. But I don't know that you can entrust the back end of the secondary to him at this stage. Also, the Eagles are woefully short on linebackers. They don't have depth, experience, or quality at any of the linebacker slots, and that is a gaping hole in the middle of the D. They did address their weakness up front. They beefed up there by grabbing hit-or-miss tackle Cullen Jenkins and Jason "Contract Year Breakout" Babin. They have decent depth behind the starters and this should be a strength.
Skinny: This team is talented, but overrated. I don't consider them a legitimate threat for any type of hardware beyond a division crown. There are simply too many question marks at too many critical positions. Yes, they have top-end talent at some spots. But I don't know that you can win a Super Bowl with Vick, and I know you can't win one without linebackers or safeties. That said, the Philadelphia Eagles schedule is an easy one. Their most challenging non-divisional games (Chicago, New England, the Jets) are all at home, and despite some holes I think they could fall out of bed and win 10 or 11 games. This will be a good team and will manage some breathtaking blowouts. But don't buy the Super Bowl hype.
New York Giants Predictions
2010 Record: 10-6 (5-3 home, 5-3 road)
2010 Against the Spread: 7-9 ATS; 9-7 vs. Total
2010 Rankings: 5th offense (10th pass, 6th rush); 7th defense (9th pass, 8th rush)
2011 Odds: 25/1 to win SB, 12/1 to win NFC, 3/1 to win NFC East, 9.5 wins O/U
Offense: Eli Manning thinks he's elite; now he's got to go out and prove it. Manning was deprived of some weapons in the offseason, but the cupboard is far from bare in New York. Re-signing Ahmad Bradshaw was critical, and the Giants should be able to maintain their run-pass balance. Also, I am a big fan of Hakeem Nicks. The health of he and Bradshaw is crucial. Also, the Giants were able to retain five of their top six offensive linemen this offseason when just weeks ago it looked as if they would lose at least half.
Defense: A majority of the offseason drama surrounding this team has focused on the offense. So very quietly the Giants have retained the core of the best defense in the division. Now that Osi Umenyiora is back in the fold the G-Men has a stellar rotation of pass rushers. And their linebackers are athletic with just enough experience for them to be dependable. The key is going to be the healthy of the secondary. The Giants have slowly rebuilt their back four and now have some depth at safety and corner. But these guys keep getting hurt, so they haven't built up the right level of cohesiveness. The Giants were No. 1 in the league on third down last year. They may not be there again, but as long as there isn't a huge drop-off they should remain in the Top 10.
Skinny: The Giants beat the bad teams and lose to the good ones. That has been their M.O. for the last couple years, including last year when they went 2-4 against playoff teams and 8-2 against everyone else. They are 3-10 against playoff teams the last two years and 15-4 against non-playoff contenders. The good news: the Giants have a lot of bad teams on the schedule. I don't feel as if they improved themselves from last year. But prior to November they play only one team that had a winning record last year. Their last two months are brutal though. So be wary of staying on the bandwagon too long.
Dallas Cowboys Predictions
2010 Record: 6-10 (2-6 home, 4-4 road)
2010 Against the Spread: 7-9 ATS, 13-3 vs. Total
2010 Rankings: 7th offense (6th pass, 16th rush); 23rd defense (26th pass, 12th rush)
2011 Odds: 18/1 to win SB, 9/1 to win NFC, 3/1 to win NFC East, 9.0 wins O/U
Offense: Losing Tony Romo last year gave this offense (and this team) an excuse to underachieve. But, to put this in terms that a Texan would understand, the Cowboys offense has a whole lot of sizzle but not much steak. The skill players are still good, but they aren't nearly as good as they think they are. And while the losses of guys like Marion Barber, Roy Williams, and Marc Colombo have been lauded as sound business decisions, they haven't made the foundation any stronger. They have a good system. And they have some big-play guys. But I don't know if this group has the toughness – both physically and mentally – to grind out drives, work the clock, play the field position game, and dig deep to win those vintage NFC slugfests.
Defense: I have absolutely no idea what the Cowboys were doing this offseason. They had a train wreck of a secondary last year, giving up 57 pass plays of 20 or more yards, 13 plays of 40 or more, and allowing opponents to complete an eye-popping 64.4 percent of their passes. The Cowboys response? They let everyone keep their job. They may end up being a little better this season simply because they can't be much worse. But they didn't improve on this side of the ball anywhere, so they will remain a gaping hole for opponents to plow through. The Cowboys have some strong individual talents – Jay Ratliff, DeMarcus Ware – but aging or underperforming players like Keith Brooking and Anthony Spencer balance them out. This group, on the whole, is mediocre.
Skinny: I definitely don't like Dallas' prospects this year. Frankly, this team just isn't that good. They have too many holes and free agency has chipped away at the veteran foundation that was in place when they made the playoff three times in four years between 2006-2009. Besides that, a quick scan of the Dallas roster and you'll notice that this team has zero depth. They have given all of their money to overpriced "stars". But the second unit guys will have to play at some point, injuries or not, and they won't hold the fort. Don't buy the hype around this team. They are an 8-8 season waiting to happen.
Washington Redskins Predictions
2010 Record: 6-10 (2-6 home, 4-4 road)
2010 Against the Spread: 8-6-2 ATS, 6-10 vs. Total
2010 Rankings: 25th offense (24th pass, 18th rush); 24th defense (3rd pass, 32nd rush)
2011 Odds: 100/1 to win SB, 50/1 to win NFC, 20/1 to win NFC East, 6.5 wins O/U
Offense: I want to like this group. I really do. I want to think that Kyle Shanahan is not just a terrible play-caller and game manager, and believe that his scheme is built to score buckets of points. But I have a hard time trusting anyone that looks at a quarterback depth chart that includes John Beck and Rex Grossman and says, "Yeah, we're good." Washington hasn't had a No. 1 receiver in many moons and they still don't have one. I am a huge Tim Hightower fan. He runs hard, he can catch the ball, he is solid at blitz pickup, and he still has plenty of tread on the tires. The offensive line is patchwork. I like the tackles, I like the veterans they have as backups, and I want to believe that they can hold. But at the end of the day the guy at the controls is either The Sex Cannon or The Mormon Magician. Not good.
Defense: Mike Shanahan's decision to scrap Washington's 4-3 defense – a group that had finished in the Top 10 in football five of the six years before he got there – has been a disaster. Washington finished No. 31 in total defense last year and they are still trying to plug square pegs in round holes. I do like the way that the secondary has been built. And underrated studs London Fletch and Brian Orakpo anchor the linebackers. But unless they can get much more out of the front three – be it pass rush or run defense – this group will still have issues.
Skinny: I am still pretty salty about this team's performance last year. I had them pegged as a sleeper and they blew numerous games in which they either controlled or had big leads. It was natural to expect a transition to the Shanahan regime. But things don't feel much more stable this year. And, again, in the end they don't have a competent quarterback. This team will be sneaky again. They will compete (12 of their games were decided by a touchdown or less). But until someone takes control of this team and proves that they are capable of leading it, you have to expect this garbage organization will stay in the trash.
Robert Ferringo is a writer and a professional sports and NFL handicapper for Doc's Sports. In 2009 his NFL picks brought home +62.5 Units for his clients and in 2010 he managed another profitable overall football season (college and NFL). He guarantees a winning football season this year or he will work for free until you turn a profit. You can sign up for his college football and NFL picks and get more information here.