2011 NFL Free Agent Predictions
by Robert Ferringo - 6/20/2011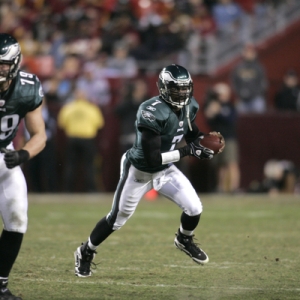 Journey with me into the Great Unknown: NFL free agency predictions.
The current labor situation in the NFL is a debacle (brought to you by 32 sadistic and sociopathic owners).But to me the lockout is simply an annoyance; in the end, a deal will eventually be reached and football will resume. When that will happen and how many games will this season entail are the parlor game-type questions open to rampant speculation. But a deal will be reached, most likely there will be between 8-16 games played, and the sport will not be altered all that much.
However, the real chaos will begin once a deal is reached between the players and owners: the NFL free agency period. And trying to make any accurate NFL free agency predictions is about as easy as trying to wrestle a dollar out of Daniel Snyder's fat fingers.
What if Michael Vick were to sign with the Redskins? What if Nnamdi Asomugha were to go to Green Bay and be paired with Charles Woodson? What if the Lions pick up two starting offensive tackles and a couple corners? What if Terrell Owens and Randy Moss sign on the same team?
I don't think that there is anyone, anywhere that can say with any real certainty how the league is going to look once play resumes. I'm not talking about changes in the game, but I'm stating that it is nearly impossible to predict which players are going to go to what teams. As a result it's next to impossible to have any idea who is going to be any good in what will be a uniquely frantic season.
And the reason that making predictions about NFL free agency is so impossible is that the whole system is like an incredibly elaborate dominoes setup. A team can't know what it is going to need until it realizes who is going to be leaving. And while a team may think it has a certain specific need to address, there could be three more that open up as the result of a free agent deciding not to re-sign.
A perfect example is San Diego. They currently have 25 combined restricted and unrestricted free agents. What is their team going to look like next year? Who will they keep and whom will they lose? Is this the end of an era in Chargers football after a decade of regular season dominance? No one can possibly answer with any level of certainty.
Another great example is Atlanta. The Falcons could start this season as dark horse Super Bowl contenders, especially if they bolster the secondary and add another marquee wide receiver. However, they could sign Antonio Cromartie and Randy Moss, but actually end up worse off because they lost two starting offensive linemen (Tyson Clabo and Harvey Dahl).
How quickly will players start signing? Will there be a massive amount of holdouts? Will the most highly-coveted free agents sign quickly and set the market or will they wait as long as possible to strike a deal? How much time will be allotted for free agency? How many general managers and agents are having truly secret, illegal, shady, back-channel negotiations even as the lockout casts a pall on this offseason?
And how is it going to be for the players to negotiate with the same organizations and management that just got done locking them out?!?!?
I find all of these unanswered questions dizzying. It's a very practical concern: no one has any clue what their 53-man roster is going to look like when play resumes. And these are just the tip of the iceberg. Watching this bizarre meat market that is NFL free agency play out this year is going to be fascinating. And as I wrote last week, I think that the free agency calamity is going to be the biggest impediment to us having a full 16-game NFL schedule this season.
So, yeah, I think it is impossible to make any type of NFL free agent predictions. So what am I going to do now? Make some random predictions. Please keep in mind that these are all just baseless conjecture. But hey, that's my job, right?
Without further ado, here are some NFL predictions pertaining to what I think are some of the most important dominoes in the NFL free agent pool:
Matt Hasselbeck, QB
The veteran quarterback still has some game left. He wouldn't be anything more than a crafty backup or a stopgap starter. But in one hectic year he could lead a team to the playoffs. I have long felt he was the most underrated quarterback of the last 15 years and I think he could make an immediate impact.
I could see him signing with San Francisco. I would be stunned if the Niners and new coach Jim Harbaugh re-signed Alex Smith. Hasselbeck would offer a chance to compete this year and would bridge the gap into the Harbaugh Era.
NnamdiAsomugha, CB
Asomugha is the most coveted player in the free agent class and should sign a shockingly big contract. But his play warrants it; if he isn't the best corner in the game he is certainly in the Top 3. He is in his prime and should only get better once he gets out of Oakland.
Every team is going to make an offer, but I think that Dallas makes the most sense. They always have a pile of money lying around to throw at marquee free agents and they have a desperate need for secondary help.
Cullen Jenkins, DT
I think that Haloti Ngata is a much better player, but I also think that Baltimore will do whatever it has to in order to re-sign him. Jenkins has some injury issues, but he can be very disruptive when he is on the field. Some team will overpay this talented, but unreliable, anchor.
I think that Houston, which is switching to the 3-4, could use Jenkins. I would also throw the Jets into the mix because Rex Ryan is always pretty aggressive in stocking up on defensive linemen.
Michael Vick, QB
Philadelphia clearly has the inside track on Vick, who burst back onto the scene last year and now appears to be worthy of some of his ample hype. I'm sure some teams will make a pitch, though, because he is one of the few "franchise" players in this year's class. Vick's signing will also send ripples through the league because it should lead Philly to deal Kevin Kolb, another potential starter.
I think he stays with the Eagles. He will be loyal to the team that took a chance on him and hopefully he is smart enough to know that he is in the perfect system.
Santonio Holmes, WR
Receiver is an absolutely loaded position in this year's free agent class. Moss, Owens, Holmes, Sidney Rice, and Vincent Jackson are just some of the names that are available right now. I focus on Holmes because they Jets will most likely be parting ways with free agent Braylon Edwards, so locking up Holmes becomes critical to their offense.
I think he stays put. I think that he and Mark Sanchez have pretty good chemistry and I think that the Jets will throw everything at Holmes to try to keep him.
Antonio Cromartie, CB
Cromartie has to be considered Plan B for all of the teams that are going after Asomugha. But I don't think Cromartie will A) come cheap and B) sign before Asomugha. Brent Grimes is another option for corner-starved teams, as is Champ Bailey if he isn't re-signed in Denver. But Cromartie has the elite athleticism and Pro Bowl resume that teams covet.
I predict that Cromartie will end up in Texas. I'm just not sure which CB-desperate team, the Texans or Cowboys, will ink him.
Matt Light, OT
Just like I picked Holmes to represent the loaded receiver crop, I have tabbed Light to represent what may be the most important position in the free agent market: offensive tackle. Light is a stud and I would be surprised if he was cut loose by the Patriots. But he is 33 years old and the Pats won't overpay for aging players. Tyson Clabo and Willie Colon are other tackle options on the market and they could make an immediate impact for a team on the verge of breaking out.
I think that the four teams that should be most aggressively targeting offensive tackles in free agent are Chicago, Detroit, Green Bay and Pittsburgh. And I think that Pittsburgh will let Colon walk (to Chicago) while the Steelers ink Light. I also think that Clabo will re-sign with Atlanta, but if he doesn't you can look for the Patriots to make a major move for him.
Robert Ferringo is a professional football handicapper and is coming off an exceptionally profitable 2010-11 season. He is looking forward to building on his stellar handicapping resume again this fall and you can purchase his football predictions here.