NFL Office Pool Picks Week 13
by Trevor Whenham - 11/29/2011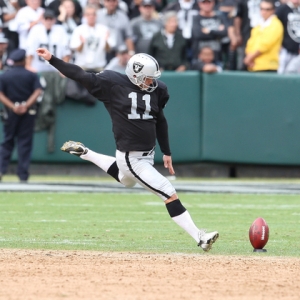 I don't know about you, but I have found this to be a frustrating season for my NFL office pool picks. A couple of weeks have been really bad, but most have just been solid. What I have lacked, though, is a truly impressive breakthrough week.
Some of the losses always seem to come in unexpected ways, too — like the Tim Tebow phenomenon, for example. This all stops this week, though. This is the week when it all makes sense, and things turn out exactly as expected. I feel it.
Here's how I see the office pools play out this week:
Philadelphia at Seattle - Two 4-7 teams meet in the Pacific Northwest. One is the biggest disappointment in the league this year. The other one is pretty much where they were expected to be. It all comes down to whether you think the Eagles have quit. My strong suspicion is that they have, and that they are going to lack effort here as they play out the last days of Andy Reid's reign in Philly. Take the Seahawks.
Oakland at Miami - The Dolphins are playing with toughness and intensity that I can't really explain but certainly can't deny. Oakland has been okay, but despite a 7-4 record I'm not really buying into them. I can't help but side with the home team here. Take the Dolphins.
Atlanta at Houston - Normally I would take the Texans without hesitation in this spot. The Texans have burned through two quarterbacks in two weeks, though, and neither T.J. Yates or Kellen Clemens give me a lot to get excited about. Take the Falcons.
Tennessee at Buffalo - The Bills have just not been very good lately, but I can't give up on them here. Tennessee is far from a strong team, and they have not been great on the road. Buffalo did some things well last week, and could be tough here. Take the Bills.
Kansas City at Chicago - This is an ugly game. The Chiefs have totally given up, and their QB situation is a mess — an unprepared Kyle Orton is likely their best option, and it's not much of an option at that. Caleb Hanie showed last week that he's not much of a starting option either, though. I'd rather not pick Chicago in this circumstance, but in this case I have no choice. Take the Bears.
N.Y. Jets at Washington - This is another game that I really would rather not pick. The Jets just aren't a great team, and Mark Sanchez managed to play as poorly as you can last week while still throwing four touchdowns. Washington doesn't really have a QB option to speak of. Awful game. One team has a clear edge, though — even if I don't like them. Take the Jets.
Cincinnati at Pittsburgh - I'm concerned about Pittsburgh's inability to score more than 13 points last week against Kansas City. Still, they are at home, they need this win for their divisional health, and the really don't like losing to the Bengals. I'd feel better if they were healthier, but take the Steelers.
Denver at Minnesota - Words can't even describe how ridiculous the Denver offense is right now. Painful. Unfortunately, it's much better than what the Vikings are capable of right now, and it will be enough to win here. Take the Broncos.
Carolina at Tampa Bay - I can't understand what has happened with the Bucs — a team that played so well last year and looked like they were on the verge of big things this year. Still, for some reason I just can't write them off. It has cost me several losses this season, but apparently I am too stupid to learn from that — they still look like the better team here. Take the Bucs.
Indianapolis at New England - Surely I don't need to say anything about this one, do I? Take the Patriots.
Baltimore at Cleveland - The Browns are doing some things reasonably well, but they still have a long way to go. The Ravens have some serious issues with consistency and with playing poorly against weaker opponents, but they have had a long week to get ready for this one and they should be in top form. Take the Ravens.
Dallas at Arizona - There is not an option that the Cards have at quarterback that I like. Not even a little bit. Dallas has been solid this year. They haven't been great, but they are certainly good enough to win here. Take the Cowboys.
Green Bay at N.Y. Giants - I won't even consider picking against the Packers until they give us a reason to believe that makes sense. They certainly haven't yet. Nor have the Giants shown anything that makes me think that they could be in the same class as the Packers on Green Bay's worst day. Take the Packers.
St. Louis at San Francisco - That was a rough loss for the Niners last week, and their QB protection was exposed in a very concerning way. I expect Jim Harbaugh to be able to get his team to bounce back very strong in this one, though. Besides, it is only the Rams and they have a bucket full of issues. Take the 49ers.
Detroit at New Orleans - As I write this the Saints are dismantling the Giants on Monday night. The Lions are going to come into this one with serious confidence issues after a very rough Thanksgiving Day. New Orleans is very tough at home, and they are obviously in strong form and feeling good. Take the Saints.
San Diego at Jacksonville - I am sure there have been worse Monday night games in the last decade, but certainly not many. I guess I'll take the Chargers, but I sure don't like it.
Allen Eastman is on a roll for his NFL picks. His incredible 411 System, the top NFL betting system in the nation, is on a 5-1-1 run the last few weeks and it is 81-47-4 the last four years overall. He will have a 7-Unit Game of the Year on his weekend card this week and a one-week package is only $99. Also, check his Insider's Page HERE for free sports picks daily.