NFL Picks: Jets at Steelers Odds and Betting Predictions
by Robert Ferringo - 1/21/2011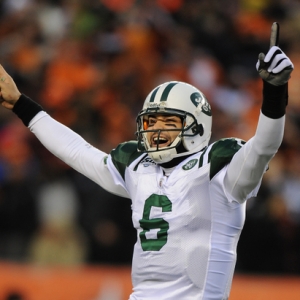 I think that the tone of the New York Jets speaks volumes about how this weekend's game is going to go.
The Jets are traveling to Pittsburgh to take on the Steelers this Sunday in the AFC Championship Game. The game kicks off at 6:30 p.m. EST with the winner earning a trip to the Holiest of Holies – the Super Bowl.
Last week the cocky, mouthy, not-as-bad-as-they-think-they are Jets spent the week blasting the New England Patriots. They were insulting Tom Brady, challenging the winningest organization of the last decade, and basically just being dicks. Of course, you can do that to the Pats. The Patriots are like those preppy, polo shirt-wearing rich punks that drive Beamers, have model girlfriends, blow coke at bitchin' clubs and you hate them because you know you will never be as good at life as they are.
But the Steelers are another story. They are gritty, grimy, pick axe tough and a bit dangerous. Are they living under a bridge? Who knows? Are those self-made prison tattoos? Who knows? Are they joking about the mix of what looks like blood and dirt on that shovel in the back of the pickup? Who knows? You don't mess with the Steelers because they are that creepy, rough guy that chugs grain alcohol and could snap at any time.
As such, leading into this week's AFC title game the Jets have spent the week kissing Pittsburgh's ass. And I think the reason is that the Jets know that while they want to be perceived as a hard-nosed, physical, violent football team they know that Pittsburgh has been playing that way for nearly a half-century.
This game is a rematch of a Week 15 game at Heinz Field. The Jets won that game – their first ever win in Pittsburgh – by the count of 22-17 with the help of a kickoff return for a touchdown and a late safety.
However, Pittsburgh has been one of the best bets in all of sports when playing in the postseason. They are an amazing 9-0 against the NFL point spread in their last nine games in January and a stunning 8-1 ATS in their last nine playoff games. They are also a perfect 5-0 ATS in their last five home games in the playoffs.
The Jets, though, have some steam. And whether or not it is justified they enter this game with a lot of confidence. Over the last two weeks New York has gone on the road and beaten two of the greatest quarterbacks of all time, topping Peyton Manning in Indy and Brady in Foxborough. If you throw in that Dec. 19 win at Pittsburgh and you could say that the Jets have beaten the three best teams in the AFC within the last month.
This is also New York's second straight AFC Championship Game appearance. They were actually beating Indianapolis in the RCA Dome last January but fell short in the second half, failing to advance to the Super Bowl.
New York has covered three straight in this series, winning the meeting this year (22-17) and in 2007 (19-16). They have also played an OT playoff game here in 2005 (20-17) where the Jets missed two potential winning field goals.
Pittsburgh is attempting to make its third Super Bowl appearance in the last six years. They won the title in 2005 and in 2008 and they have become the most decorated franchise – by Super Bowl victories – in NFL history with six.
The weather is calling for 17 degrees but no snow or wind. It should be another classic, hard-hitting championship slugfest between two of the toughest kids on the block.
AFC Championship Game Playoff Odds: New York Jets at Pittsburgh Steelers
This line has moved pretty predictably since an open of Pittsburgh -3.0 and with the total at 39.0. More than 60 percent of the bets are coming in on Pittsburgh, which was enough to move it off the key number of 3.0 to its current value of -3.5. But I imagine the books are getting enough "Joey" action on the Jets that they don't stand to take too much of a beating either way. The total is down to 38.5.
Jets at Steelers Betting Trends
Jets are 4-1 ATS in their last 5 meetings.
Jets are 6-1 ATS in their last 7 games in January.
Jets are 4-1 ATS in their last 5 playoff road games.
Jets are 4-1 ATS in their last 5 playoff games.
Jets are 4-1 ATS in their last 5 games overall.
Jets are 4-1 ATS in their last 5 playoff games as an underdog.
Jets are 12-4 ATS in their last 16 road games.
Jets are 8-3 ATS in their last 11 games as an underdog.
Jets are 9-4 ATS vs. a team with a winning record.
Steelers are 9-0 ATS in their last 9 games in January.
Steelers are 5-0 ATS in their last 5 playoff home games.
Steelers are 8-1 ATS in their last 9 playoff games.
Steelers are 5-1 ATS in their last 6 playoff games as a favorite.
Steelers are 5-1 ATS in their last 6 games overall.
Steelers are 4-1 ATS in their last 5 games as a favorite.
Steelers are 4-1 ATS in their last 5 home games.
NFL Picks and Predictions: Jets at Steelers
I like the Steelers in this one. When these two met the first time there were a lot of things working in New York's favor. They were off back-to-back brutal losses to divisional opponents and they were basically playing for their season in that game because of the logjam of teams fighting for the Wild Card. Pittsburgh was off back-to-back wins, but those two games were physical grinders against the Ravens and Bengals, two division rivals. The Jets benefited from two fluke scoring plays – an opening kickoff return for a touchdown and a safety – and if there had been about 15 seconds more in that game then the Steelers likely would have scored and won. Pittsburgh outgained the Jets by more than100 yards there and I simply don't see the Jets lucking out two wins in Pittsburgh in the same year. I don't believe in Mark Sanchez for one second, and I think that he has been fortunate the last two weeks to go up against pretty young, soft, inexperienced defenses. But Pittsburgh is going to be in his face all day on Sunday. And if the Steelers take away his security blanket, the running game, and force Sanchez to make plays then I think it could be light's out for the Jets.
Robert Ferringo is a writer and a professional sports handicapper for Doc's Sports. You can sign up for his college basketball and NFL picks and get more information here.