NFL Picks: Packers at Eagles Odds and Betting Picks
by Robert Ferringo - 1/6/2011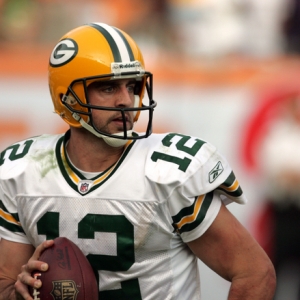 The NFL has the Green Bay Packers to thank for unleashing Michael Vick onto them this season. Now the Packers may reap the whirlwind.
The Packers head to Lincoln Financial Field this weekend to take on Philadelphia in a Wild Card Playoff game. Kickoff is at 4:30 p.m. on Sunday and this is a rematch of a Week 1 matchup.
In that game, a 27-20 Packers win at The Linc, Green Bay knocked out Eagles starter Kevin Kolb with a concussion in the second half. Vick came in, tore up the Packers for 275 total yards, and nearly led a comeback from a 20-3 deficit. Vick then went on to play as an MVP candidate for the remainder of the season and led Philadelphia to the NFC East crown.
Green Bay will now be forced to deal with Vick for a full four quarters and they will try to pull the tricky feat of beating a nondivisional team twice in the same season. The Packers punched their playoff ticket last week with a closer-than-it-should-have-been home win over Chicago.
These two teams have squared off seven times since 2003, including a classic 2004 Wild Card game that the Eagles won, 20-17, in overtime. That game featured one of the all-time great plays in Eagles history, a fourth-and-26 conversion from Donovan McNabb to Freddie Mitchell with just over a minute to play.
Prior to Green Bay's Week 1 win, the home team has won five straight and covered four of five against the spread in those games. The favorite is 4-1 ATS in the last five meetings.
This game is a matchup of two of the most explosive offenses in the NFL. Green Bay is packing the No. 9 total offense, the No. 5 passing offense, and the No. 10 scoring attack in the league. Philadelphia has been even better, boasting the No. 2 overall offense that is No. 9 in passing and No. 3 in scoring.
That means that this game should be decided by whichever defense rises to the occasion. Both employ a blitz-happy, attacking style that tries to put pressure on the opposing quarterback. That is an advantage for the Packers and Aaron Rodgers, who is more accurate and better at quick reads than Vick.
That said, there is no boxing in Vick, who can rip a hole into the hull of the most devastating defense with his legs. Between Weeks 10 and 15 Vick and the Eagles tallied 30 or more points in four of six games and averaged 35.7 points during that stretch.
But Philadelphia did have a little trouble with 3-4 defenses this year. They went 2-4 SU and ATS this year against teams that employ that style.
Green Bay has been one of the best road bets in the league over the past several seasons, posting a 24-12-1 ATS record away from home since 2006. Yet, their three road wins this season is the second-fewest of any of the playoff teams. Fortunately for them the Eagles' 4-4 home record is the worst of any team in the postseason.
Philadelphia is kind of backing into the postseason after two consecutive losses. The first loss, just eight days ago, was against a generally indifferent Minnesota team and its backup quarterback. That failure cost Philly a shot at a first round bye. The second loss came last week against Dallas in a game where the Eagles rested a majority of their starters.
Also, if you go back even further, the Eagles are just 3-3 SU and 2-4 ATS in their last six games. And one of those wins was in that absurd game against the Giants in which they were trailing, 31-10, with less than eight minutes to play.
Green Bay, on the other hand, has essentially been involved in playoff games each of the last two weeks and they have some momentum. In Week 16 they demolished the New York Giants, 45-17, in a game that featured the two teams in line for the final playoff spot. That put the Packers in control of their own destiny. And they punched their postseason ticket with last week's hard fought win over rival Chicago.
But it is going to take a lot more than momentum and a 3-4 defense to overcome Vick and Philadelphia's home field advantage in what should be the most competitive game of Wild Card weekend.
NFL Wild Card Playoff Odds: Green Bay Packers at Philadelphia Eagles
The Colts are a soft home favorite by virtue of being the home team. They are -2.5, according to current NFL lines, after an open of -3.0. The total is presently at 44.5 after opening by 45.0.
NFL Wild Card Playoff Betting Trends: Green Bay Packers at Philadelphia Eagles
Favorite is 4-1 ATS in their last 5 meetings.
Home team is 4-1 ATS in their last 5 meetings.
Packers are 3-7 ATS in their last 10 meetings.
Eagles are 3-7 ATS in their last 10 games as a home favorite of 0.5-3.0.
Eagles are 2-5 ATS in their last 7 games following a S.U. loss.
Eagles are 1-4 ATS in their last 5 games as a favorite.
Packers are 18-7-1 ATS in their last 26 games as an underdog.
Packers are 7-3 ATS in their last 10 games overall.
Packers are 7-3 ATS in their last 10 games as a road underdog of 0.5-3.0.
Packers are 1-3-1 ATS in their last 5 playoff road games.
Packers are 2-6 ATS in their last 8 playoff games.
Packers are 0-4 ATS in their last 4 Wildcard games.
NFL Picks and Predictions: Green Bay Packers at Philadelphia Eagles
I will have a play on the side in this game, so I don't want to give too much away. But the play on the total here could open up some significant value. I know that the square play is on the 'over' in this game, which features two of the best quarterbacks and a bevy of the most explosive offensive weapons in the league. But sometimes the obvious side is the right side. Last year the Packers brought a Top 5 defense out to Arizona in the first round of the postseason and they were promptly lit up for 51 points in a wild 51-45 game. Also, the 'over' has been the play in the opening round of the playoffs over the last two years, with six of eight games sailing over the total. Both teams throw the ball a ton and that means a lot of clock stoppages. I don't see any reason not to expect fireworks and I think that this one slides over the total in a spirited fourth quarter.
Robert Ferringo is a writer and a professional sports handicapper for Doc's Sports. You can sign up for his college football and NFL picks and get more information here.