NFL Week 8 Player Props Odds and Betting Predictions
by Alan Matthews - 10/27/2011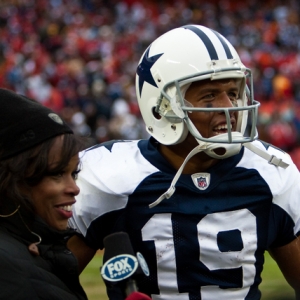 I focused mostly on quarterbacks making their first starts of the season last week when addressing Week 7 betting props in the NFL. The lead-in to that story was about the Oakland Raider starting Carson Palmer despite the fact he had been sitting on his couch only a week previous after holding out from the Bengals.
Well, in the small print of the Palmer prop on Bodog, he had to start against the Kansas City Chiefs for it to be active. And apparently Raiders Coach Hue Jackson was just playing mind games with the Chiefs as Palmer didn't start. The former Heisman winner did replace Kyle Boller in the second half and looked lost, throwing three picks. But throw that prop out.
I also looked at the passing yards, passing TDs and interception props for Minnesota's Christian Ponder, Washington's John Beck and Denver's Tim Tebow. I went 1-for-3 on Ponder ('over' 200.5 passing yards), 1-for-3 on Beck, and 1-for-3 on Tebow.
The only non-QB prop I addressed was whether Saints tight end Jimmy Graham would have a fifth straight game with 100 yards receiving. 'No' was a big favorite, but was the recommendation and Graham finished with 54. But overall not my best week. Let's do better in Week 8.
The ugliest game by far in Week 7 was Cleveland's 6-3 win over Seattle. Thus, that led to NFL odds for this Bodog prop: Will there be another game without a touchdown this season. 'No' is at -145 and 'yes' at +115. I might have to go 'yes' here. It almost happened again in Monday night's 12-7 Jaguars-Ravens game.
There have been a few games where there was only one TD scored this season. And any game involving the Dolphins, Jaguars, Seahawks, Redskins, Bengals or Colts always has the opportunity to see a touchdown not scored by those teams. The one common denominator? All are starting either a backup or rookie QB. We could see it this week with Bengals-Seahawks, and the winter weather is on its way, which usually hampers offenses. Those two Colts-Jaguars games later this season look good too.
Speaking of the Colts, you can bet on two props involving them: Will any team go 0-16 this season and which coach among Indy's Jim Caldwell, Arizona's Ken Whisenhunt and St. Louis' Steve Spagnuolo will be fired or resign first (note: I presume Miami's Tony Sparano isn't an option because it's just assumed he goes first).
On the 0-16, 'no' is at -1000 and 'yes' at +600 and, of course, you have the Colts, Rams and Dolphins still winless. As noted above, Indy still has two games with Jacksonville as well as two against a mediocre-at-best Tennessee team. Plus, Carolina visits Indianapolis. So the Colts will win one. The Rams play in the wretched NFC West (plus games vs. Cleveland and Cincy), so that almost assures they will win a game if not a handful of them.
This bet all comes down to Miami. I can't see them winning on the road, but then again the Fins have lost 12 of 13 at home. I give the Fins three chances, presuming no major injuries for other opponents: Week 10 vs. Washington, Week 11 vs. Buffalo and Week 13 vs. Oakland (if the Raiders don't have their QB issues solved). Will Miami be a favorite in any of those? Doubtful. Maybe if the Fins are winless on the final day of the season against the Jets and New York has nothing to play for, then Miami can win that one. But I'm taking that +600 and the 'yes'.
And on the coach prop, I would go with Spagnuolo at +300 (the longest shot). Caldwell, I presume, gets a pass for not having Peyton Manning. Whisenhunt did have the Cards in the Super Bowl two seasons ago and is under contract through 2013. But Spagnuolo really has no excuses for this season's fall off. And he's supposed to be a defensive guy and that unit stinks.
For our Week 8-specific prop this week, let's look at Dallas rookie running back DeMarco Murray's day against the Eagles in the Sunday night game. Murray blew up in last week's rout of the Rams, rushing for a franchise-record 253 yards (10.1 yards per carry), the second-highest total by a rookie in NFL history. He had just 24 carries for 71 yards coming into last weekend.
But don't get overly excited about that considering the Rams are No. 32 against the run. Philly is No. 23. Murray's 'over/under' for yards this week is 85.5 (over a -130 favorite) and his ypc is 5.0 ('under' a -130 favorite).
The Eagles are allowing 4.8 yards per carry on the season. I would definitely go 'under' on that. And I'm going 'under' on the yards as well. Yes, the Eagles did allow a back more than 85.5 yards in their first five games, including three backs running for at least 111 yards.
Last week they shut down the Redskins, but No. 1 Washington back Tim Hightower was hurt early. Still, I think Philly focuses more on Murray because they can stick Nnamdi Asomugha on top WR Miles Austin and force Tony Romo into mistakes. Plus the Cowboys probably use a ton of play-action with Murray. The rookie will finish with something like 18 carries for 70 yards.
Indian Cowboy has been dominating the NFL bookies. His very selective NFL handicapping system has yielded a 6-1 record for NFL picks thus far this season and IC is already hard at work on this weekend's card. Click Here for more information. A one-week package is only $99 and you get college and NFL for the week.