2012 Chicago Bears Predictions and Odds to Win Super Bowl
by Robert Ferringo - 7/28/2012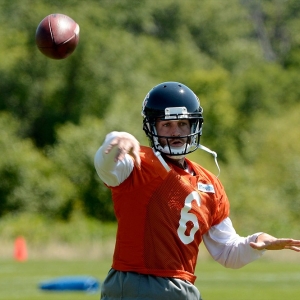 The start of NFL training camp is one of the most optimistic times on the sports betting calendar. Every professional football player is dreaming of a career year and eventual Super Bowl glory while every football bettor is conjuring up images of that perfect season with no bad beats and windfall profits.
Some players for Philadelphia are already talking dynasty even though this team hasn't won a playoff game since 2004. And someone for upstart Carolina took out a full-page ad in the Charlotte Observer discussing why his team is going to win the Super Bowl. Denver is talking about rings with Peyton Manning, people are predicting another 16-0 season for New England, and several other clubs like New Orleans, Green Bay and New York (both) have been hyped as potential champions.
But a team entering the 2012 season with quiet confidence and a growing groundswell of support from sharp bettors and smart football prognosticators is the Chicago Bears.
After their 2011 season was derailed by injuries and mismanagement Chicago went out and had one of the best offseasons of any team in the league. Some key additions and some in-house clean up have given this team a new look and has Bears supporters as excited for a season as any time that I can remember over the past decade.
Here are some 2012 Chicago Bears predictions:
Offense
This Bears offense has the potential to be the most talented and explosive of any they'vehad in 20 years. The offseason addition of woman-beater and all-pro standout Brandon Marshall gives the Bears their best receiver in decades. He is reunited with Jay Cutler and the former Broncos teammates are hoping to recreate the chemistry they had in 2007 and 2008. Matt Forte's contract situation has been resolved and that sends the Bears to camp with three legitimate Pro Bowl players at the skill positions for the first time in a long time.
Marshall could have a monster season if he can get a handle on the drops problem that plagued him in Miami. But his presence is also crucial because it allows the rest of the Bears receivers to settle into more natural positions. Chicago has essentially had a bunch of No. 2 and No. 3 receivers trying to get the job done by committee. But now that they have a go-to threat it should really help everyone else become more comfortable and productive in their roles.
The Marshall trade and the Forte signing earned a lot of offseason ink. But perhaps the most important maneuver was dumping former offensive coordinator Mike Martz. Martz has been one of the worst OC's in the NFL for over a decade and last year proved yet again that his schemes are a train wreck and can't be successful with anything less than the seven Pro Bowlers and multiple Hall of Famers that he had in St. Louis all those years ago.
Mike Tice will take the reigns of the offense. That should mean a lot – and I mean A LOT – simpler game plan and an added emphasis on both protecting Cutler (who has had his last two seasons cut short by injury) and establishing the run. Tice's main charge will be to soak out better play from Chicago's feeble offensive line. The Bears used a top pick on right tackle Gabe Carimi and are hoping that he performs better than past Chicago linemen taken in Round 1. But besides Carimi, this is the same group that underachieved the last two seasons and improved play from them is crucial.
Defense
The Bears haven't finished in the Top 10 in time of possession since 2001, and they have finished higher than 20th in that area just twice in the last 10 years. Improved efficiency from the offense and a focus on controlling the ball should only help out what has been the best defensive unit in the NFL over the last 12 years not named "Baltimore".
With Julius Peppers, Brian Urlacher and Lance Briggs back the Bears have one of the best front sevens in the game and one of the most talented veteran cores around. The Bears will continue to get the most out of their modified Cover-2 defense and have perfected this style of play over the last decade. They will continue to rely on a ball-hawking, turnover-producing approach to supplement their offense and the Bears have finished in the Top 6 in takeaway six times in the last seven years.
Chicago finished No. 5 against the run last year but just No. 28 in the league in passing yards allowed. Some of that had to do with playing five games against the high-octane offenses of Green Bay, Detroit and New Orleans. But the fact is that the Bears need better play from their safeties and that, outside of Charles Tillman, they don't have much in the way of difference makers in their back four.
2012 Chicago Bears Schedule Analysis
Ranked No. 20 in the league in terms of opponents' 2011 winning percentage, Chicago's schedule is tailor-made for a double-digit win season. The Bears open at home against rookie quarterback Andrew Luck and the Colts. They then play three of four on the road, including marquee games at Green Bay and at Dallas on "Monday Night Football."
Chicago has an early bye (Week 6), but after that six of their last nine are at home and the Bears should be favored in every one outside of a trip to San Francisco in Week 11. Road games at Jacksonville, Tennessee and Minnesota are all winnable and the Bears also host mediocre teams like Seattle and St. Louis.
Only four of Chicago's 13 opponents made the playoffs last year.
2012 Chicago Bears NFL Futures Odds
The Bears are currently +400 to win the NFC North, a distant second behind Green Bay's -350. Chicago is also +1400 to win the NFC and the Chicago Bears Super Bowl odds are currently at +2500. The Chicago Bears Las Vegas season win total "over/under" is presently at 9.0 but it is moving to 9.5 at a lot of sportsbooks.
2012 Chicago Bears Predictions
I am a die-hard Chicago Bears fan. But as a professional handicapper I am definitely an objective observer of sport first and a fan second. (Case in point: last year my top NFL futures bet was a 7-Unit Play on Chicago under 8.5 wins. They went 8-8 and I was thrilled.) And in my unbiased opinion I think that this could be a huge year for the Bears.
Chicago was playing like one of the best teams in football last year when Jay Cutler and Matt Forte got hurt. They were 7-3 against a tough schedule, had the No. 4 offensive in football, and everything was clicking. Now everyone seems to be back healthy and their offseason additions, particularly Marshall and potentially Carimi, really could take this team to a whole other level. If the offense improves that is only going to help out this savage defense.
The schedule is really set up perfectly for Chicago. I think they will be 3-2 heading into their bye week. Things really open up after that. Even if they split with Detroit, split a pair of games against Houston and at San Francisco, and if they suffer an upset to a lesser team along the way this team should still be able to roll out of bed and win 10 games.
Finally, don't underestimate the power of confidence. The Bears really seem to be focused, excited and drama-free heading into this year. They have veteran coaches and leaders, a track record of postseason success, and really have a lot of good karma and positive intangibles working in their favor. I'm predicting that the Bears will go either 10-6 or 11-5 and that will be back in the postseason, and this team is definitely a Super Bowl contender.
Robert Ferringo is a professional NFL handicapper and has posted back-to-back profitable seasons (college and pro). Robert has turned a profit in three of four football seasons and over the last nine months his clients have earned nearly $10,000 in profit with his football selections. He is looking forward to building on his stellar football handicapping resume again this fall and you can check him out here. Also, you can also get $60 worth of free Robert Ferringo member picks (no salesman, no credit card, no obligation!) byClicking Here for more info.