NFL Divisional Round Predictions: Giants at Packers Odds and Betting Picks
by Robert Ferringo - 1/10/2012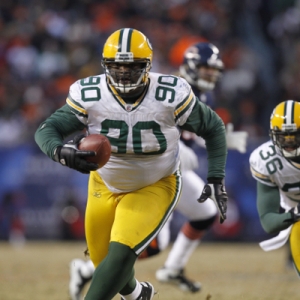 The New York Giants are the most predictable team in football.
A litany of diehard, "Joey" fans of the G-Men might not agree. Nor would a sea of football bettors, national prognosticators, or other members of the bobblehead media. However, when it comes to betting on or against, or predicting on or against the Giants, you need to follow one simple guide:
The Giants are one of the best bets in football as an underdog or when their expectations are low. In those instances they always play their best football and manage to find the cash. But this team always seems to flop when expectations are highest and they are perpetual underachievers as a favorite.
No matter what the expectations, at 4:30 p.m. on Sunday the Giants will take on the Packers at Lambeau Field in an NFC Divisional Round matchup. And the question is whether the Giants enter this game with high expectations as talk of another Super Bowl run intensifies or whether they enter this game with low expectations because they are on the road against the defending Super Bowl Champions.
Giants at Packers Betting Storylines
For the past week analysts have been trying to draw parallels between New York's Super Bowl run in 2007 and their potential run this season. From New York's near miss against undefeated New England in the 2007 regular season and this year's near miss against undefeated Green Bay, to their dominating Wild Card Round performance of both years, the stars seem to be aligning for the Giants to make another miracle run.
However, the Packers are still the champions and will remain so until someone proves that they are better than Green Bay for 60 minutes.
Green Bay has lost just once over its last 22 games. They are a fantastic 16-6 against the spread in those games and they have been the class of the NFL over the last 12 months.
The main strength of the Packers is in their nearly unstoppable offensive attack, led by Aaron Rodgers. Green Bay averaged a league-best 35 points per game and they have actually met or exceeded that mark seven times in their last nine games. Rodgers leads the No. 3 passing game in football and the Packers primary asset plays right into the primary weakness in the Giants defense: pass defending.
While Green Bay has been demolishing opponents all season long, they aren't without weakness. The Packers defense is ranked No. 32 in the NFL in total yards and No. 32 against the pass. While those numbers may be inflated due to Green Bay's up-tempo, high-scoring style, the fact remains that this group fell from No. 5 in the league last year to dead last this season.
Also, Green Bay's running game is ranked just No. 27 in football. So they will attempt to reach one of the rarest feats in football – back-to-back Super Bowl wins – by bucking 70 years of football wisdom that suggests a strong running game and great defense are what win in January.
For all of the accolades and praise that Aaron Rodgers has enjoyed this season, Eli Manning has been nearly as good. Manning set an NFL record with 15 fourth-quarter touchdown passes and has been one of the best clutch quarterbacks in the game. Receivers Hakeem Nicks and Victor Cruz have become as explosive as any duo in the game and Manning already torched the Packers secondary for 370 yards once this season.
The Giants played their best game of the season last week while demolishing Atlanta, 24-2. That game is essentially the third straight win-or-else game that the Giants have come out on top of in the last three weeks. They needed to beat the Jets in Week 16 to set up a play-in game against Dallas in the final week of the regular season. They obviously manhandled the Cowboys before doing the same to the Falcons in two elimination games over the last two weeks. This Giants team is definitely peaking at the right time.
Kind of like the Packers last year. Or the Giants in 2007.
Giants at Packers NFC Divisional Round Betting Odds
The Giants opened as 9.0-point underdogs in this matchup, according to NFL odds, but that line didn't last long at all. Nearly 70 percent of the action has come in on the G-Men and that has forced the line down to 8.0 or 7.5 at most sportsbooks. The Giants are also taking nearly 90 percent of all moneyline action on this game.
The total opened at 51.0 but has since swung up to 52.5. The weather is supposed to be clear (30 degrees but sunny) and with two top-tier passing games the expectation is clearly on a lot of scoring.
Giants at Packers NFC Divisional Round Betting Trends
As we touched on in the open, the Giants are exceptional in the underdog role this time of year. New York is 6-0 ATS in its last six playoff games as an underdog and they are 6-0 ATS in their last six road playoff games. The Giants are 6-1 ATS overall in their last seven postseason games and 5-2 ATS both overall as an underdog and on the road.
Green Bay has been an astounding 34-16-1 ATS in their last 51 games overall, spanning the last three seasons. They are 18-7-1 ATS in Lambeau Field and they are 5-1-1 ATS in their last seven Divisional Round playoff games. Green Bay covered all four of its postseason games last year and they are 15-5-1 ATS in their last 21 games as a home favorite.
The road team is 5-2 ATS in the last seven meetings between these franchises and the underdog is 4-1 ATS.
NFL Predictions: Giants at Packers NFC Divisional Round Betting Picks
I feel like this one is tougher to call than to simply say, "Take the Giants and the points". Green Bay has been so good – both on the field and at the window – over the past three years that you can't simply dismiss them. Yes, the Giants played exceptionally well last week against Atlanta. But it is not as if we haven't seen an ugly side to this New York team this year in stunning losses to teams like Washington and Seattle.
Also, I know that Green Bay won the first matchup on a last-second field goal. But I felt like the final score was a tad misleading. Green Bay had an absurd amount of drops in that game and they consistently missed opportunities to put distance between them and the Giants. I thought they were clearly the better team and now they have the advantage of getting the Giants outside of New York for the first time in over a month.
In terms of free predictions, I am leaning on the 'under' in this game. The Giants defense is as healthy as it has been all season long and they have surrendered just 30 points in the last three weeks. New York's strength on defense – its pass rush – also plays into Green Bay's weakness – its shaky offensive line.
I feel like Green Bay's defense is better than its statistics have shown and that they will find a way to hem in New York's explosive passing game. The public is loading up on the 'over' and looking for another playoff shootout. But I think that defense will have its day and would recommend a small play on the 'under' in this matchup.
Robert Ferringo has produced nearly $5,500 in football picks profit for his clients since the end of November and has earned his backers over $14,000 in profit in all sports this fall and winter. He has notched four of six winning weeks and will have another prime card this weekend. You can CLICK HERE for more info.