NFL Playoffs Predictions: Falcons at Giants Odds and Betting Picks
by Robert Ferringo - 1/3/2012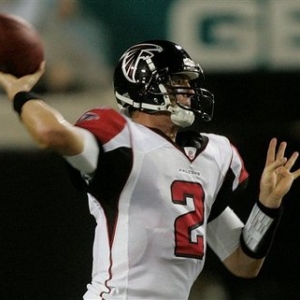 The NFL Playoffs start on Sunday for the Atlanta Falcons. For the New York Giants it is just the next round.
The Giants will welcome the Falcons to the Meadowlands at 1 p.m. on Sunday in an NFC Wild Card game. The Giants played their way into this position by beating Dallas on their home turf last Sunday night in a winner-goes-on-loser-goes-home game. The week prior to that they beat the New York Jets in a situation where a loss could have ended their postseason aspirations.
So for the third time in three weeks the Giants will take the field knowing that one false move, one costly turnover, one missed assignment, could mean the end of the line.
Falcons at GiantsBetting Storylines
The stakes remain high for the Giants. But there is no less pressure on Atlanta this weekend.
The Falcons have made the postseason twice in the last three years, losing at Arizona in the Wild Card Round in 2008 and getting rolled by Green Bay at home in the Georgia Dome last season in the Divisional Round. The pressure is mounting for quarterback Matt Ryan and coach Mike Smith to break through their glass ceiling and show some progress for the Falcons franchise.
Both of these teams are peaking at the right time.
New York blew out the Jets (29-14) and Cowboys (31-14) in each of their must-win games. They have covered the spread in four of five games and since going toe-to-toe with Green Bay at home back on Dec. 4 they have been playing sharp, aggressive football.
Atlanta was just 2-3 after their home loss to Green Bay back in Week 5. But since that game they are 8-3 with their only losses coming to New Orleans (twice) and Houston, both of which are in the playoffs. The Falcons closed the season by throwing up a 42-point first half at home against Tampa Bay.
There are several exceptional matchups in this game. Matt Ryan and Eli Manning are both top-tier signal callers and there are a bevy of big-time playmakers in the passing game – Roddy White, Julio Jones and Tony Gonzalez vs. Hakeem Nicks and Victor Cruz – and a pair of Pro Bowl-caliber running backs. Both teams feature monster pass rushes and both teams are made up of proven veteran talent.
Atlanta is No. 10 in the league in total offense and No. 12 in total defense. Their rushing game has fallen off a bit compared to recent years, checking it at just No. 17 in the league, but Michael Turner can still hit it when he has to. Defensively, the Falcons are No. 6 in the NFL in rushing defense. But they are just No. 19 in sacks and No. 20 in pass defense.
Statistically speaking, the Giants have one of the worst defenses in football. They are just No. 27 in yards allowed and No. 25 in points allowed. They have been able to overcome that thanks to Manning's incredible season and his leading the No. 5 passing attack in football.
The Giants defense is very dependent on sacks in order to get stops. And they are exceptional at it, posting 48 on the year. They will square off with a Falcons offensive line that has given up the sixth-fewest sacks in football.
In my opinion the key personnel matchup in this game will be the Giants passing game against Atlanta's pass defense. The Falcons front seven is one of the best in football and they have smothered opposing running games over the last two months. However, if Atlanta has an Achilles heel it is their up-and-down secondary. And since the Giants and their No. 29 rushing attack won't be able to run the ball anyway, this one will come down to Manning vs. the Atlanta secondary.
Falcons at GiantsNFC Wild Card Betting Odds
New York is a stock three-point favorite and the total is at 47.5, according to NFL odds.
That total has actually come down from an open of 49.0. The early betting is split nearly 50-50 and has held firm. But the Giants are taking over 80 percent of the moneyline betting in this game.
NFL Predictions: Falcons at GiantsNFC Wild Card Betting Picks
This should be the best game of the weekend and it is a tricky one to handicap. I think that Atlanta is the better team here. They run the ball and they stop the run much better than the Giants. And they also have a quarterback and passing game that is equal or better than what the G-Men have. This team is hot, and focused, and they have an outstanding shot at an outright win here.
The Giants have exactly one win this year over current playoff teams. And as impressive as their wins over Dallas and the Jets were over the last two weeks the reality is that all the Giants did was beat two equally sketchy, non-playoff teams. How much credit should they get for that?
But New York has the one thing that Atlanta desperate seeks: mystique. The Giants have the confidence that comes from past postseason success. This group always plays its best when the stakes are highest and they have a lot of swagger going into this matchup. Of course, having the home field edge doesn't hurt either.
I hate betting on or against the Giants, but I like the Falcons in this game. The Giants were just too shaky for my taste this year. They needed to come from behind in five of their last seven games – mainly against bad teams – and they play sloppy football. I think that this game is going to be nip-tuck and tightly played on both sides. I think the points will come in handy.
Robert Ferringo has produced nearly $6,000 in football picks profit for his clients since the end of November and has earned his backers over $14,000 in profit in all sports this fall and winter. He has notched four of five winning weeks and will have another prime card this weekend. You can CLICK HERE for more info.