NFL Predictions: Steelers at Broncos Odds and Betting Picks
by Alan Matthews - 1/3/2012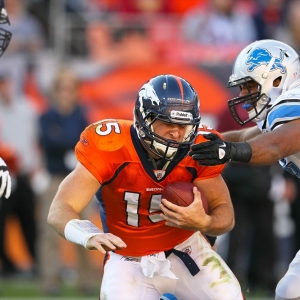 For the second year in a row we have a division champion in the playoffs without a winning record as the Denver Broncos (8-8) backed into the AFC West crown this past weekend. They will host the reigning AFC Champion Pittsburgh Steelers on Sunday in the final game of the NFL's wild-card weekend.
The Broncos, who ended a six-year playoff drought, ranked 25th in the NFL this season with a point differential of -81, the second-worst point differential of any playoff team since the NFL schedule expanded to 16 games in 1978. By the way, the only team with a worse point differential was last year's 7-9 Seattle Seahawks, who won the NFC West and then shocked the Saints on wild-card weekend.
Pittsburgh (12-4) tied for the AFC North title but was relegated to the No. 5 seed in the conference because it was swept during the regular season by the co-North champion Baltimore Ravens. Pittsburgh and Denver didn't play during the regular season.
Steelers at Broncos Betting Storylines
Probably no team in the playoffs is more beaten up than the Steelers. Their Week 17 13-9 win over the Cleveland Browns was very costly as Pittsburgh lost starting running back Rashard Mendenhall for the rest of the season to a torn ACL – he might not be ready to start 2012.
Mendenhall rushed for 38 yards on eight carries before getting hurt against the Browns and finished the year with 928 yards after running for at least 1,000 the previous two years. Mendenhall's biggest impact this season came in the red zone. Eight of Mendenhall's nine touchdowns this season came inside the 20-yard line, including five red-zone scores in his past seven games.
Now Isaac Redman will start. Redman led the Steelers with 92 rushing yards and a touchdown at Cleveland but he also lost two fumbles. He has had double-digit carries in just three games in his two-year NFL career.
Pittsburgh QB Ben Roethlisberger played Sunday despite his high-ankle sprain, but he clearly isn't 100 percent and it has showed. Since the injury, he has completed less than 60 percent of his passes, has thrown one touchdown to four interceptions (68.4 rating) and the Steelers have scored just two touchdowns in 10 quarters with him as quarterback.
In addition, star linebacker LaMarr Woodley missed the season finale with a hamstring injury. And cornerbacks Cortez Allen and Keenan Lewis were injured against Cleveland.
But perhaps the most unique "injury" belongs to a guy who won't appear on the injury report. Safety Ryan Clark may have to sit this out because he has a sickle-cell trait that is triggered when he plays football at high altitudes as in Denver. In a 2007 game there, Clark became violently ill and lost his spleen and gall bladder because of deprivation of oxygen to his major organs.
Steelers coach Mike Tomlin didn't let Clark play in a 2009 regular-season game at Denver. And he didn't let him play in a preseason game there last year. Official word on Clark could come sometime this week. He led the NFL's top-ranked defense with 100 tackles this season. Ryan Mundy, who has two career starts, would replace Clark.
Denver ended the season on a three-game slide but won the division because of Oakland's loss to San Diego on Sunday. Tim Tebow has clearly been solved. In Denver's ugly 7-3 loss on Sunday to Kansas City, Tebow was 6-for-22 for 60 yards with a pick – a 20.6 rating, his worst of the season.
When Denver went on a 7-1 run after Tebow took over as starter, he had only two picks and lost three fumbles in that stretch. He had four interceptions and lost three fumbles during the three-game losing streak. That doesn't bode well against that top-ranked Pittsburgh defense. The Steelers hasn't allowed a touchdown in their past two games and allowed double-digit points just once in the past six.
Denver also suffered a key injury in Week 17 with starting guard Chris Kuper breaking his leg and also suffering a major ankle injury. He's obviously out for the year. Kuper has missed just two games since 2007. Veteran Russ Hochstein will start in his place with his first start of the year. The Broncos are hoping strong safety Brian Dawkins​ can play against Pittsburgh. Dawkins has missed two games and parts of two others because of a neck injury.
Steelers at Lions Betting Odds and Trends
Pittsburgh opened as a nine-point favorite with the total at a miniscule 34.5 on NFL odds. The Steelers were 7-9 ATS this season and 2-6 ATS on road. Denver was 7-9 ATS and 1-7 at home. 'Over/under' records: PIT 6-10, DEN 9-7.
The Steelers are 1-5 ATS in their past six following a win. They are 9-2 ATS in past 11 playoff games. The Broncos are 1-7 ATS in past eight when after scoring 15 points or less in previous game. They are 2-6 ATS in past eight following a loss.
The 'under' is 5-0 in Pittsburgh's past five after a win. The 'over' is 4-0 in Broncos' last four home games vs. a team with a winning road record.
Steelers at Lions Betting Predictions and Football Picks
To have any chance, the Broncos are going to have to run the ball well and often. And the Broncos did lead the NFL in rushing and set a single-season franchise record for rushing yards with 2,632.
But Pittsburgh remains one of the NFL's top rushing defenses (eighth in league at 99.8 yards per game). And the Denver defense will need to force turnovers, which means Von Miller needs to play like he did in the first 75 percent of the season. He was benched Sunday against the Chiefs because he was a non-factor.
Miller had missed one game and was ineffective the previous three games while playing with a cast on his broken right thumb. With Roethlisberger likely not able to move around much, Miller should have his chance for sacks and he finished with 11.5 this season. However, the rookie hasn't had one in his past three games.
Well, I don't happen to think Denver will win this game, but I do believe nine points is too many to give. Final score: Steelers 23, Broncos 17, so go with the 'over'.
Strike Point Sports has brought his NFL picks clients more than $5,400 in profit this season and he loves the odds for this weekend's wild card games. His NFL handicapping should produce more great results this weekend and a one-week package is only $99! Click Here.