NFL Wild Card Predictions: Texans at Bengals Odds and Betting Picks
by Robert Ferringo - 1/3/2012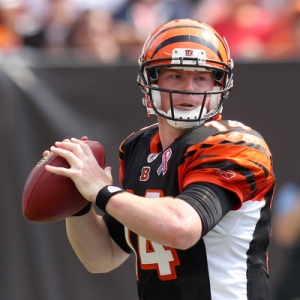 Even though Cincinnati and Houston have already squared off once this year, when they meet to open the 2012 NFL postseason it will be a game of firsts.
Not only will this game represent the first game of the 2012 NFL Playoffs, but it is also the first postseason game in the 10-year history of the Houston Texans franchise. Also, it will be the first playoff action for Cincinnati's dynamic rookie duo of Andy Dalton and A.J. Green.
Although this will be unchartered territory for players on both clubs there will definitely be some familiarity between the foes. This game is a rematch of a Week 15 game in Cincinnati that was won by the Texans. The Bengals led for the overwhelming majority of the game but a Houston touchdown with just two second left gave the visitors a 20-19 come-from-behind win.
Bengals at Texans Betting Storylines
The Texans are limping into the postseason – literally and figuratively. They have lost three straight games and, in fact, their last victory was that last-second win at Cincinnati on Dec. 11. Houston is a banged up team and last week they were forced to finish the regular season with their fourth different quarterback.
Third-string quarterback T.J. Yates, who took over after No. 1 quarterback Matt Schaub and No. 2 quarterback Matt Leinart were both injured in early November, left last week's game after one series after suffering some manner of neck or shoulder injury. That left the Texans to rally behind Jake Delhomme.
The reports out of Houston are that Yates is fine. He is probable for this week's game.
Houston rested several starters last week in attempt to stay close to full strength going into the postseason. Houston is among the NFL leaders in starts lost due to injury and the Texans have been forced to play without their best offensive and defensive players for long stretches this year.
Houston will have stud wide receiver Andre Johnson this weekend. He has missed nine of Houston's last 12 games – including their first meeting with Cincinnati – and has played the fewest snaps of his career.
Cincinnati has to be considered healthy and hungry going into their revenge match with Houston. Like the Texans, Cincinnati backed into the playoffs despite losing to Baltimore last week. Cincinnati is just 2-5 straight up in its last seven games and they enter the postseason on a 1-6-1 slide against the spread.
While people have been predicting the postseason for Houston for several years, Cincinnati has to be considered one of the biggest surprises in the NFL. Led by rookie quarterback Andy Dalton, the Bengals entered the year as one of the least experienced and least talented teams in the league.
But a 6-2 start – and a collapse by the New York Jets – helped them sneak into the AFC's No. 6 seed.
The game will be all about defense and limiting turnovers. Houston enters the playoffs with the No. 2 total defense in football and the No. 4 scoring defense. Cincinnati is No. 7 and No. 10, respectively, in those key defensive categories.
Because both teams will be relying on young, inexperienced quarterbacks seeing their first postseason action, creating and avoiding turnovers will likely dictate who advances. Andy Dalton has thrown just one interception in his last six starts and just keeps getting better and better. Yates has three interceptions in just six starts this year.
Quarterback play will be exacerbated by the fact that both defenses will be stacking the box to stop the run. Houston has the No. 2 rushing attack in football at 153 yards per game. Cincinnati is just No. 18 in rushing yards, but they are No. 10 in the league in attempts per game.
This game will actually represent the third time in the last four years that these clubs have met. Houston has won each of the last three meetings and they are 4-0 against the spread in the last four meetings dating back to 2005.
This game also has drastic implications for the rest of the AFC playoff picture. If the Texans manage to win they will set up a rematch with Baltimore next week. But that would also likely mean that Pittsburgh would head to New England for a Divisional Round game.
If Cincinnati were to spring the upset then they would meet up with New England and that would set the stage for a likely Pittsburgh-Baltimore meeting for the third time this year.
Bengals at Texans AFC Wild Card Betting Odds
The Texans have been installed as a three-point favorite in this game, according to NFL odds. The line was off the board at some books on Monday as they awaited word about Yates' status.
The total on this game opened at 39.0 but has been lowered to 38.0 with most of the early action coming in on the 'under'.
NFL Wild Card Predictions: Bengals at Texans AFC Betting Picks
I can't trust either one of these coaches and either one of these teams. Houston at least made the postseason on the back of its excellent defense and strong running game. But they are stumbling into the playoffs after three straight losses. And their last two wins – over the Bengals and a 17-10 win over Atlanta – were both fluke victories settled in the final seconds.
I don't have any more confidence in Cincinnati. They didn't beat a single playoff team this year and have been pretty mediocre over the last two months. Marvin Lewis is 0-2 in his career in the postseason, with the Bengals making their last trip in 2009, and it is difficult to trust a rookie quarterback on the road in his first playoff start.
Most of the early betting has come in on the Bengals (56 percent to 44 percent on the spread and 80 percent to 20 percent on the moneyline). I expect that will be the trend all week long. I also think that the books may move this number off of the key spread of 3.0, and if that happens I think there will be some value on the home team.
If you have to play this game I think that the best bet is on the first quarter 'under'. This prop line likely won't be available until later in the week. I predict that the first quarter spread will be right around 9.0 and I think that is going to offer very good value. Both teams are going to come out and try to establish the run while trying to keep their young quarterbacks from making any mistakes. If there is much scoring in this game I expect it to come in the second half.
Robert Ferringo has produced nearly $6,000 in football picks profit for his clients since the end of November and has earned his backers over $14,000 in profit in all sports this fall and winter. He has notched four of five winning weeks and will have another prime card this weekend. You can CLICK HERE for more info.