AFC West Predictions and Futures Odds with Betting Picks
by Robert Ferringo - 8/1/2013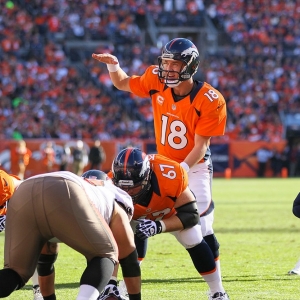 I don't know what it is about the West Coast, but football doesn't exactly flourish there.
The NFC West had been the worst division in football over the past decade. They are attempting a revival. But in the meantime the AFC West has taken up a post as the league's outhouse.
San Diego, Oakland and Kansas City combined to go 7-23 straight up against the rest of the league last year. Including Denver, the AFC West has won just 43.3 percent of its games against the rest of the NFL.
I don't expect this season to be much better.
Denver is the clear-cut favorite to win the division. And unless Peyton Manning's neck implodes, they will stay on top of this rabble. San Diego and Kansas City are both breaking in new coaches. Oakland and the Chiefs are fielding new quarterbacks. And all three of the division's second-tier teams will be fighting to avoid another Top 5 draft pick next April.
Here are my 2013 AFC West predictions with betting odds:
Denver Broncos Predictions
2012 Record: 13-3 (7-1 home, 6-2 road)
2012 Against the Spread: 10-6 ATS, 10-5-1 vs. Total
2012 Rankings: 4th offense (5th pass, 16th rush); 2nd defense (3rd pass, 3rd rush)
2013 Odds: 5/1 to win Super Bowl, 2.5/1 to win AFC, 1/6.5 to win AFC West, 11.5 wins "Over/Under"
Offense: Peyton Manning is a savant. Enjoy his greatness while you can. And now that the Broncos have Wes Welker to team with Demarius Thomas and Eric Decker – as well as the two-headed tight end monster of Joel Dreessen and Jacob Tamme – the Denver passing attack will be nearly unstoppable.
Manning, who completed an eye-popping 68.7 percent of his passes last year (think about that for a second), will have the benefit of an outstanding offensive line. Denver lost center Dan Koppen to an ACL tear on Sunday. But Denver has capable replacements. And several Pro Bowl-caliber guards and tackles will brace whoever snaps the ball to Manning.
The big question mark is clearly in the running game. Rookie Montee Ball and several other unreliable backs will try to support Manning. But Denver lacks the power runner that they lost with Willis McGahee last year, and that could hurt them once the weather turns.
Defense: The Broncos defense is good enough. Is it good enough to win a championship? We'll find out. Denver lost more than it gained on this side of the ball this offseason. But the unit still represents one of the better defenses that Manning has played with over the past decade.
The debacle surrounding Elvis Dumervil's departure will haunt the Broncos all season long. They will also be without animal linebacker Von Miller for four games due to suspension, and they parted ways with veterans D.J. Williams, Keith Brooking, Justin Bannan, Joe Mays and Tracy Porter. That will take a toll on last year's Top 5 unit.
Denver will recover from Miller's absence. And when he rejoins the team he'll invigorate a rock-solid front seven that is sturdy at the point of attack. Middle linebacker Nate Irving is average. But Denver signed Shaun Phillips this offseason and has an up-and-comer in Wes Woodyard on the weak side.
Denver's secondary is a strength – as long as they can mentally get past Mike Adams' meltdown in the playoffs. Denver brought in Dominique Rodgers-Cromartie to add some playmaking.
Skinny: Denver has just about all the makings of a Super Bowl Champion, and they enter the season on par with San Francisco as the favorites to win it all.
But I say that Denver, "just about" has what it takes, because there are still some weaknesses. The Broncos needed Dumervil, and they are a little short on top-tier, Pro Bowl-caliber defensive players. Also, will Denver find a running game? For all the talk about how this is a passing league now, the last time I checked the two teams that played for the title in February got their on the strength of two of the best running games in the NFL.
John Fox is an excellent coach. Denver has a level of toughness that Manning's teams never had in Indianapolis. And the Broncos benefit from A) playing in one of the worst divisions in football and B) playing in the far inferior conference. Barring something unforeseen, this team will be one of the last men standing this postseason.
Kansas City Chiefs Predictions
2012 Record: 2-14 (1-7 home, 1-7 road)
2012 Against the Spread: 5-11 ATS; 6-9-1 vs. Total
2012 Rankings: 24th offense (32nd pass, 5th rush); 20th defense (12th pass, 17th rush)
2013 Odds: 60/1 to win SB, 25/1 to win AFC, 5/1 to win AFC West, 7.5 wins O/U
Offense: The Chiefs offense should look drastically different this season. That is to say that it might actually be effective. Andy Reid has an intriguing staff and will assume his usual position as offensive play caller. That should result in a pass-happy attack with some interesting wrinkles.
Reid's Eagles finished in the Top 10 in eight of the last 12 years. And that includes groups led by less-than-dynamic guys like Duce Staley and James Thrash. Reid should be able to fashion something out of a unit with Jamal Charles, Dwayne Bowe, Dexter McCluster and several highly-touted offensive linemen.
Besides Reid, the key addition to the Chiefs was obviously signing Alex Smith. I am a big fan of Smith's work. Yes, he is limited. He will never be Tom Brady or Aaron Rodgers. But Matt Cassel was a noodle-armed loser who couldn't take a hit and couldn't stop turning the ball over. Smith is the antithesis. He is a veteran that's served time in a host of different offensive schemes. He has also played on terrible teams and Super Bowl contenders. So he brings a lot of knowledge and experience to the table. Smith has 62 touchdowns and 32 interceptions over the past four years and is just the type of steady hand that Reid can work wonders with.
Defense: Kansas City's defense hasn't finished higher than No. 11 in the past three years. But when you consider how pathetic the offense has been during that stretch, the defense has had to carry more than its fair share of the burden. They could be even better with more support from the opposite side of the ball.
The Chiefs have four Pro Bowlers on defense, including linebackers Tamba Hali, Justin Houston, and Derrick Johnson. The fourth all star, safety Eric Berry, anchors a secondary that was massively upgraded with the additions of Dunta Robinson and Sean Smith. Kansas City's back seven is littered with top-end talent, and they could be even better in a more aggressive scheme.
The front office has invested a load of high draft picks on the defensive line. They have gotten little return on that investment. This group just needs to be stout and let the back seven make the plays.
Skinny: It's not rocket science. If you improve your coaching and your quarterback as much as Kansas City has you are going to improve your performance and your record significantly. That's what I see for the Chiefs. Reid and Smith are massive upgrades from what Kansas City has been dealing with, and they will pay immediate dividends.
If Kansas City is going to take a gigantic step forward they need to regain some of the Arrowhead mystique. Kansas City has long been one of the most difficult places in football for a road team to get a win. But the Chiefs have gone just 15-34 straight up and a pathetic 18-31 against the spread at Arrowhead over the past six years.
The Chiefs have a very manageable schedule. And if the new brain trust takes off like I think it will, then Kansas City could top the .500 mark for just the second time in seven seasons. Keep an eye on this crew.
San Diego Chargers Predictions
2012 Record: 7-9 (3-5 home, 4-4 road)
2012 Against the Spread: 7-9 ATS, 10-6 vs. Total
2012 Rankings: 31st offense (24th pass, 27th rush); 9th overall (18th pass, 6th rush)
2013 Odds: 45/1 to win SB, 25/1 to win AFC, 8/1 to win AFC West, 7.5 wins O/U
Offense: The Chargers offense plummeted from No. 6 in the league in 2011 to No. 31 in 2012. Most of the blame was laid at the feet of Philip Rivers. But the real culprit was the NFL's worst offensive line. The Chargers gave up three sacks per game and managed just 3.6 yards per rush (second-worst in the league).
San Diego made some nominal moves to beef up the o-line. They used their top pick on D.J. Fluker, who may or may not be ready to contribute right away. They also added mediocre tackles King Dunlap and Max Starks. That those two players are considered upgrades shows how awful things were. Center Nick Hardwick will be back from injury. And if this line isn't much better, I wouldn't expect much of an overall improvement when the Bolts have the ball.
Rivers didn't respond well to the enormous amount of pressure he faced last season. But he also doesn't have anything to work with. Antonio Gates is the shell of his former self. Ryan Matthews can't stay healthy. Malcolm Floyd has been overrated for years. I like Danario Alexander, but the Chargers look like a team with four No. 2 wideouts and no go-to guy.
Defense: Somehow this team finished No. 9 in yards allowed last year, and they wisely retained defensive coordinator John Pagano. But the Chargers are kind of a mess on this side of the ball. I like OLB Jarrett Johnson and DE Corey Liuget. Eric Weddle is solid and improving every season. But, other than that, there isn't anyone on this defense I couldn't live without.
That includes high-profile free agent pickup Dwight Freeney. Freeney is a future Hall of Famer. But he looked lost in coverage last year in Indianapolis as the Colts moved him to OLB in a 3-4 alignment. I thought for sure Freeney would sign with a team with a 4-3 base. But he opted for San Diego's 3-4, and I think he will be an average linebacker this year.
The San Diego secondary is "meh". They were perfectly mediocre against below-average passing teams. But any competent group lit them up. They face some monster passing attacks this year – Denver, Dallas, the Giants, etc. – and need to see improvement or else this whole D will be exposed.
Skinny: If you go back and read any of my preseason previews from 2010-2012, you'll see that I was ahead of the curve in regards to San Diego's deterioration. They've experienced a massive talent drain over the past four years, and the simple fact is that this isn't an overly skillful roster any more.
The Chargers have seen their win total decrease in each of the last three years. But they haven't bottomed out with a three- or four-win season like the other three teams in the AFC West have in the last decade. Is this that season for the Chargers? And is Mike McCoy a capable coach and an upgrade over Norv Turner, or is he in over his head?
Expectations (and interest) are low in San Diego this year. Rightfully so. A weak division could keep this team involved. But the Chargers have a tricky schedule, and seven of their first 11 games are away from home, with five of those requiring cross-country flights. I think they will be an afterthought by Thanksgiving, but I'm not sure that the Chargers will fall completely off the radar.
Oakland Raiders Predictions
2012 Record: 4-12 (3-5 home, 1-7 road)
2012 Against the Spread: 5-11 ATS, 6-10 vs. Total
2012 Rankings: 18th offense (8th pass, 28th rush); 18th defense (20th pass, 18th rushing)
2013 Odds: 150/1 to win SB, 75/1 to win AFC, 20/1 to win AFC West, 5.5 wins O/U
Offense: I am firmly on record as saying that Oakland's offense is going to be a disaster this year. New offensive coordinator Greg Olson has led pathetic offenses at every stop in his seven-year OC career, with his teams averaging just 15.6 points per game.
Olson has gone away from the zone-read blocking scheme that has been very successful for everyone that utilizes it – other than the Raiders. Common wisdom is that Olson's power approach will be better for fragile feature back Darren McFadden. We will see. And we'll see how the offensive line adjusts to its new assignments.
We will finally get to see if Matt Flynn is an NFL-caliber quarterback or a career backup. I know everyone is excited about that. But even if Flynn is Jim Plunkett reborn, he doesn't have much to work with in the Oakland passing game. But he'll be asked to take care of the ball in Olson's West Coast offense.
Defense: The Raiders haven't finished in the top half of the league in scoring defense in a decade. They have managed to finish higher than No. 16 in total defense just once in the last six years and just twice in the last decade. It's not pretty. And I don't expect a big spike from last year's No. 28 scoring/No. 18 total defense.
The front seven is rabble. The linebacking corps is made up of third-tier players like Nick Roach and Kai Malava. Kevin Burnett is passable. But the front four is just a group of subpar rotation guys, making near the league minimum and playing at that level.
Oakland's secondary is the long strength on this side of the ball. Shockingly, Charles Woodson signed with this team in the offseason and brings a steady hand to the back line. Tyvon Branch and Usama Young both have potential. The corners are rookie D.J. Hayden, proven (but injury prone) Tracy Porter, and veteran Mike Jenkins. There are worse groups.
Skinny: Buffalo has been bad. Cleveland has been clueless. Detroit has been a disaster. But Oakland takes the cake as the worst team in football over the last 10 years. The Raiders have won over five games in a season just once, they haven't finished over .500 at all, and they are on their seventh head coach in 10 years. That is a remarkable amount of Suck.
Oakland has over $50 million in "dead" money on the 2013 salary cap heading into the season. Just two guys, McFadden and kicker Sebastian Janikowski, are making over $2 million. This entire season is just an obstacle to the 2014 offseason. That is when the direction of this franchise's next decade will be determined.
But in the meantime they still have to play every Sunday. This team has limited talent and no expectations. That could make them a value play for bold bettors. But if Flynn isn't much – MUCH – better than expected then there is also a chance for this season to be even worse than last year's 4-12 horror show.
Robert Ferringo is a professional handicapper and has posted back-to-back profitable seasons (college and pro). Robert has turned a profit in three of four football seasons and over the last nine months his clients have earned nearly $10,000 in profit with his football selections. He is looking forward to building on his stellar football handicapping resume again this fall and you can check him out here. Also, you can also get $60 worth of free Robert Ferringo member picks (no salesman, no credit card, no obligation!) by clicking here for more info.
Read more articles by Robert Ferringo