Basic Strategy Teasers: Best Week 1 NFL Betting Options
by George Monroy - 9/4/2013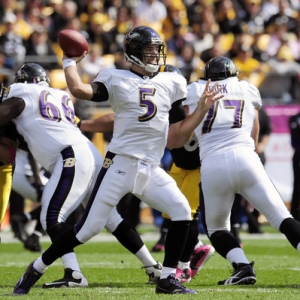 A basic strategy teaser may be one of the sharpest wagers a bettor can make during the NFL football season. These bets are simple six-point, two-team teasers that move spreads through the strongest NFL key numbers of three and seven—the most common margin of victory during professional football games. Basic strategy teasers are positive expected value plays and should provide bettors with an advantage over the sportsbooks. If a bettor were to blindly wager on these teasers over the course of the season, the odds say they would come out with a profit.
Basic strategy teasers are a very specific bet that only deals with spreads of -7.5, -8 and -8.5 for favorites and +1.5, +2, and +2.5 for underdogs. Let's take a look at the teaser options for Week 1 and go over which options are the best wagers to make.
Denver Broncos vs. Baltimore Ravens
Original Spread: Broncos -7.5 (Bovada)
Six-Point Teaser: Broncos -1.5
The Denver Broncos are expected to be a powerhouse yet again. The team is a solid favorite to win the Super Bowl, and Peyton Manning is the favorite to win his fifth MVP award. Last season Denver had an excellent 10-5-1 ATS record, while the Ravens had a not-so-stellar 6-9-1 ATS record. The Broncos will enter its Week 1 matchup against the defending Super Bowl Champions with high expectations and a bit of revenge on its minds for last year's playoff collapse. The team will probably cover the 7.5 points straight up, so teasing the spread down to 1.5 points is an excellent wager to make.
Atlanta Falcons at New Orleans Saints
Original Spread: Falcons +2
Six-Point Teaser: Falcons +8
Atlanta receiving eight points against the New Orleans Saints is another excellent teaser with loads of value. The Falcons are simply an excellent regular-season team, and there is no reason to suspect that things will change this year. Last season the team had a very respectable 9-6-1 ATS mark, while the Saints posted an 8-8 ATS record. It is common knowledge that the New Orleans' offensive excels when playing at home or under a dome in general, so the team has a solid chance of winning the game straight out. But this matchup should be a high-scoring affair between two great offenses, and pushing Atlanta's spread past the key number of seven gives bettors a lot of breathing room. It is very difficult to expect the Saints to win by more than a touchdown.
Pittsburgh Steelers vs. Tennessee Titans
Original Spread: Steelers -7.5
Six-Point Teaser: Steelers -1.5
This is the teaser that is up in the air. The Titans are not a powerhouse by any means, but they are a team that is liable to pull off an upset during any week. Last season the team went 6-10 and could easily improve on that record this year. Chris Johnson is expected to enter the season with a much to prove, and Jake Locker will have another year of experience under his belt. On the other side of the ball, the Steelers are not expected to be a major factor in the AFC as they face many questions on offensive and did not really improve their defense. Do not get me wrong, Pittsburgh should win this game, but the point is would anyone be surprised if they didn't?
Conclusion
There were only three basic strategy teaser games on the schedule for Week 1, so there was not a lot to choose from. The Broncos and Falcons are the most solid teasers to make. The Steelers as small favorite at home is not horrible either, but that is the one teaser that seems most liable to lose—even though it probably won't. Basic strategy teasers are solid wagers to make and generally produce a positive win rate at the end of the year. The best course of action for bettors is to wager on the strongest teasers every week (even though you could probably bet them blindly and still come out ahead.).
Sometimes, the best picks are free picks. Doc's Sports will give new clients $60 worth of free NFL picks with absolutely no obligation. You don't even need a credit card to sign up. Just click here and get started today.
Read more articles by George Monroy