NFL Divisional Round Weekend Player Props Odds and Betting Picks
by Alan Matthews - 1/11/2013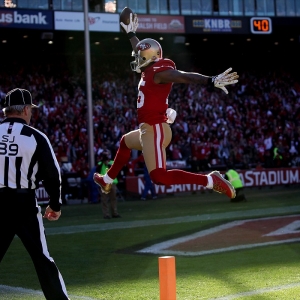 Well, that was a disappointing NFL wild-card weekend. Every game went under the total and every game was pretty ugly offensively. They say pitching wins championships in baseball, and considering the offensively-challenged but pitching-rich San Francisco Giants have won two titles in the past three years, it's true. And maybe defense and a running game are still the most important things in the NFL's postseason. That was the case last weekend, with no team scoring more than 24 points. Thus I did technically win the highest-scoring team prop as I went with the Packers; the Ravens and Seahawks also put up 24 points.
However, on the other three "mosts" it was squat. Aaron Rodgers was the favorite on the passing yards, but I took a chance on Houston's Matt Schaub to lead the weekend. He finished fourth with 262 – Colts rookie Andrew Luck won the week with 288. It took him a rookie playoff-record 54 attempts to do so as Indy lost at Baltimore. Rodgers was No. 3 with 274. That no QB reached 300 yards is stunning in this pass-happy era.
On the rushing, the Vikings' Adrian Peterson was the heavy favorite after averaging 204.5 yards during the season against Green Bay. But the Packers finally slowed him down – thanks in large part to Minnesota having to start backup QB Joe Webb – to the tune of 99 yards on 22 carries. I went with Baltimore's Ray Rice at 11/2, yet Rice uncharacteristically had two fumbles, leading to some bench time, and didn't lead his own team in rushing: Bernard Pierce did with 103. Houston's Arian Foster won the week with 140. On the receiving yards, Houston's Andre Johnson was the favorite and the pick. He was held to 62 yards on four catches. The Ravens' Anquan Boldin (??!) led the week with 145 yards thanks to a 46- and 50-yard catch in the third quarter alone against the Colts. It was only Boldin's second 100-yard game this season.
OK, let's start with this weekend's highest-scoring team on Sportsbook.ag. Denver and New England are +300 favorites. No surprise there considering the Broncos had 34 in Week 15's win at Baltimore and the Patriots 42 in Week 14's home victory over Houston. I don't like Denver this week as Ravens LB Ray Lewis is back after not playing in the first meeting. But mostly it's because it likely will be in the teens at kickoff. And Peyton Manning hasn't had a lot of success in cold weather in his career. He is 0-3 in playoff games when the temperature is under 40 with one touchdown and seven picks. It will be unseasonably nice in Foxboro on Sunday. I think New England has to be the pick, although it won't approach 42. But 30 points probably wins the week, and the Pats should get there.
At Bovada on the passing yards, Brady is the 3/1 favorite with Rodgers and Manning at 15/4. I mentioned above why I wouldn't touch Manning. I am tempted to go with Matt Ryan at 5/1 in the dome against Seattle, but Rodgers has to be the choice. Yes, the Niners were No. 4 against the pass during the season, but they also were No. 4 against the run. The Packers simply can't run the ball, so I expect Rodgers to approach the 44 attempts he had in Week 1's loss to the Niners, in which Rodgers threw for 303 yards. Rodgers' total this week is set at 280.5, so go "over" there (-125).
Houston's Foster is a monster in the playoffs, the first player with three straight 100-yard rushing games in his first three postseason games. Foster's 425 yards also are the most ever for a player in his first three games. The Patriots did a great job on him in the first meeting, holding Foster to 46 yards on 15 carries. And I believe Bill Belichick absolutely focuses everything on stopping Foster, as he is Houston's offense right now. Last week against the Bengals, he ran 32 times for 140 yards and had eight receptions for 34 yards. That was historic, as Foster was the first player in NFL history to have 30 or more carries and seven or more receptions in a postseason game. I think you have to take favored Seahawks RB Marshawn Lynch at 2/1 in Atlanta. The Falcons were No. 23 against the run during the season, and Lynch has rushed for at least 100 yards in five straight games, including 132 last week. Yes, he has a foot injury that caused Lynch to miss some practice this week, but obviously he will start. Lynch's total is set at 100.5 yards, with the over a slight -125 favorite. I'm actually not sure I would take over there. I believe 95 yards could be enough to win this week.
.
Finally, on the receiving yards, the Texans' Johnson is again the favorite, this time at 4/1, followed by the Patriots' Wes Welker at 6/1. Johnson had 95 yards on eight catches in the first meeting with the Pats. And Matt Schaub is going to need to throw deep at times to stretch the Patriots' defense as it gears up to stop Foster. But my value pick this week is San Francisco's Michael Crabtree at 7/1. Colin Kaepernick seems to love Crabtree much more than Alex Smith did. In the final five games of the regular season, Crabtree averaged 12.6 targets and 107.6 yards per game. Bovada offers Crabtree at "over/under" 75.5 yards this week, and I clearly love the over (-125).
I do also want to mention one coaching prop on Bovada that I think is terrific value. I will go deeper into this if it's still up next week, but the site asks if Bengals offensive coordinator Jay Gruden will be a head coach next season. "No" is -500 and "yes" is +300. I love yes here as I believe Gruden gets the Chargers' job. The fact that Broncos OC Mike McCoy – there's also a prop on him – will likely be tied up at least a few more weeks works hugely in Gruden's favor.