NFL Odds and Picks: Percy Harvin & Anquan Boldin Trade Props
by Alan Matthews - 3/12/2013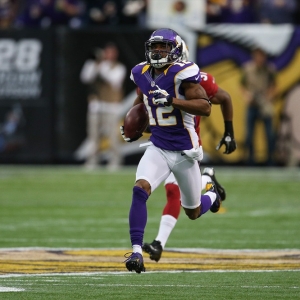 Remember the 2010 regular season when the NFC West was being pilloried as one of the worst divisions in National Football League history? The Seattle Seahawks made history that year by winning the West and reaching the playoffs with a 7-9 record. The San Francisco 49ers, in their final season pre-Jim Harbaugh, finished a game back of the Seahawks and Rams at 6-10.
Yet, as we stand today, with NFL free agency beginning Tuesday, the NFC West looks like a powerhouse after the 49ers and Seahawks combined for 22 wins, with San Francisco reaching the Super Bowl. Seattle coach Pete Carroll and the 49ers' Harbaugh had a heated rivalry in college when Carroll was at USC and Harbaugh at Stanford, and that should only continue with Monday's stunning news that Seattle had acquired receiver Percy Harvin from Seattle and then the 49ers got Anquan Boldin from the Super Bowl champion Ravens.
The Harvin news happened first, so I'm not sure if it's simply coincidence that San Francisco made a counter-strike so soon after. I doubt it is coincidence, and there are reports the Niners also were talking with the Vikings about Harvin. Seattle reportedly gave up a first-rounder and seventh-rounder this year and a conditional mid-rounder next season for one of the most exciting players in the NFL in Harvin -- when he's healthy. The 24-year-old made it clear he wanted out of Minnesota, but I'm shocked the Vikings got so little for someone of Harvin's talent and age (Carroll recruited Harvin out of high school).
With all due respect to NFL MVP Adrian Peterson, Harvin likely was Minnesota's Team MVP through eight weeks last year. He had caught 60 passes in the first eight games and returned a kickoff 105 yards before suffering a high ankle sprain during Minnesota's Week 9 loss in Seattle that ended his season. So Harvin was on pace for 110 catches and more than 1,200 receiving yards while averaging 35.9 yards per kickoff return.
Seattle will have to give Harvin a nice new contract, and there are always the worries about his migraine headache issues. But he's a scary-good addition to an offense that got scary-good late last season as rookie QB Russell Wilson matured. From Week 13 through the end of the regular season, the Seahawks led the league in point margin and were second to New Orleans in total yards. Now the Seahawks have a potentially great receiving trio of Harvin, Sidney Rice and Golden Tate to go with "beast mode" running back Marshawn Lynch and stud tight end Zach Miller.
Bovada lists three props for Harvin's 2013 season: "over/under" 999.5 receiving yards, 74.5 receptions and 7.5 total returning, receiving and rushing scores (all at -115). Harvin's best season in Minnesota was 2011 when he had 87 catches for 967 yards and six receiving scores to go with a kickoff return TD and two rushing touchdowns. I honestly don't think this guy will ever play 16 games in a season again. He's listed at 5-foot-11, 184 pounds but those are rather generous. And throw in the serious migraine problem. Thus, I would take the under yards and catches -- Wilson has a lot of weapons to appease -- but probably over scores only because it included rushes and returns.
As for Boldin, he will essentially replace Randy Moss, whom the Niners aren't bringing back after one quiet season in San Francisco. The Niners seem to have gotten a steal in giving up just a sixth-round pick for Boldin. Incidentally, it's the first trade between teams that met in the previous Super Bowl since the 2002 offseason when the Rams and Patriots made a minor deal.
Boldin, who knows the NFC West well from his Cardinals days, led the Ravens with 65 catches for 921 yards and four touchdowns in 2012. He was clearly Joe Flacco's top target in the playoffs with 22 receptions for 380 yards and four scores. It's partly Flacco's fault Boldin was dealt as Flacco got his six-year, $120.6 million extension. The Ravens were snug up against the cap, especially after that deal, and, thus, decided a soon-to-be 33-year-old receiver wasn't worth $6 million in the final year of his contract. Boldin told the Ravens he wouldn't take a pay cut so the Ravens at least got something for him rather than cutting Boldin. Now he will have the pleasure of playing for both Harbaugh brothers. Boldin had made some noise about retiring as a Raven, but don't buy that.
Boldin won't be the statistical difference-maker that Harvin will be, but Boldin brings size (6-1, 220) and leadership to the 49ers. Here are his Bovada totals for 2013: 825 receiving yards, 64.5 receptions and five touchdowns (all at -115). Boldin has missed at least one game in five of the past six seasons, so factor that in. He's likely to be no better than the No. 3 option for Colin Kaepernick behind Michael Crabtree and Vernon Davis. I like the under on all three, but still love the trade for San Francisco.
At BetOnline, the Niners are +700 to win the Super Bowl and +500 to win the NFC, while the Seahawks are +800 and +500, respectively.
Read more articles by Alan Matthews