NFL Power Rankings - Week 1
by Robert Ferringo - 9/3/2013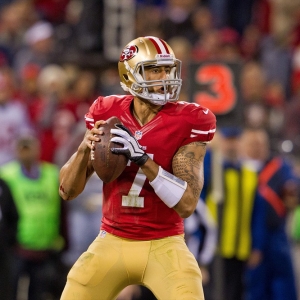 I have been staring at these spreads for a month.
Time has seemingly been standing still over the past six weeks as we have endured the time between the start of training camp and the actual start of the 2013 NFL season. Professional football is one of the most massive industries in this country, and it has become a 365-day-a-year obsession. But after seven months of pointless speculation and gossip, we are finally at the moment where it has come time to prove one's self.
It's time for the games to begin.
From coaches to players to front office personnel to gamblers to handicappers to fantasy football players to statistical analysts to media bobbleheads to online prognosticators – it is time to find out who is legit. It is time to find out who was right and who was wrong, with history ready to absorb both winners and losers. And it is time to take the first step of what will be a six-month march toward The Big Game in The Big Apple this coming February.
Seize the day, my friends. And good luck on the journey.
Here are Doc's Sports Week 1 NFL Power Rankings:
1. San Francisco 49ers (0-0) – I am not as convinced that San Francisco is the clear-cut best team in the league as I was a month ago. But I will give them the top slot because they have the best defense in football and because their coach has been the most reliable wager in football, college or pro, over the last three seasons. The 49ers are an outstanding 25-12-1 ATS in their last 38 games and are 15-6-1 ATS in their last 22 home games. It is pretty tough to be looking past your home opener. But San Francisco does have a Sunday night game with hated rival Seattle on deck, and they better not be looking ahead.
2. Denver Broncos (0-0) – It has been a rough preseason for the Broncos. Injuries have mangled the defense, although the Broncos do expect to have Champ Bailey back this week to lead a new-look secondary. Denver's best defense is still Manning's offense, though. And last year Manning just toyed with the Steelers on opening night. Denver obviously has a massive revenge angle in Thursday's game with Baltimore. But the spread is finally starting to tumble down after opening at an inflated 8.0. About 60 percent of the action is coming in against the Broncos, and I won't be stunned if this number gets down to just a touchdown by kickoff.
3. New England Patriots (0-0) – The focus this preseason has been on how Tom Brady gels with his new, inexperienced receiving corps. But what stood out to me while watching the Pats was New England's defense. The D looked solid against Philadelphia and Tampa Bay, and I think this could be their best unit in four years. The Patriots have predictably owned the series with the Bills, winning 18 of the last 19 meetings outright. The Patriots are 19-8-1 ATS in the last 28 meetings, and they are 8-1 ATS in their last nine games in Orchard Park. I think the Patriots are eager to put their tumultuous offseason behind them and will look to make a statement that they are still a force to be reckoned with.
4. Houston Texans (0-0) – It was another successful preseason for Gary Kubiak and company. By now we kind of know who this team is and what they are about. Houston has won three straight Week 1 games, but they have about one-quarter of the buzz that they have had entering each of the last two seasons. Maybe that's a good thing. Houston is 15-6-2 ATS in conference games but, as usual, they have been a dud when the lights are the brightest. Houston is 0-5 ATS in its last five "Monday Night Football" Games.
5. Baltimore Ravens (0-0) – As defending NFL Champions, I know the Ravens didn't need to take this preseason all that seriously. However, Baltimore's starters were outscored by 23 points per game, third-worst in the league, and the offense was shaky. The Ravens are catching a huge number from Denver this week, and Baltimore has gone 5-0 ATS in its last five season openers and 11-5 ATS in September. This is a major test for Baltimore's new-look back seven. Four of Baltimore's nine DBs have less than three years of experience. Manning will be in attack mode from the first snap.
6. Green Bay Packers (0-0) – The Packers defense looked like a much tougher, cohesive unit this preseason than it did last year. That may not translate to the regular season. But the Packers have a chance for revenge after losing two games to San Francisco last year. Green Bay surrendered 323 rushing yards to the 49ers last January, and you know the Pack will take this week's opener very personally. They have been focusing on how to stop the read-option for the past nine months. Green Bay is 17-7-1 ATS as a road underdog and 11-4 ATS in their last 15 games catching points.
7. Chicago Bears (0-0) – Last year a change in coordinators sparked Atlanta's resurgence and helped a talented Falcons team get to the next level. The Bears are hoping that Marc Trestman and his staff can have a similar impact with a fresh, aggressive perspective for 2013. Chicago's starters outscored their opponents by 27 points this preseason, second best in the NFL. The Bears have won four straight home openers, including a thrashing of Indianapolis last year, but they are just 5-10 ATS in their last 15 games as a home favorite against an AFC foe. How the Bears rebuilt offensive line, featuring two rookie starters, plays against Cincinnati's excellent front four will set the tone for this season.
8. Atlanta Falcons (0-0) – It is amusing to me that the Falcons and their Atlanta college football relative, the Georgia Bulldogs, are both so similar this season. Both teams have one of the best offenses in their respective sports. But both are shockingly inexperienced and unprepared on defense. I have no idea how Mike Nolan expects his guys to slow down Drew Brees. The Falcons are just 2-7 ATS in their last nine matchups with bitter rival New Orleans. But the underdog is 6-2 ATS in the last eight meetings, and if this one becomes a shootout I'd still rather have Atlanta's defense than New Orleans' pathetic unit.
9. Seattle Seahawks (0-0) – Attrition has wracked the Seahawks front four. Chris Clemons and Bruce Irvin are out for Week 1, while Michael Bennett, Jerome Hill, Brandon Mebane and Cliff Avril are each trying to overcome maladies. There has been a reverse line movement in Seattle's game at Carolina, with the spread dropping onto the key number of 3.0 despite 80 percent of the bets on the Seahawks. That's probably because sharps know Seattle has gone just 11-29 SU in their last 40 road games. Add in an early start time for the West Coast club and a rivalry game with San Francisco on deck, and the Seahawks are facing several situational disadvantages.
10. Dallas Cowboys (0-0) – The Cowboys just don't know when to shut up. After a good, hard preseason, all we've heard out of Cowboys camp is the same delusions of grandeur we've come to expect from this completely mediocre franchise. I like how Dallas looked this preseason. But instead of them staying hungry and focused and out of the spotlight, the media reports coming from this group tell me that they still think they are better than they really are. I do like Dallas to win on Sunday. But we've been here before, as the Cowboys have redefined LOSER time and time again. Also, there is no way Anthony Spencer will play this Sunday.
11. Cincinnati Bengals (0-0) – Everyone loves the Bengals right now. Let's call it the "Hard Knocks" Effect. But the teams featured on HBO's excellent show have gone just 1-5 ATS in their last six Week 1 games. Maybe that's a fluke stat. But three straight "Hard Knocks" participants, including the 2009 Bengals, came up short in their season opener. In the past three years the Bengals have just two wins against teams that finished the season over .500. They are 6-2-1 ATS in their last nine road games, and I like how the Bengals secondary matches up with Chicago's weak passing game.
12. New York Giants (0-0) – Injuries have hampered this team all preseason. Their quarterback looked awful this August. They have major question marks on defense, and the more I look at this team the more I see 7-9. So obviously the Giants have the rest of the league right where they want them! New York does its best work when expectations are the lowest and when things look bleakest. They have won four straight games in Dallas, and the road team is 5-1 SU and ATS in the last six meetings. The underdog has gone 6-2 ATS in the last eight between New York and Dallas, and I expect the Giants to be ready to play.
13. Washington Redskins (0-0) – The Redskins charge into the season with the second-oldest teams in the NFL (average age: 26.84 years). I do think that the Robert Griffin circus has been a bit of a distraction for this team. It is simply unnecessary negative karma in the locker room. But more importantly, I think that a lack of live reps could hurt Griffin and the Skins on Monday. And the main issue is that Philadelphia is going to be throwing its novel offense as the Washington defense. The Redskins have glaring holes in the secondary, and that is precisely where the Eagles will attack.
14. Pittsburgh Steelers (0-0) – Can the Pittsburgh offense find a groove with Todd Haley calling the plays? The Steelers first team offense scored just one touchdown in six quarters of action, and the frustration from last year has carried over. On the plus side, the Pittsburgh first-team defense allowed only two touchdowns. The Steelers have won 10 consecutive home openers, and the host has won seven of the last nine meetings in this series. Keep an eye on how the Steelers defend Kenny Britt. Britt dominated Ike Taylor last season in their matchup.
15. New Orleans Saints (0-0) – I know that the readily accepted theory is that, "Sean Payton is back. The Saints will dominate again." But I still think that this team has serious issues on both sides of the ball. The offensive line is still a major question mark. If Marques Colston, who missed most of camp with a lingering foot issue, goes down then the receiving corps becomes pretty poor. And the defense is, graciously speaking, a total train wreck. I have no idea how this defense, which is already banged up and is still adjusting to Rex Ryan's schemes, has a prayer stopping the Falcons offense.
16. Kansas City Chiefs (0-0) – Andy Reid isn't normally a guy that puts a lot of emphasis on the preseason. But his Chiefs starters outscored opponents by 17 points this August, second best in the AFC. The Chiefs are one of five teams that, as of Tuesday, was catching at least 80 percent of the betting action in this game. Alex Smith needs to be aggressive this week. I know it is not in his nature. But the Jaguars secondary is suspect, and Smith needs to attack it vertically.
17. Carolina Panthers (0-0) – This is actually a revenge game for the Panthers. They were stopped on fourth-and-goal from the one with just minutes to play last year in a 16-12 loss to the Seahawks. Everyone knows I like to bet against Everyone's Sleeper Team, which was the Panthers last year. But a little known corollary is to bet on that same disappointing sleeper suspect the following season. Carolina still has the same talented core that had people raving last season. A new OC and a fresh start was just what these guys needed.
18. Minnesota Vikings (0-0) – Vikings starters were outscored by 16 points this preseason, tied for fourth-worst in the league. Their ground-and-pound style doesn't translate well to the preseason, so that is not all that surprising. The Vikings have absolutely dominated their series with Detroit, going 24-6 SU since 1998. The Vikings are 6-1-1 ATS in the last eight meetings and 8-4-1 ATS in the last 13 games against the Lions.
19. Arizona Cardinals (0-0) – I'm still not entirely sure what to make of this Arizona team. They are the third-oldest team in football and appear primed for a bounce-back season. But Carson Palmer has looked as shaky as ever, and the offensive line and running game is still a work in progress. If nose tackle Dan Williams (ankle) can't go in Week 1, that's a big problem. Arizona has dominated the Rams, going 9-3 SU against them, but they were swept in two games against them last year. The Cardinals are just 4-20 SU in their last 24 road games. But they have more confidence heading into this season than any in recent memory.
20. Indianapolis Colts (0-0) – Anyone that has read anything I've written this offseason knows that I am selling the Colts this season. That being said, I have to admit that they looked outstanding in the preseason. Indy's +42 scoring differential from its starters was by far the best in the NFL. The combo of Reggie Wayne and T.Y. Hilton looks phenomenal, and they are ready to bail Andrew Luck out. The Colts have failed to cover five straight Week 1 games. But they closed out 2012 going 6-0 ATS at home, and the spread on their game with Oakland this week has erupted from an open of 6.5 to the current number of 10.0.
21. St. Louis Rams (0-0) – For the second consecutive season the Rams enter the season with the youngest roster in the NFL. The Rams starters were outscored by 16 points this preseason, fourth-worst in the league, but I got the impression that Jeff Fisher was holding back quite a bit. I mention this a lot in these power rankings, but I just want to make my position very clear: I think Sam Bradford is the most underrated quarterback in the NFL. I think he is a Top-10 talent and that he will have a fantastic season. The kid is outstanding. After losing seven of eight in the series, the Rams actually swept Arizona fairly easily last season, winning both games by two touchdowns.
22. Detroit Lions (0-0) – I know most people think that the Lions are some young, up-and-coming team because so many of their high-profile players are still in relatively early stages of their careers. But the Lions actually enter 2013 with the oldest roster in the NFL (average age of 27.15). So it is kind of now or never for Detroit. Can they show a shred of maturity and discard the penalties, turnovers, special teams meltdowns and general stupidity that has made them one of the shakiest teams in the NFL? The Lions are 7-3 ATS in Week 1, and they have revenge for getting swept by the Vikings last year.
23. Philadelphia Eagles (0-0) – In four preseason games, the Eagles ran an average of 75 offensive plays per game. That is 11 plays more than the NFL average in the 2012 regular season. I think Philadelphia's pace is going to bother opponents early in the season because those opposing players may not be in the same shape as the Eagles, who have been practicing and playing in this system for months. However, I think the same system could end up wearing out Philadelphia as the season wears on.
24. Miami Dolphins (0-0) – Maybe the Dolphins didn't want to show too much in the preseason. Maybe that's it. But I have not been impressed with a team that seemed to be at the top of everyone's sleeper list this year. The Dolphins are 1-6 ATS in their last seven games in Week 1 and were just 3-5 ATS away from home last year. However, dating back to the start of 2007, the road team in Dolphins games has gone an outstanding 58-34-4 ATS, good for a 63 percent trend. This number has shifted from the Dolphins as a small favorite (-1.5) to a 'pick'em'.
25. Cleveland Browns (0-0) – The precocious Browns enter the season with the second-youngest roster in the NFL (25.25 average age). This is actually the third time in four years that they are taking on the Dolphins, and Cleveland won both of the previous meetings. The Browns are trying not to leave their momentum in the preseason after playing well in the past month. They will be without No. 1 wideout Josh Gordon for this one as he serves the first of a two-game suspension.
26. Tennessee Titans (0-0) – The Steelers and Titans have faced one another in each of the past five seasons. The Titans are 2-3 SU and 3-2 ATS in those games. The home team has won four of five, including the Titans pulling the 26-23 upset at home last October as five-point underdogs. But that was with Matt Hasselbeck, not Jake Locker, under center. The public actually likes the Titans in this one, with a small majority (53 percent) taking the points in this matchup. The underdog has gone 7-2 ATS in the last nine meetings.
27. Tampa Bay Buccaneers (0-0) – With 86 percent of the public on Tampa, the Bucs are playing in the game with the most lopsided action. Though it is less that 86 percent of bettors like Tampa Bay as much as it is that everyone agrees the Jets are a total disaster. Tampa Bay is one of the few teams that played as poorly as the Jets did this preseason. Tampa Bay was last in total yards on offense and last in points allowed on defense in the exhibition season. The Bucs offensive line is in shambles, and Josh Freeman has looked bad. The Bucs are 18-7-1 ATS on the road, but this play is not the slam-dunk that everyone thinks it is.
28. Buffalo Bills (0-0) – E.J. Manuel and C.J. Spiller are back at practice, and I expect both to start this week. The line on this game has responded, moving from a peak of 10.5 down to its current spot at 9.5. The Bills are 3-1 ATS against the Patriots as underdogs of 9.5 or more since 2008. And only three of their last seven losses to the Pats were by double-digits. The focus in this game is on the Buffalo quarterback. But my main concern is that the secondary still has no idea what it is doing in Mike Pettine's defense, which Tom Brady is more than familiar with.
29. San Diego Chargers (0-0) – This roster is a mess. Philip Rivers is going to keep this team competitive this season, but he can't do it alone. The Chargers still have one of the worst offensive lines in football, and their running game is almost nonexistent. Their longest rush of the preseason was just 18 yards. Both starting Chargers wideouts are hurt going into Week 1. This is the fourth time in five years that San Diego has opened the year on "Monday Night Football". They won at Oakland in 2009 and 2012 and lost at Kansas City in 2010. The Chargers are 11-5 ATS in conference games, and they are 4-0 ATS in their last four meetings with the Texans.
30. Jacksonville Jaguars (0-0) – I know I sound crazy here, but I actually think that the Jaguars offense has a chance to be pretty good this year. This could turn out to be an excellent "over" team after going just 10-21-1 against the total the past two years. Once Justin Blackmon returns from his four-game suspension, he will team up with Maurice Jones-Drew, Cecil Shorts, Mercedes Lewis and a posse of small, quick receivers to give the Jags their best cadre of skill position players in years. Unfortunately, it looks like Blaine Gabbert will be back under center in the opener. He has missed the last two weeks with a small fracture on his throwing thumb. But the more pressing issue for Gabbert is that he sucks.
31. New York Jets (0-0) – The Jets may start five rookies for the first time since 1976. Youth is obviously not their most discussed and dissected problem these days. But while the circus carries on in East Rutherford, it might be their most pressing one. Remember: the Jets went 0-4 in the preseason last year and were getting bombed by the local and national media. They were small home favorites against a shaky Buffalo team in Week 1. Embracing an "us-against-the-world" attitude, the Jets surged out to a 41-7 lead while coasting to a 48-20 blowout win. I'm just saying: as bad as these clowns are, they have been spry underdogs under Ryan in the past.
32. Oakland Raiders (0-0) – The Raiders starters were outscored by 30 points in just six quarters of action this preseason. That was second to Denver for worst in the NFL. But the Broncos have Peyton Manning, so they can do what they want in the preseason. I am one of the few people that don't think the Raiders will be better off with Terrelle "Accurate as Tebow" Pryor. Yes, he can run away from danger. But his lack of experience and terrible throwing motion will simply cause new problems.
Throughout the season I will have my NFL Power Rankings every Tuesday. My next ones will be released on Tuesday, Sept. 10.
Robert Ferringo is a lead writer for Doc's Sport and he is off to a brilliant start to the season. Robert has gone 20-4 with his last 24 football selections and is coming off an 11-2, +2600 college football opening weekend. Robert has already banked nearly $4,000 in profit for his clients in just one month of work this season. Going back even further Robert has secured 28 of 40 winning football months and earned nearly $12,000 in profit for his backers in the last 16 football months. He is coming out of the gate with a 7-Unit NFL Game of the Year in Week 1, and he is hoping to match last year's result when his 7-Unit Play on Atlanta over Kansas City was an easy winner (40-24). Take advantage of our free, no-strings-attached $60 credit to use toward a purchase of Robert's football selections and get on this big game. CLICK HERE for $60 absolutely free!
Read more articles by Robert Ferringo