NFL Office Pool Picks Week 10
by Trevor Whenham - 11/4/2014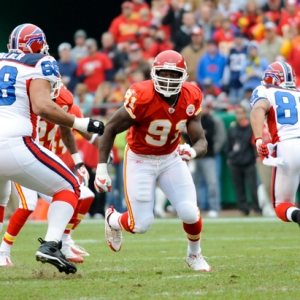 Last week was a perfect example of the mindset that can haunt you when making NFL office pool picks. By all measures it was a successful week -- correct picks came in bulk. None of those mattered -- even correctly taking the Patriots -- though, because of the stupid Chargers. I was convinced that they would be focused and angry after a longer-than-normal week of preparation and that they would take it out on the hapless Dolphins. They lost 37-0. And the game wasn't even as close as the score. Ouch. Further proof that the losses hurt more in good weeks. Here are this week's straight up picks -- with the Chargers, thankfully, on a bye week:
Cleveland at Cincinnati: It is no secret that I really don't trust or like these Bengals much. They have played very tough at home, though, and the Browns have just one win in three road games -- an issue for their playoff hopes given their second half. Take the Bengals.
Kansas City at Buffalo: I have no shortage of respect for the Bills and the way they are playing right now. Kansas City has won five of six, though, and has been as impressive as any team over that stretch of time. Take the Chiefs.
Miami at Detroit: I really like how Detroit is playing, and they are getting healthier following a bye week. This should be an easy pick for me. The absolute destruction of the Chargers by Miami, though, was more than a little bit of a warning sign. Geography is still the deciding factor here, though. Take the Lions.
Dallas at Jacksonville: Tougher game to call than it should be. Dallas is reeling after two losses, and though Tony Romo is expected to play, his health is far from ideal, and the backup scenario is far from ideal. Jacksonville isn't winning, but they finally have a running game. Blake Bortles is still making lousy decisions, though, and that is the difference. Take the Cowboys.
San Francisco at New Orleans: Both of these teams have their share of issues. Those of the Niners seem to be more significant at this moment, though, and New Orleans has been a dramatically better team at home than on the road. Take the Saints.
Tennessee at Baltimore: I'm not the biggest fan of the Ravens. Their highs are very high, but they really lack consistency. Fortunately for them here, though, there is pretty much nothing I like about the Titans right now -- especially away from home. Take the Ravens.
Pittsburgh at N.Y. Jets: Big Ben has thrown six touchdowns in EACH of his last two games. The Jets have lost eight straight and have allowed just short of 30 points per game over that stretch. If there is an easier game to pick, I can't find it. Take the Steelers.
Atlanta at Tampa Bay: I would be hard pressed to come up with a game that interests me less. Both teams are in the midst of lost seasons -- yet again. Atlanta is 0-4 on the road. Tampa Bay is 0-4 at home. What a mess. Take the Falcons, and then watch something -- anything -- else.
Denver at Oakland: This one is pretty much as easy as the Steelers' game to pick. The Broncos are embarrassed and angry and will be looking to take it out on the Raiders. Oakland is a mess with very little capability for competence. Take the Broncos.
St. Louis at Arizona: You never would have guessed two months ago that this would be the game of the week, but it may just be. The Cardinals have the best record in football and are in the process of running away with their division. The Rams are just 3-5, but two of those three wins have come in their last three games -- and against divisional foes Seattle and San Francisco. The Rams will be ready, but Arizona is just too tough -- especially at home. Take the Cardinals.
N.Y. Giants at Seattle: The Seahawks are packed with concerns. They just plain have issues. Their woes are nothing compared to the Giants right now, though. Eli Manning and company just looked outmatched and outclassed on Monday night, and that is far from the first time. Take the Seahawks.
Chicago at Green Bay: I was very high on the Bears coming into this season. That feeling has certainly passed. They just aren't playing well, and a bye week isn't going to remedy their issues. Green Bay is coming off a bye week and a rough loss of their own, but they had been playing very well before that, so they are much easier to trust. Take the Packers.
Carolina at Philadelphia: Mark Sanchez scares the heck out of me. The good news, though, is that even Sanchez can't be any worse than Cam Newton has been recently. The Eagles have a dramatically better cast of characters right now, and this one shouldn't be close -- even in the hands of the replacement QB. Take the Eagles.
Doc's Sports has free picks to give away, and they want you to have them. These are the same picks that members pay for, but you can have $60 worth absolutely free. No obligation. You don't even need a credit card to sign up. Just click here to get started.
Read more articles by Trevor Whenham