NFL Power Rankings Week 1
by Robert Ferringo - 9/3/2014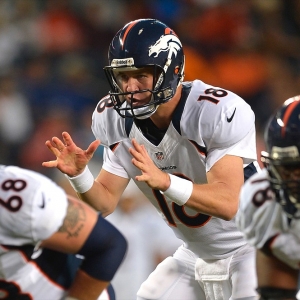 We are on the eve of destruction, waiting, anxiously, to unleash the fury of a thousand backdoor covers on unsuspecting sportsbooks in our attempt to dominate another NFL season. The six-month sojourn of professional football has come to close, and we are ready to begin another six-month-long football gambling odyssey as the 2014 NFL season commences this weekend.
And I am ready.
I am coming off one of the best NFL gambling seasons in Doc's Sports history, nailing an amazing 62.1 percent of my pro football predictions for the entire season (95-58). That's hitting over 62 percent for over 160 selections, a mark that only a select few of football handicappers and gamblers could ever dream of hitting.
But you know what that means heading into Week 1 of the 2014 NFL season: absolutely nothing.
One of the most important lessons of handicapping is being able to have a short memory. And in the NFL that means being able to purge the memories, be they good or ill, of the previous season. These are new teams. With new chemistry. With new karma. Set on a completely unique collision course that will create the 2014 season.
Most square public bettors are going to pick up right where they left off last year, treating this new beginning as if it were somehow a continuation of last year's action. It is not. The cosmic lottery is being redrafted, and right now everyone is starting at zero.
However, that doesn't mean we're not prepared. I've been intently following each of the 32 NFL teams throughout the offseason. I'm not trolling for fantasy sleepers or anything pathetic like that. I have had my finger on the pulse of these squads from free agency, through the draft, around minicamps, and into the preseason. And now that the real action is ready to start I'm ready to make that hard work pay off.
Below is my first NFL Power Rankings of the 2014 season. This is a snap shot of how I see the pro football field at this moment. Over the course of the next four days these initial readings will be thrown into chaos. But so it goes. Adapt or die.
Here is Doc's Sports NFL Power Rankings for Week 1:
1. Denver Broncos (0-0) – Peyton Manning-led teams are notorious for being pushovers in the preseason. Not this year. It was interesting to see the John Fox imprint on this August as Denver finished No. 1 in the league in total defense, and the Broncos were much more aggressive in their warm-up to the regular season. Denver is playing a big-time revenge game this Sunday night as the Colts spoiled Manning's return to Indy last October. That, along with vivid images of the maiming they gave Baltimore in Week 1 last year, is a big reason why the Broncos are hefty 7.5-point favorites this weekend.
2. Seattle Seahawks (0-0) – The last eight Super Bowl winners each failed to win a playoff game the following season. But if the Seahawks get another home playoff game you can pretty much throw that streak out the window. Seattle looked dominant this preseason. But, shockingly, they are taking less than half the action in Thursday night's showdown with Green Bay. The defending Super Bowl champion has gone 8-2 straight up and 6-3-1 against the spread in the Thursday night opener the past 10 years.
3. New Orleans Saints (0-0) – No spread has witnessed a larger movement than the Saints at the Falcons. New Orleans was originally released as a 1.5-point underdog but is currently a solid 3.0 favorite. The Saints have dominated their most hated rival and have won 13 of the last 16 meetings outright. The Saints are 5-2 ATS in the last seven meetings overall and have won five of their last six trips to Atlanta. They won their Week 1 game in the Georgia Dome last year due in large part to a dropped touchdown pass intended for Steven Jackson with less than a minute remaining.
4. San Francisco 49ers (0-0) – I don't know that any team had a worse offseason than the 49ers. And considering what teams like the Bills, Cowboys, and Browns have gone through that's saying something. The 49ers enter Week 1 with seven new starters on defense and compared to last year's season-opening roster. That's a large part of the reason why San Francisco-Dallas has seen the largest jump (three points) of any total heading into this weekend.
5. Chicago Bears (0-0) – I absolutely cannot believe that the Bears kept Chris Conte on the roster over Adrian Wilson or M.D. Jennings. The Bears have won four straight Week 1 games, and I expect their spread to settle at a flat 7.0 across the board by this weekend.
6. New England Patriots (0-0) – This week offers a rare revenge situation for the Patriots, who lost 24-20 in their last meeting with the Dolphins. That defeat cost the Patriots home field advantage in the AFC last year. The Patriots are 2-8 ATS as a road favorite and 1-6 ATS in their last seven road games. They also have some bad vibes after the Logan Mankins deal last week, and I wonder where this team's morale level is. But the Patriots are 24-6 SU in their last 30 divisional games, and we'll see if New England's improved secondary can dominate a very shaky Dolphin receiving corps.
7. Green Bay Packers (0-0) – I have to say that I'm surprised that the line in the Packers-Seahawks game has actually dipped. The Pack was initially posted as a six-point underdog. And despite Seattle's domination at home and the strong performance of past Super Bowl champions on opening night, the spread has dropped to 5.5. That spread is an underdog indicator and should set up a great game on Thursday. This is a revenge situation for the Packers.
8. Indianapolis Colts (0-0) – The Colts have beaten the Broncos six straight times and have covered the spread in each of those games. Indianapolis went 0-4 SU and 1-3 ATS this preseason. But their starters actually outscored opponents 33-23. Their receiving corps makes it tough to bet against this team when they are catching points. But their interior line is a mess, and I would put the "over/under" on Andrew Luck passing attempts at 50.5 on Sunday.
9. Philadelphia Eagles (0-0) – Philadelphia's starters and immediate backups scored 52 points in Week 2 and Week 3 of the preseason. That's 52 points in roughly five quarters of action. The Eagles are massive favorites this weekend. But teams favored by 10.0 or more in Week 1 went 0-2 ATS last year and are 6-10 ATS in this situation dating back to 2008.
10. Arizona Cardinals (0-0) – In a rare scheduling quirk, Arizona and San Diego just played last week in the final preseason game for both teams, and now they are meeting in Week 1. The Cardinals' season will once again come down to one very basic thing: can Carson Palmer handle pressure, not the turn the ball over, and basically not be a loser? The Cardinals are 0-4 ATS in their last four "Monday Night Football" games. While they will be amped up for this game they still need to prove that they can get consistent pressure on Phil Rivers.
11. Cincinnati Bengals (0-0) – The Bengals are 6-3-1 ATS in their last 10 games against the Ravens, and the heavy action on the defending AFC North champs has cut the spread in half from 3.0 to 1.5. Seven of the last 10 meetings in this series have been decided by one score, and I expect another tight contest. This week marks the first game for new Bengals OC Hue Jackson and DC Paul Guenther. Cincinnati's first-team offense was fantastic this preseason, scoring 40 points in six quarters of work. Andy Dalton has been sharp, and you know he is motivated to justify his large contract extension.
12. Baltimore Ravens (0-0) – I can't help but feel that the Ravens are being disrespected in this week's game. Yes, they have issues in the secondary. But they are one of the best home teams in all of football, going 20-4 SU in their last 24 at M&T Bank Stadium. They wreck people in Charm City, and the Ravens have won five of the last seven meetings with the Bengals. Baltimore is 11-5 ATS the last 16 times they have hosted the Bengals, and I think this one looks like an ambush with over 50 percent of the public backing Cincinnati. The Ravens starters were the only AFC North team whose starters did not get outscored by opponents on the season.
13. San Diego Chargers (0-0) – Philip Rivers looked sharp in his limited work this preseason, going 11-for-14 and leading the Chargers starters to two touchdown drives. But I am a little worried that he didn't get enough work and that San Diego's starters were outscored by 20 points this August. This is the fourth time in the last five years the Chargers have opened the season on MNF, and they are 4-1 ATS in their last five prime time games. San Diego is actually catching over two-thirds of the action in this Monday night matchup and nearly 80 percent of the moneyline action.
14. Detroit Lions (0-0) – I'm still really torn on the Jim Caldwell hiring for this team. I think Caldwell is an idiot without an ability to control a team. But he is the exact opposite personality of departed Jim Schwartz, and any change was going to be a positive change for this undisciplined, disorganized group of Lions. They are still learning new systems on both sides of the ball. But if their energy level and effort in the preseason is any indication, this team is ready to play like a bunch of uncaged beasts on Monday night. Detroit is 8-3 ATS in its last 11 home games but just 4-9 ATS as a home favorite.
15. Carolina Panthers (0-0) – Cam Newton is obviously going to play in Week 1 down in Tampa Bay. But will he play well? Newton is coming off ankle surgery and a bruised rib, and right now he is not on the same page with his completely overhauled receiving corps and his overmatched offensive line. Ron Rivera is going to keep this week's gameplan simple and will try to rely on his defense to win this game. But they may be without Greg Hardy, who could be facing a six-game suspension. The Panthers are 6-2 ATS in their last eight divisional games, but the underdog is just 2-8 ATS in the Tampa Bay series.
16. Kansas City Chiefs (0-0) – I would not make too much out of Kansas City's shaky preseason. Their starters were outscored by 23 points this August and were outscored 41-11 in Weeks 2 and 3. Andy Reid is notorious for being a coach that holds back during the preseason. The Chiefs will be without Dwayne Bowe and they have three new starters in the secondary. Kansas City has been one of the worst home teams ATS over the past eight years and have lost five straight at the window in Arrowhead. The Chiefs actually won at Tennessee (26-17) last October in a game where they were actually outgained.
17. Tennessee Titans (0-0) – I like this Titans team a lot more than most and I have them projected with a 62 percent chance of making the playoffs. I really like their offensive line and receivers on offense. And I am confident that, defensively, Ray Horton, an excellent DC, will get it figured out for this group. The question, as always, is Jake Locker. He is not an NFL-caliber quarterback, but hopefully Ken Whisenhunt can work his QB magic on Locker for a year. The Titans were one of the least efficient preseason offenses in football, sporting a 19.6 yards per point average.
18. Pittsburgh Steelers (0-0) – This roster is a mess, and this team really isn't very good. But their schedule is tailor-made for a 9-7 season if Big Ben and Todd Haley can keep from killing one another and if their backfield can stay out of jail. The Steelers are also starting two rookies as part of a defensive front seven that I have very little faith in. Again, this roster has a lot of holes. But they are 25-4 SU in their last 29 games against Cleveland and 7-3 ATS in their last 10 home games against the Browns.
19. Minnesota Vikings (0-0) – After Seattle and Denver, the Vikings plus-31 point differential with their first teamers was the best in the league this preseason. The Minnesota offense is completely loaded, even with Jerome Simpson suspended for the first three games. The question for this team is how quickly Mike Zimmer can turn around a defense that, outside of Chad Greenway and Harrison Smith, is devoid of playmakers. The Vikings are one of only three underdogs (Green Bay, Cincinnati, San Diego) commanding more than 50 percent of the betting action this week. In fact, Minnesota is taking over three-quarters of the bets in their game at St. Louis, second only to New Orleans (80 percent).
20. Miami Dolphins (0-0) – The Dolphins are hoping that this weekend's weather – 89 degrees, 50 percent chance of rain and thunderstorms, and 75 percent humidity – will be an ally against the visiting Patriots. The home team is 4-0 ATS in the last four meetings, and the host has won seven of the last 10 meetings. The Dolphins are just 2-6 ATS in their last eight games in Week 1. Even without suspended safety Reshad Jones, the Fins secondary should be able to hold its own against the Patriots, and the last four games in this series have gone under.
21. Washington Redskins (0-0) – Which will hurt the Redskins more this year: Robert Griffin's shoddy play or his penchant for drama. I swear it is as if this guy is auditioning for Real Housewives of the Beltway. Considering the glaring weaknesses that the Giants (offense) and Cowboys (defense) have, the Redskins may be the second-most talented team in the NFC East. But whether or not the absurd amounts of bad karma surrounding this team infect this season will tell the tale of what they accomplish.
22. Tampa Bay Buccaneers (0-0) – The Bucs' spread has seen one of the largest, and the most surprising, movements from its open back in June to this week. Tampa Bay was initially a 2.5-point underdog but is now, shockingly, a 1.5-point favorite. I still think the Bucs should've signed 2012 Pro Bowler Richie Incognito. The Tampa offensive line, even with the addition of Logan Mankins, is still atrocious. And I don't see this team being able to sustain drives against a dominating Carolina front seven. Tampa is just 13-29 ATS in its last 42 home games.
23. New York Giants (0-0) – All anyone has done is rag on the Giants' offense for the last month. But somehow I think the G-Men were actually worse than they are being given credit for. They are completely lost in Ben McAdoo's system. The offensive line is a jumbled mess. Their wide receiver corps, beyond Victor Cruz, is pathetic. And Rashard Jennings is a good-but-not-great starting back. However, no one is asking whether or not McAdoo – a first-time OC – is really capable of doing this job. The Giants are 5-2 ATS in their last seven MNF games.
24. Houston Texans (0-0) – Well, one rookie head coach is going to get his first SU and first ATS wins when Houston hosts Washington in the opener. The Texans may not have a quarterback. But they do have a lot of other talent. That said, I don't know that they deserve to be favored on Sunday. Houston is just 4-13 ATS in its last 17 games overall and just 1-7 ATS in its last eight home games.
25. Atlanta Falcons (0-0) – If I learned anything from watching "Hard Knocks" this August it is that the Falcons may be even worse than I suspect this year. Their offensive line is in shambles, and both the pass rush and linebacking corps are among the absolute worst position groups in football. Outside of the exceptional passing game there just isn't anything positive to point to with this team, and their schedule, from a logistical standpoint if not a competition standpoint, is one of the two or three most difficult in the league. The home team in the New Orleans series is 5-0 ATS and the underdog is 7-3 ATS in the last 10 meetings.
26. Dallas Cowboys (0-0) – This team is a glorious train wreck. But it appears that the general public has finally realized how bad these guys actually are. The offense is going to move the ball thanks to Dez Bryant, who is an absolute animal. But if anything happens to Bryant, Jason Witten or DeMarco Murray than the show is over. Dallas is 6-1 ATS in its last seven Week 1 games and is a rare home underdog this week. However, the Cowboys are just 6-13 ATS in their last 19 home games. I am interested if the Cowboys defense can possibly be as bad as I think they will be.
27. New York Jets (0-0) – Cue the circus music. Look, the Jets are set up for another typical Jets season. They are going to beat a couple teams they shouldn't beat. They are going to lose a bunch of games overall. And when the dust settles they'll be sitting right around .500 with a lot of bluster but not much payoff. The Jets are just 22-20 ATS as a favorite under Rex Ryan. But they actually went 3-1 ATS when laying points last year and 7-4 ATS the last two seasons as a favorite.
28. St. Louis Rams (0-0) – For years I've been touting Sam Bradford but now even I am off the bandwagon. Tough times there. The Rams have the youngest roster in football for the third straight season. Where is the progress? I don't like their backs or receivers, and I think that the secondary is still a weakness as well. I just do not see where this team has closed the gap with any of the other powers in their division. The Rams spread dropped only two points with the news of Bradford's injury. But I expect the spread with the Vikings to settle around 3.0 by kickoff. St. Louis is 18-42 ATS in its last 60 games in September.
29. Jacksonville Jaguars (0-0) – I will admit that the Jaguars have improved. But I still don't know if they have improved as much as everyone else thinks they have. Toby Gerhart didn't impress me in the running game, and the skill position players are nonexistent. Jacksonville is going to rely on a stacked front four – and Sen'Derrick Marks is going to have a huge season – to put pressure on opponents. The Jaguars got a taste of Chip Kelly's system last year when they hosted the Eagles in Week 3 of the preseason. It is not much. But at least Bradley and Co. have an idea what they are up against this week.
30. Oakland Raiders (0-0) – I absolutely loathe rookie quarterbacks. Nine times out of 10 they are absolutely pathetic, and rushing a young QB into tings can seriously stunt their growth. But in Oakland's situation I think they may be making the right move going with Derek Carr. Matt Schaub is a complete and utter train wreck and is no longer an NFL-caliber starter. The Raiders starters were outscored by 34 points this preseason, second-worst in the NFL. Now Oakland has to travel east and deal with the dreaded 10 a.m. PST start.
31. Buffalo Bills (0-0) – This team is a train wreck. Doug Marrone doesn't seem to have control of his team. The players are fighting. They had to cut a key DT (Alan Branch) because he got a DUI on game day. They played rookie Sammy Watkins, with bruised ribs, for no particular reason in Week 4 – and he hurt his ribs again. They made a really bizarre Kyle Orton signing. All in all, this team is a circus and it has been a horrible offseason. But they've still gone 7-3 ATS in their last 10 Week 1 games. They also signed Jordan Palmer, who should be able to give them a lot of detailed information on Chicago's offense.
32. Cleveland Browns (0-0) – Take Manziel Mania and stuff it. I have been saying for months that Johnny Manziel is completely overrated and was simply the product of an outstanding Kevin Sumlin system. Now reality sets in for the Browns: they have no quarterback, no running game, no receivers and a capable but overtaxed defense learning a new scheme. I have no reason to think that Mike Pettine will be a good NFL coach, and he'll begin his career in a hornet's nest in Pittsburgh. The Browns are 2-12 ATS in Week 1 and they are 3-7 ATS in their last 10 road games.
Throughout the season I will have my NFL Power Rankings every Tuesday. My next ones will be released on Tuesday, Sept. 9.
Robert Ferringo is a lead writer for Doc's Sport and he is off to a brilliant start to the season. Robert has gone 20-4 with his last 24 football selections and is coming off an 11-2, +2600 college football opening weekend. Robert has already banked nearly $4,000 in profit for his clients in just one month of work this season. Going back even further Robert has secured 28 of 40 winning football months and earned nearly $12,000 in profit for his backers in the last 16 football months. He is coming out of the gate with a 7-Unit NFL Game of the Year in Week 1 and he is hoping to match last year's result when his 7-Unit Play on Atlanta over Kansas City was an easy winner (40-24). Take advantage of our free, no-strings-attached $60 credit to use toward a purchase of Robert's football selections and get on this big game. CLICK HERE for $60 absolutely free!
Read more articles by Robert Ferringo